The Lip Liner Everyone Wants-The Best MAC Stripdown Dupe!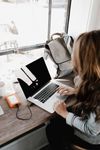 Attention beauty junkies! Who needs pricey makeup when you can get the same look for less? Check out our guide to MAC Stripdown dupes right here!
Is your makeup arsenal full of nude lip colors? We've got the perfect secret weapon to add some variety: the widely talked about dupe for MAC's Stripdown liner!
Everyone is loving this warm brownish nude that looks good on virtually any skin tone, and we're here to spill the beans so you can get in on the hype.
Keep reading to find out where you can score this amazing dupe, and how it will become an instant staple in your makeup routine.
How We Choose the Best Dupes for You
What are the best MAC Stripdown dupes? We want to know!
That's why our team reads through thousands of Amazon reviews, TikTok and YouTube videos and social media posts so you don't have to!
We've compiled a list of the absolute best of the best. Check out our MAC Stripdown dupe list to find the best MAC Stripdown dupe for you.
Ready to strip down your makeup in a way like no other? Look no further than MAC Stripdown!
You won't have to worry about harsh lines or smudging with this creamy pencil. Packed with vitamin E and nourishing emollients, this lip liner will condition and moisturize, so you look flawless all day long.
Don't want to spend over $20 on a lip liner pencil? No problem. Keep reading for the dupes!
Why We Picked It
Make your pout pop with Nyx Professional Lip Pencil in Natural.
This lip pencil is just a little bit lighter than the MAC Stripdown shade, but very close!
This sharp lip liner slides on without a hitch and won't bleed.
This natural shade will help enhance the look of a great lipstick or lip gloss, leaving your lips looking perfect down to the last detail.
Plus, being cruelty free means you can feel good about what goes on your lips!
Why We Picked It
Transform your lips with L.A. Girl Lip Liner Pencil in Café!
Make sure you get that perfect pout - outlining upper and lower lips as desired - with this budget liner from L.A. Girl.
The pencil design allows for a sharp line and precise application, so you can look like a real pro - even if it's your first time applying lip liner!
With its delicious coffee hued shade, Café will surely become your go-to for creating natural and defined looks.
Why We Picked It
This creamy, smudge-proof formula prevents lipstick bleeding and feathering, giving you distinct edges for a perfectly defined look.
And thanks to its self-sharpening tip, you can reach for it on the go to add quick touch-ups or slightly overline your lips to create fullness.
So take the plunge and enjoy the perfect combination of color and convenience. Let's get ready for Totally Toffee time!
Why We Picked It
If you're looking to up your lip game, then you've come to the right place.
This is a light nude hue that'll enliven any beauty look.
The lippie pencil might be little, but it sure packs a punch! It will give your pout that high-intensity color and matte finish, while also holding your lipstick in place - no feathering here, folks!
And if being cruelty free wasn't enough of a bonus, this pencil has an incredibly smooth texture so that applying it is effortless and easy.
Why We Picked It
Add a little sizzle to your pout with the Barry M Cosmetics Toast Lip Liner!
Make sure you always get a perfect lip look with this clever, precision liner.
With just one swipe of this cruelty free product, you'll be able to achieve perfect definition that won't budge - even in the hottest conditions.
Create maximum shape and definition by tracing the outline of your lips with ease, then fill in with your favorite lipstick. It's time to get creative with Barry M toast - it's fuss-free makeup made easy!
MAC Lip Liner FAQ's
MAC is a popular cosmetics brand, but many people have some questions about it.
Is it worth the price? Does it really hold up better than other lip liner brands?
We've gathered the most frequently asked questions about this lip liner and answered them all right here.
What is MAC Stripdown lip liner?
MAC Stripdown lip liner is a gorgeous nude shade that will suit most skin tones.
It has an orange brown undertone, making it an ideal color for people who want to enhance their natural features without looking too made up.
Not only does it flatter almost any complexion but its smooth texture and creamy finish make it incredibly easy to apply and blend with other colors.
It really is the perfect product for those wanting to use a minimalist lip look while still creating definition and shape.
What is MAC's most popular lip liner?
The most popular lip liner shade from MAC Cosmetics is definitely the iconic Spice, a deep tawny brown.
Not only has it been said to be universally flattering on all skin tones, but it's also one of the bestsellers in the professional makeup artist industry.
With its versatile nature and ability to work with numerous colors and shades, it's no wonder MAC Cosmetics customers can't get enough of this classic hue.
For those looking for a long-lasting finish that won't budge or smudge all day long, MAC Spice utilizes a super-creamy formula that helps keep your lipstick color where you want it.
You don't have to worry about any bleeding which is especially helpful if you're going for an ombre look or using darker pigments. It stays put throughout eating meals or talking endlessly without ever having to reapply!
Does MAC lip liner stay on?
Yes, MAC lip pencils are known for their long-lasting effects.
In fact, many beauty critics have tried and tested MAC lip liners and praised them for a "staying power" that far exceeds the average lip liner.
The secret lies in its unique formula: the creamy texture of the liner gives your lips an even application which helps lock in color for hours at a time so you don't have to worry about smudges or reapplying constantly throughout the day.
Additionally, the velvety finish prevents caking and feathering—so your look stays perfect all day long! So, yes—MAC liners are definitely designed to last.
Are MAC lip pencils worth it?
While MAC lip pencils are generally well-regarded for their creaminess and long wear, some people may find that their price tag is a bit steep.
However, there are certain collections and shades that can be hard to come by, giving them higher value for those looking for specific colors.
But, many users have found dupes that give them the same look as a MAC lip pencil at a fraction of the cost!
What MAC lip liner is closest to Charlotte Tilbury's pillow talk?
If you're looking for lip liner shades close to Charlotte Tilbury's Pillow Talk shade, then you might want to try MAC Boldly Bare.
This pinky nude hue closely matches the universally flattering shade of Pillow Talk - perfect for creating an alluring and sultry look.
Plus, it glides on smoothly and easily for a perfectly shaped pout!
The Best Lip Liner for You
So what are the best MAC Stripdown lip liner dupes? According to customer reviews, the best MAC dupes include the brands we featured here.
We've included links to shop online so you can check out prices and reviews of these products for yourself.
Looking for more MAC lip liner dupes? We can help you with that! Read our other articles with dupes for MAC Spice, MAC Whirl, MAC Nightmoth and MAC Chestnut lip liners. We also found a dead ringer for Charlotte Tilbury's Iconic Nude lip liner.
If you're shopping for lipstick, we found some great dupes for MAC Velvet Teddy and Charlotte Tilbury's Pillow Talk.
Sign up for our mailing list to hear about new MAC lip liners and cosmetic dupes we find. We will never stop researching great deals for you!