Is KAB Lip Oil the Best? Wait Until You Meet Her Friends!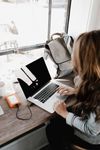 Lip gloss is so last year! Here are 5 must-have lip oils to keep your lips hydrated, nourished and kissable without the stickiness of lip gloss!
Are you looking for the perfect lip oil to keep your lips feeling soft and moist all day long? Have you heard the buzz about KAB Lip Oil? Well she's not the only game in town for creating baby soft lips!
We've scoured the beauty world to find some of the best lip oils around - and trust us when we say, they do not disappoint.
From vitamin-rich formulas that nourish your lips with intense hydration, to fragrant organic oils that soothe dryness and eliminate flakiness, these products have been tried and tested across various brands to guarantee their quality.
Plus, they come in a variety of scents like juicy melon and lemon lime.
In this post, we'll review our top picks of lip oils - so read on to discover which one is right for you!
How We Choose the Best Lip Oils for You
What is the best lip oil? We want to know! That's why our team reads through thousands of Amazon reviews, TikTok and YouTube videos and social media posts so you don't have to!
We've compiled a list of the absolute best of the best. We know after reading this article you will find the best lip makeup for you.
Why We Picked It
This juicy lemon lime set includes a luscious lip liner and smooth, glossy lip gloss that make your lips look glossy and full without the need for any fillers.
Get ready for all day stay power from coffee to club – the KAB Lip Duo set was designed with long-lasting coverage in mind.
So you can go through your day with confidence, knowing your lips won't let you down while enjoying the sweet lemon lime scent!
Why We Picked It
New KAB lip oils are the delicious secret to a kissable pout!
This unique lip tint slides on effortlessly and infuses your lips with long-lasting hydration, so you can conquer your day without sacrificing style. Plus, this lip oil highlights your natural lip shape making your lips look plumper.
Prepare to be tantalized: the luscious oil blend of Vitamin E and shea butter oil envelops your lips in delightful moisture, while the selection of show stopping shades—from vibrant apple red to natural blush pink—and yummy vanilla-cupcake flavor leaves a lasting impression.
Looking for a non sticky formula? Say goodbye to tacky residue—this windy-day friendly lip tint is totally sweet...and cruelty free!
Why We Picked It
Have you been looking for a lip treatment with an instant burst of hydration? Well, Kosas Wet Lip Oil Gloss is here!
This clean beauty must-have drenches lips in color and hydration. It doesn't just stop at treating—you can thank the nourishing combination of hyaluronic acid, peptides, evening primrose oil, and other botanicals for protecting your lips while delivering the slick, vinyl look you crave.
This hydrating lip gloss isn't like traditional glosses that can make lips feel sticky and dry; instead, Kosas effortlessly provides a sheer watercolor-y effect that looks good enough to eat.
Plus it's vegan and cruelty-free! So don't miss out on seeing (and feeling) what all the buzz is about; show your lips some love by adding this glossy treat to your beauty routine today!
Why We Picked It
Looking for a lip oil duo that's sure to double as a free radical fighting powerhouse? Look no further than SKINN.
This smart, multifunctional formula is packed with vitamins E, C + Manuka Honey, delivering powerful collagen production support, smoothing lines and gently soothing dry, cracked lips.
Rosemary and sunflower extracts come together in this all-natural blend of rice and plant-based ingredients to give you just a hint of color with a high gloss shine that's completely free of any stickiness.
Plus—you won't believe the other amazing benefits: it's clean beauty and PETA approved, plus it's developed, formulated, tested and manufactured right here in the USA.
Why We Picked It
Are your lips searching for some love? Look no further than Nooni's Lip Glow Oil, the ultimate solution to your dehydrated pout!
This non-sticky oil is formulated with soothing apple water to instantly soften, nourish and moisturize your lips.
Plus, it gives them a natural flush of rosy color for a subtle pop.
With a pointed doe-foot applicator, you can glide it on with precision for instantly hydrated lips.
So kiss that dryness goodbye and get glowing today with this .12 fl oz tube of Nooni's Lip Glow Oil!
Lip Oil FAQ's
Most people don't know what lip oil is, how to use it, or what its benefits are.
It's a new product that a lot of people are still confused about. Do you know how to use it? What are its benefits?
Here are the most frequently asked questions about lip oil and answers from our beauty experts.
Is lip oil good for your lips?
Yes, lip oil can be very good for your lips! Many lip oils are formulated with nourishing ingredients such as natural oils and vitamins that help to hydrate and moisturize the delicate skin on your lips.
Lip oils can also provide a protective barrier against environmental stressors like cold weather and wind, which can cause dryness and chapping.
As with any skincare product, it's always a good idea to do your research and choose a high-quality lip oil that works best for you.
Is lip balm better than lip oil?
Lip balm is a classic choice for dry, chapped lips, as it typically contains ingredients like beeswax or petroleum jelly that create a protective barrier and lock in moisture.
However, oil can also be a great option for those looking for a more lightweight and hydrating formula.
Many lip oils contain natural oils like jojoba or coconut that are easily absorbed by the skin and provide deep hydration without feeling heavy or greasy.
Ultimately, both lip balm and lip oil can be effective at nourishing and protecting your lips.
Can you sleep with lip oil?
Yes, you can definitely sleep with lip oil on your lips! In fact, applying a nourishing lip oil before bed can be a great way to give your lips some extra hydration and care while you sleep.
However, it's important to keep in mind that some lip oils may transfer onto your pillowcase or bedding, so you may want to use a separate pillowcase or apply the lip oil at least 30 minutes before going to bed to allow it enough time to fully absorb into your lips.
Additionally, if you're prone to acne around your mouth or chin area, using a heavy lip oil overnight may exacerbate the issue.
Who owns KAB Cosmetics?
Three beauty mavens, Kim, Ariana and Brielle Biermann had a dream - to create the best in cosmetics.
That passion has evolved into KAB Cosmetics: luxurious lip kits with high-quality ingredients for every skin tone in mind!
And because of their commitment to ethical standards, all products are 100% cruelty free, never tested on animals and proudly partnered with PETA and Leaping Bunny.
Can you use lip oil everyday?
Yes, you can use lip oil every day. In fact, using lip oil regularly can help keep your lips hydrated and nourished, especially during dry or cold weather.
Lip oils are typically lightweight and non-greasy, making them an ideal choice for daily use. You can get a non sticky, instant burst of hydration without drying your lips.
Just be sure to choose a lip oil that is formulated with high-quality ingredients and free of any potential irritants.
The Best Lip Oil for You
So what is the best lip oil for juicy lips? According to customer reviews, the best lip glosses include the brands we featured in this article.
We've included links to shop each lip balm online so you can check out prices, reviews, shipping options and the delivery date of each of these glosses for yourself. We know you'll absolutely love them!
Looking for more delicious lip looks? We found them! Tap the button below for a list of the best peach lip glosses for a sweet and shiny finish!