Channel Your Inner Rockstar with the Best 5 Black Glitter Nail Polish Picks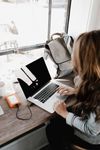 These shimmering polishes are sure to turn heads and get all eyes on your hands. Here are the top 5 trending black glitter nail polishes!
Have you ever wanted to unleash your inner rockstar and make a statement with your nails? Well, good news: Dark, sparkly nails are trending!
We put together the best 5 black glitter nail polishes that will give you both sophistication and edge – perfect for a night out or special occasion.
Whether you want something subtle or something bolder for an Insta-worthy mani, we've got the perfect color picks for you.
These shimmering swatches are sure to turn heads and get all eyes on your hands. Keep on reading if you're ready to sparkle like never before!
How We Choose the Nail Polish Brands for You
What are the best glitter nail polish brands? We want to know!
That's why our team reads through thousands of Amazon reviews, TikTok and YouTube videos and social media posts so you don't have to!
We've compiled a list of the absolute best polishes featuring sparkles. We know after reading this article you will find the best nail polish for you.
Why We Picked It
Transform your fingertips into an enchanted wonderland with the magical Dahlia Pixiedust Nail Polish from ZOYA!
This exclusive formula will bring an alluring sparkle to your look, with delicate sugared glitter sure to mesmerize.
Whether you're heading out for a night on the town or off for a leisurely day at the beach, Dahlia will be sure to turn heads.
Plus, this amazing nail polish is also big 10-free, meaning no harsh chemicals or abrasives are used in formulation, so you can paint away without any worries!
Shine as bright as a diamond - unleash your inner royalty with Dahlia from ZOYA!
Why We Picked It
For a subtle shimmer, try OPI Nail Lacquer in Cave the Way!
This iconic nail brand has been revolutionizing color and care for nearly four decades, so you know you're getting the absolute best in the business.
Unleash your inner artist with this dazzling black that packs an eye-catching punch. Let OPI help you cave the way to standout style!
Why We Picked It
Introducing ILNP Black Magic - your must-have manicure finish! Make an unforgettable statement with superior coverage that wears like iron and sultry, holographic flame flecks that erupt from the deep black base.
Show everyone why you don't do boring ‒ chip-resistant durability means your nails will look incredible for days.
When it's time to change up your look, no need to worry about tough glitter ‒ removal is as easy as pie!
With premium ingredients and a 100% vegan, cruelty-free formula, getting creative couldn't be safer.
Why We Picked It
Say goodbye to waiting around for your nail color to dry and say hello to Sally Hansen Insta-Dri in Powerslide!
This revolutionary 1-coat, 1-stroke, no-wait quick drying nail polish will have you looking polished, from fingers to toes, in no time. Because it's thick, you only need one coat!
With a contoured brush designed for an effortless application and triple threat 3-in-1 formula with built in base and top coat, you'll always be runway ready all while saving time on the finer things.
As recognized as America's #1 quick dry polish choice by people everywhere, trust the only thing missing is you — moments away from stunning manicures that demand attention.
Why We Picked It
Shine on and take your style up a notch with MIZHSE UV/LED black gel nail polish!
This polish dazzles with natural light normal effect, plus a flashy disco effect that will turn heads of friends and strangers at any gathering.
Not only is this color fantastic to wear in the daytime, but it also compliments any evening look for e a dramatic entrance at parties.
And because it's made with natural resin, healthy ingredients, and low smell, your nails get the care they deserve. And you can avoid chips since it's a gel polish!
Black Nail Polish FAQ's
You're not sure if black nail polish is still in style, but you love the look of it and don't want to be outdated.
Here are the most frequently asked questions about black nail polish and whether you should be wearing it.
We answer all of your questions so you can confidently rock this look without worrying about what everyone else is doing.
Is glitter nail polish in style 2023?
Yes, black glitter nails are still in style in 2023. Though many other bolder and more daring styles have come into vogue, glitter nail polish remains a popular choice for adding sparkle to a look.
Glitter can be used to create intricate designs or as an iridescent accent to simple neutral shades. You may also want to try purple glitter nails. This look is also having a moment.
Trends tend to shift from season-to-season and designers often incorporate metallics and holographic accents that allude to the glimmer of glitter without being too overwhelming.
Regardless of the latest fad, some people will always want classic glamor which can be provided by a sparkling manicure.
Is black nail polish popular in 2023?
Yes, black nail polish is still very popular in 2023. In fact, the darker shades of black have become even more fashionable this year.
With its versatile appeal, bold look and sophisticated vibe, black polish is expected to be a part of many nail art looks for years to come.
Black polishes are often used to create intricate designs or full-on opaques for an edgy touch.
Additionally, some cultures tend to associate it with strength and power so it can be seen as a sign of rebellion amongst certain social circles.
Therefore you can expect many people rocking dark polished nails this year!
What is the blackest nail polish?
OPI Black Onyx is widely considered to be the blackest nail polish available, with a deep, glossy finish.
It's made with a unique formula of microparticles and pigments that give it an unmistakably rich, dark color without being too overpowering.
Should toes and fingers match?
No, it is not necessary for toes and fingers to match.
Some people prefer the classic look of matching nail colors, while others like experimenting with different color combinations on each hand or foot.
Ultimately, personal preference should be your guide when selecting a combination of shades for your fingertips and toes.
The Best Black Glitter Nail Polish for You
So what is the best quality polish for shiny, black glitter nails? According to customer reviews, the best include the new collection we featured in this article.
We've included links to shop online so you can check out prices and reviews so you can have the best experience and see which is best for your money.
You may also like some makeup that compliments your dark polish! How about dark lip liner or black lipstick? We went looking for the best ones and we found them. Tap the button below for our list of the best black lipsticks for a dramatic look.