Rubber Base Gel: Why People are Going Crazy for This Revolutionary Nail Trend!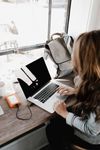 Say goodbye to weak, brittle nails and try the newest mani trend, rubber base gel! Here are the top three rubber base gels to try at home! 💅🏼
Love getting your nails done? Of course you do! And if you're like most beauty-nuts, then chances are you've been dreaming of the perfect way to get salon-worthy results without having to book an appointment.
Well, ladies and gents, we've got great news: the revolutionary new nail trend called rubber base gel is here—and it's taking the world by storm!
Rubber base gel is quickly becoming the hottest nail trend in town. Its innovative technology makes it stand out from regular nail polishes, and those who try it can't seem to get enough.
So what exactly is this new nail product and why has everyone gone crazy for it? We'll tell you all about this amazing gel polish in today's post.
Keep reading find out how this innovative solution can give your natural nails a flawless look that will last weeks instead of days!
What is Rubber Base Gel?
So what makes rubber base gel so different from other gel polishes? To start, this gel is a type of long-lasting nail polish that provides superior protection for weak nails.
Unlike standard nail polishes, rubber base gels form an airtight seal on nails which prevents chipping and fading over time.
Because of this seal, this softened gel typically last up to three weeks before needing a touch-up or reapplication.
What Does Rubber Base Gel Do?
The formula used in rubber base gels gives strength to thin, brittle, flaky, or splitting nails and is usually made with quality ingredients that are gentle on your nails and promote healthier growth overtime.
This means they won't dry out or damage your nails like many other types of nail polishes.
And because these formulas are designed with better ingredients, they tend to be less toxic than most other kinds as well!
Lastly, one of the coolest features of rubber base gels is that they come in a variety of vibrant colors and unique finishes. Whether you're looking for something subtle or something bolder, there's bound to be a color that suits your style.
With all these amazing benefits combined into one product, it's no wonder people are going crazy for this polish!
If you want a long-lasting manicure without damaging your nails in the process, then this revolutionary trend might just be worth trying out!
But where do you find this magical nail polish and which brands should you try? Keep reading to find out!
How We Choose the Best Rubber Base Gels for You
What is the best rubber base gel? We want to know! That's why our team reads through thousands of Amazon reviews, TikTok and YouTube videos and social media posts so you don't have to!
We've compiled a list of the absolute best polishes for home or professional use. We know after reading this article you will find the best rubber base gel for you.
Why We Picked It
Introducing Fannest's new line of rubber builder base gels! Get the perfect foundation for your nails with a thin layer of this surefire solution to all your nail care needs.
Thin and brittle nails? No problem! This extra-thick base coat of builder extension gel will smooth out any dents or unevenness you may have.
Not to mention, it will give you a level of protection that regular base coat can't even come close to. Miracle in a bottle? Maybe – but only if you try it and see for yourself!
For those looking for something more than just a basic base coat…We gotchu!
This unique formula has a high color saturation with perfect shine and smooth application – no brush marks here!
Plus, it's pretty translucent, clear pink and nude shades are guaranteed to give you that natural look, whether doing French manicures or just  accentuating your own nail beds.
What sets this polish apart from the rest is the rubber builder base gel which quickly self-levels on the nail plate, eliminates spread, and steer clear of all the sides around your cuticles too. Because taking care of those nails should be easy as pie!
Why We Picked It
This highly pigmented formula allows you to use it for creating a variety of bright nail designs.
Whether you're crafting bold designs or simply providing protection for your nails, KODI Professional has got you covered!
Made with cutting-edge self-leveling technology and an ergonomically built-in brush, KODI Rubber Base Gel can provide length, thickness, strength and a natural foundation layer with perfect shine in no time at all.
And to make sure your look lasts, its 28 days no peel-off and bubble-free guarantee ensures that all your hard work doesn't go down the drain.
Why We Picked It
This rubber base coat is flexible yet strong to prevent chips and cracks from forming, so you can keep your nails looking fresh for weeks.
Plus, unlike other gels, it doesn't require too much of the drying time on the nail surface - just coat gently and cure for 20-30 seconds with LED-UV light.
And best of all? What sets KODI JYJ Rubber Base Gel apart is its no wipe top coat. It's more shiny than most other no wipe top coats, giving your manicure  extra shine
Why We Picked It
This latest and greatest nail innovation gives you maximum control to create a salon perfect manicure from the comfort of your own home.
With an innovative formula, you can build your wildest dreams for your nails, like using it as a base coat, building apexes, strengthening overlays, extending lengths, shaping nails - and even using it as a sticky layer for attaching false nail tips, gems and jewels.
No matter what look you are going for - we've got you covered! And that's not all - this gel is highly self-leveling and comes with a built-in brush making applications smoother and easier than ever before.
Plus with 60 to 90 seconds under a UV/LED lamp (not included), your look will stay in place up to 28 days without peel off or bubbling - perfect every time!
Rubber Base Gel FAQ's
Still have more questions about this innovative product? No worries! Here are the most frequently asked questions about rubber base gel and the answers from our nai experts!
Is rubber base better than gel?
Rubber base gel polish is known for its flexibility and durability, making it a great option for those with weak or brittle nails. Regular gel polish may be a better choice if you're looking for a wider range of colors and finishes.
What's the difference between rubber base gel and builder gel?
Rubber base gel and builder gel are both types of nail enhancements that can provide a long-lasting, shiny finish to natural nails.
The main difference between them is the composition: rubber base gels are composed of a rubbery synthetic substance while builder gels have an acrylic/polymer composite formula.
Rubber base gels offer flexibility and strength to prevent damaging of the natural nails. They don't require primers or bonders to adhere but instead use a "curing" agent, which allows for quick drying time and better adhesion overall.
Builder gels also use curing agents for adhesion, but as they contain polymers they will require primers and bonders in order to ensure good adhesion and maximum longevity without cracking or lifting off the natural nail bed.
In terms of maintenance and removal, both types are relatively the same. But, builder gel will typically require more buffing during removal than rubber base gel due to its higher adhesive properties.
Ultimately, it really comes down to preference; depending on what level of strength or flexibility you're looking for when doing your manicure routine!
How long does rubber gel last?
The lifespan of rubber gel on your nails depends on the quality of product you use, how well you take care of them, and the amount of wear and tear they are exposed to.
Generally speaking, rubber gel manicures can last up to 14 days or longer with proper application and care.
To ensure optimal longevity, make sure to apply thin layers so as not to overload your nail beds with product.
When applying a rubber gel base coat, be sure that it covers all areas evenly for a smooth finish.
Additionally, constantly check and replace any cracked or chipped gels as soon as possible to prevent further damage from occurring.
Finally, avoid submerging your hands in water for extended periods of time and keep them away from detergents or harsh chemicals whenever possible for maximum durability!
How many coats do you need of rubber base gel?
It depends on the specific product you are looking to use, its intended surface application, and what type of look and finish you wish to achieve.
enerally speaking, most rubber base gel coatings require a minimum of two coats for proper adhesion and long-term durability.
Some specialty products may require a third or even fourth coat for added protection against weathering, UV radiation and corrosion. When using these products it's important to follow the manufacturer's instructions carefully in order to get the desired results.
Why does rubber base gel burn?
Rubber base gel polish may cause a slight burning or tingling sensation during application due to the chemical reaction that occurs when the gel is exposed to UV or LED light.
This is a normal and expected sensation, but it should not be painful or uncomfortable.
If you experience any discomfort during the application process, it's important to remove the gel immediately and consult with a professional. It's also recommended to avoid getting the gel on your skin during application to minimize any potential irritation.
How long do you cure rubber base gel?
The curing time for rubber base gel polish can vary depending on the brand and the type of lamp being used.
In general, most rubber base gels require a curing time of 30-60 seconds under a LED lamp or 2-3 minutes under a UV lamp.
It's important to follow the specific instructions provided by the manufacturer to ensure proper curing and optimal results.
Over curing or under curing can lead to issues such as chipping, peeling, or lifting of the gel polish.
The Best Rubber Base Gel for You
So what is the best rubber gel nail polish for your at home manicure? According to customer reviews, the best rubber extension nail gel includes the brands we featured in this article.
We've included links to shop online so you can check out prices and reviews of these products for yourself.
Did you know that sparkly, dark purple and black nails are trending? It's true! Tap the button below for our recommendations of the best polishes to complete your manicure!