See the Best Lipstick for Redheads for a Flattering Look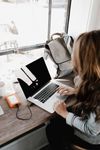 Looking for the perfect shade of lipstick to compliment your red hair? Here are 8 on-trend shades to complement your natural ginger beauty.
Are you a redhead? If so, we've got exciting news for you! We've rounded up the best lipsticks for those with red hair to give you an absolutely stunning look.
Whether you have strawberry blonde tresses or fiery red locks, these amazing lip colors will help emphasize your natural beauty and bring out your confidence.
From universal shades that can make any hue of curly or straight hair glow to classic hues perfect for specific tones of ginger strands, our list of favorite lipstick finds will ensure that your makeup routine rocks the ultimate gorgeousness!
So if you want to embrace your pale skin and redheaded nature in full force with some fabulous lippies, then keep reading!
How We Choose the Best Lipsticks for You
What is the best lipstick for your warm tones? We want to know! That's why our team reads through thousands of Amazon reviews, TikTok and YouTube videos and social media posts so you don't have to!
We've compiled a list of the absolute best colors that go with auburn hair. We know after reading this article you will find the best lipstick for you.
Why We Picked It
Let's start off with a liquid lippie! This highly pigmented liquid lipstick is the key to achieving a flawless, long-lasting matte finish that will take you from day to night.
Powered by the iconic longwear formula, this brick-red lip color locks in for up to 16 hours of relentless wear--and looks and feels fresh all day long.
Why We Picked It
We love this shade for redheaded beauties! Get ready to be mesmerized by NYX Professional Makeup's Matte Lipstick in Crazed.
This amazingly smooth matte lipstick instantly floods your lips with pigment-rich, creamy color that won't dry out and stays put all day long.
Dare to be bold and experience silky matte sun-kissed lips—at a fraction of the price.
Why We Picked It
Peach is an excellent lipstick color for redheads. Instantly add luxurious colour and hydration to your lips with L'Oreal Paris Colour Riche Lip Colour in Peach Fuzz.
Enriched with nourishing ingredients like Omega 3, Vitamin E and Argan Oil, your lips stay soft and smooth all day long.
Why We Picked It
Looking for a matte look at a great price? Almay Matte Lipstick in Go Wild is one of the ultimate statement-making matte lipsticks.
With its silky smooth, non-sticky, and non-drying formula enriched with vitamins E & C and shea butter, you can be sure that your lips will feel just as great as they look for hours.
Enjoy kissable lips without the worry of irritation as Almay Matte Lipstick is always hypoallergenic and fragrance-free.
Why We Picked It
Bronze lipstick looks excellent on redheads! Milani Color Statement Lipstick in Bronze Beauty will make a perfect statement with your red hair.
Long-lasting and infused with vitamins A and C, this cruelty-free beauty will give you a bronzed goddess glow.
Why We Picked It
Our absolute favorite signature red lip is MAC Lipstick in Ruby Woo! This intense blue red lipstick shade provides a bold lip matte finish that will last all day long.
Its soft cushiony texture glides over the lips easily with no blemishes or creases, leaving you looking beautiful while making an unforgettable statement.
Why We Picked It
Looking for an everyday nude lipstick shade? MAC Cremesheen Lipstick in Modesty is a creamy nude lipstick with a touch of balm for the most comfortable wear.
Offering medium, buildable coverage with semi-glossy finish, it's the perfect addition to your lip wardrobe for everyday wear.
Why We Picked It
Sometimes you just want to go pink! Clinique Pop Lip Color in Fab Pop is a luxurious lip color with an intensely moisturizing formula that keeps lips hydrated for up to eight hours.
Its 2-in-1 lightweight and creamy velvet finish smooths on easily for buildable coverage and provides vivid, intense color.
Lipstick FAQ's
Here are the most frequently asked questions about lipstick for redheads so you can pick the perfect shade to get that classic look.
What color red lipstick should a redhead wear?
Redheads have the unique ability to pull off bold and vibrant colors that others might struggle with, so when it comes to red lipstick, you don't have to shy away from a classic fiery hue.
For light skin tones, try going for a brighter shade such as a cherry red.
If your complexion is on the deeper side, opt for berry shades like plum or dark cabernet.
No matter what kind of color you choose, make sure your shade has cool undertones that will help accentuate the natural rosiness of your complexion.
When in doubt about which one suits you best, swatch different shades onto your arm or natural lip color until you find one that complements both your skin tone and hair color perfectly!
Should redheads wear pink lipstick?
Yes! Redheads of all shades can absolutely pull off wearing pink lipstick. While it may initially seem like a tricky style to pull off, it is actually surprisingly versatile.
According to makeup artist Delina Medhin, redheads with fair and light complexions should opt for lighter pinks such as nudes or pale baby pinks.
Those who have deep or cool undertone should go for warmer rose shades with orange or purplish hues, while those with warm yellow-toned skin should look for cooler pinks with blue undertones.
For a statement look that won't fail to make an impact, try vibrant fuchsia - the contrasting colors complement each other perfectly!
To ensure your lips stay looking flawless throughout the day apply a moisturizing lip primer beforehand and set your lipstick with translucent powder for extra staying power.
What colors should redheads avoid?
Generally, when it comes to the perfect lipstick colors for redheads, there are certain colors to avoid and certain colors that are perfect for those with this hair color.
If you have a redhead complexion, you should steer clear of dark and intense shades which can make your skin look washed out.
Pastel colors like pinks and soft corals tend to look best as they will bring out the natural color of your hair.
Also, if you have fair skin or light eyes, try wearing nude shades instead of bolder lipsticks which may be too much on already vibrant complexions.
Red lips with warm undertones also work nicely with your auburn tone since they'll blend in perfectly with the rest of your features.
Finally, avoid bright oranges as they'll clash against any subtle warmth in your skin tone.
What colors look best on redheads?
As a redhead, choosing colors that complement your hair shade can be challenging.
However, there are certain colors you should avoid to ensure you don't end up looking washed out or overly monotone.
In general, redheads should avoid wearing any color of clothing that falls within their hair's hue range – in other words, stay away from warm-toned reds and oranges.
Doing so will prevent the clash of hues and make sure your look stands out instead of blending into one another.
You should also avoid wearing shades that are too similar to their skin tone as this can create an unflattering monochrome effect.
Additionally, earthy tones like brown or khaki tend not to be very flattering on a person with red hair and can make them appear washed out and muted.
On the flip side, there are some bright colors that work incredibly well for those with red tresses!
Vibrant jewel tones such as deep blues or purples play off the warm undertones of your locks and really draw in attention to both your face and hair itself in a delightful way!
Bright yellows have a cheerful brightness about them and will lighten up any look without washing it away entirely like earthy tones might—just remember not to combine yellow with orange otherwise it could start clashing again!
Similarly elegant pastels provide some softness while still offering enough contrast against the richness of your hair color; they won't compete with or overpower it no matter how bold they may seem at first glance.
No matter what look you choose ultimately depends on personal preference – but making these few simple tips part of your styling strategy is sure to make all the difference between having an okay wardrobe selection versus having an amazing one suited specifically for those stunningly fire-like locks!
The Best Lipstick for You
So what is the best lipstick for redheads? According to customer reviews, the best lipstick shades for redhead hair colors include the brands we featured in this article.
We've included shopping links to each lipstick collection so you can check out prices and reviews of these products for yourself.
If you're looking for a more casual look, you might want to try a tinted lip balm. We found some Korean brands we love! Tap the button below for our list of the best Korean lip balms you can find online.