The Power of Primer: How to Use Lash Primer for Longer, Thicker Lashes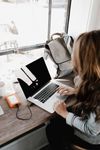 Here is a quick guide how to apply eyelash primer for optimal results!
Anyone who knows me knows that I am OBSESSED with my lashes. I'm always on the hunt for products that will help me achieve longer, thicker lashes - and that's where lash primer comes in.
Lash primer is a basecoat for your lashes that helps to create a smooth, even surface for your mascara to adhere to. Not only does this result in more evenly-coated lashes, but it also helps your mascara last longer throughout the day. In this post, I'm sharing my personal favorite lash primers and how to use them for optimal results!

My Favorite Lash Primer?

I've tried dozens of lash primers over the years, and there are definitely some standouts. My current favorite is Tarte Opening Act - but more on that in a moment...
How to Use Lash Primer

Applying lash primer is pretty simple - just make sure to follow these steps for best results:
Start with clean, dry lashes. If your lashes are oily or have any residue on them, your primer won't adhere as well and your mascara won't last as long.
Apply a thin layer of primer to your lashes, wiggling the brush back and forth as you go.
Let the primer dry for a minute or so before moving on to mascara.
Apply your mascara as normal - you should notice an immediate difference in both the length and thickness of your lashes! pro tip: don't let your mascara get too clumpy - this will weigh down your lashes and ruin the effect of the primer. If you find that your mascara is getting clumpy, just add a few drops of water to the tube and mix well with a cotton swab. This will help re-hydrate the formula and make it easier to apply evenly to your lashes.               
Re-apply every few hours as necessary - I like to touch up my mascara after lunchtime if I'm going from day to night.
And that's how to apply lash primer for longer, thicker lashes! And now to my primer favorites. Click the button below to see my favorite eyelash primer picks!