The 9 Best Lash Primers to Lengthen & Volumize Lashes!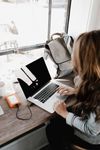 Want fuller lashes, but don't have the time or money for professional lash extensions? We've got you!
Want longer, fuller lashes without having to use false lashes?
A mascara primer is a great way to achieve just that – it adds volume for fuller and longer lashes. It can be hard to know which one is the best for your eyelashes, so we've put together this list of the best lash primers.
With a good mascara primer, you can have fuller and longer lashes in just minutes. No more fussing with a false lash or worrying about your eyelashes looking too short or sparse. Keep reading to find out which mascara primers are our favorites.
How We Choose the Best Mascara Primers
Do you want beautiful lashes, but don't have the time or money for professional lash extensions? By using a lash primer before applying black mascara, you can achieve the look you desire.
A good mascara primer will create a mascara base to lengthen and volumize your lashes, making them appear more natural and lush.
We've read through thousands of reviews and social media posts to find the best lash primers that will help lengthen and volumize your lashes. After reading this article, you'll be able to find the best mascara primers for you.
Why we picked it
Looking for mascara primers that will help your mascara go on smoothly and stay put all day? CoverGirl Lash Blast Amplify Eyelash Primer is your new go-to.
This primer features a moisturizing formula that glides on easily, prepping your lashes for mascara application. Plus, the conditioning ingredients of this primer help to keep your lashes looking healthy and lush.
The Details
This primer is perfect for anyone looking to achieve fuller, longer lashes. This conditioning buildable formula amplifies lash volume and length while leaving lashes feeling nourished.
This primer contains hero ingredient argan, jojoba and coconut oil serum concentrate, which are all great natural ingredients for keeping bare lashes healthy and hydrated.
Why we picked it
Do you want the look of long, lush lashes without resorting to expensive extensions? Then try L'Oréal Paris X Fiber Mascara. This 2-in-1 primer and mascara gives you dramatic lash volume instantly.
The black primer adds a sheer, volumizing effect while the tiny fibers in the mascara adhere to your lashes to create fullness.
The Details
This black primer is packed with black pigments and creamy oils that glide onto your lashes, depositing a smooth layer of black color and adhesive styling gel. This creates an ultimate volumized base for the fiber mascara.
When brushed across your lashes, the mini fibers are like strong flexible little hairs that instantly extend lash length. A dense layer of fibers deposit smoothly along your lashes, mimicking the look of your lashes and helping to create a long lash look.
Why we picked it
Looking for a way to make your lashes look thicker and more voluminous without having to pile on the mascara? Milk Makeup has your solution with their Kush Lash Primer. This primer is infused with cannabis oil, which coats your lashes and gives them a boost of thickness.
The Details
This lash primer is like a push-up bra for your eyelashes - it provides lift, separation, and definition while volumizing and conditioning. The thickening, heart-shaped fibers and hemp-derived cannabis seed oil create a volumizing base, and the spiral brush ensures that each lash is coated with the generous amount of product.
Just wiggle the brush from root to tip, using the brush head to coat each lash. Layer mascara on top for a double hit of volume.
Why we picked it
That's right, they're real. This tinted lash primer gives you a natural looking boost with just a few swipes. This Benefit Cosmetics primer is perfect for summer days when you want a little extra definition and air pumped texture without the heaviness of mascara.
The tinted formula leaves your natural looking lashes full and defined, and it can be used alone or as a base for mascara. There's a reason this cult-favorite lash primer has earned rave reviews from makeup lovers everywhere.
The Details
This mink brown tinted primer can be worn alone or under your favorite mascara. High performing gel formula conditions with Provitamin B5 leaving lashes soft enough to layer mascara up to 6 hours later. Custom ExtraFlex brush is specially designed to move with lashes for beyond belief separation without excess product.
To be used with caution if you have a history of being late for work because people will think you just curled your lashes for an hour. And, you can rock fabulous and fluttery lashes all day long!
Why we picked it
If you're looking for a lash primer that gives you the appearance of thicker, longer lashes without being clumpy or flaky, PÜR's Fully Charged Lash Primer is your new go-to.
This clean and vegan-friendly lash primer uses magnetic technology to build a sheer layer under your mascara, giving you a boost of volume, length, and curl while delivering lash-nourishing ingredients that will let your lash game run wild!
The Details
This primer will give you ultra-luxe lengths and megawatt volume powered by magnetic technology. PÜR's Fully Charged Mascara Primer is designed to work with their bestselling mascara to give you the most dramatic lash look possible. Just apply a coat of primer to top and bottom lashes and allow it to dry, then apply one to two coats of mascara.
This product is 100% cruelty-free, so you can feel good about using it knowing that no animals were harmed in its creation. Paraben and gluten free and vegan friendly.
Why We Picked It
Looking for a primer that does double duty? Jane Iredale's PureLash Lash Extender & Conditioner is your new best friend.
This nourishing formula contains lash-conditioning algae extract that not only helps to prep your lashes for the mascara brush, but also keeps them healthy and conditioned. And this primer also doubles as an eyebrow groomer.
The Details
This lash primer not only strengthens and lengthens, but also helps you use less mascara overall. Plus, it's animal cruelty-free, so you can feel good about your beauty routine.
You can also use this lash conditioner on eyebrows or as a nighttime treatment. So go ahead and ditch the falsies - your secret is safe with us!
Why We Picked It
Looking for a way to boost your lash game without denting your latte budget? Essence has you covered with their Volume Booster Lash Primer. This primer is designed to amplify  lashes and give you a fuller, more voluminous look. The best part? It's super affordable, so you can keep your wine budget intact.
The primer comes in a simple tube with a precision thin brush that makes it easy to apply. Just swipe it on before your mascara and you're good to go. The formula is light and non-greasy, so it won't weigh down your lashes or make them feel crunchy.
If you're looking for an affordable way to get fuller, healthier-looking lashes, definitely give the Essence Volume Booster Lash Primer a try.
The Details
This mascara primer is infused with hydrators like acai oil and mango butter to give you a healthy dose of volume, but it won't mess with your mascara formula. Plus, it's animal cruelty-free, so you can feel good about using it.
Why We Picked It
If there's one thing we all know, it's that mascara makes or breaks a look. But what if we told you there was a magic lash primer that would take you to new heights? Introducing Tarte Opening Act Lash Primer.
This simple yet genius product will revolutionize your beauty routine. The thick bristles make it easy to coat each and every lash, ensuring that even the smallest lashes are bold and beautiful. Plus, the formula goes on white so you can really see where you're applying it. While still being safe for contact lens wearers.
The Details
This magical product not only lengthens and strengthens, but also instantly makes them appear fuller and thicker. The 360 degree magniLASH bristle brush ensures an even coat of the Lash Primer, while the key ingredients of cellulose, carnauba wax, olive esters and vitamin C work together to enhance the length, curl and volume of your mascara.
This primer is vegan and ophthalmologist-tested for sensitive eyes, so you can feel good about using it.
Why We Picked It
If your natural lashes could talk, they'd probably tell you that they've been feeling a little neglected lately. But don't worry, LashFood's Conditioning Collagen Lash Primer is here to give you the TLC they deserve!
This unique formula contains collagen, biotin, and nano peptide complex to strengthen and thicken your lashes over time. Plus, it has a special conditioning agent that helps to keep your lashes healthy and hydrated.
The Details
The special Phyto-Medic complex helps to nourish lashes at the follicle for initial results in just 4 weeks. And there's no need for worry for contact lens wearers, people with sensitive eyes this primer is suitable for use with all.
Plus, it's Ecocert certified and dermatologist tested, so you know it's good for you. And because we love our furry friends, this primer is also vegan and cruelty free.
Lash Primer FAQ's
Adding an additional step to your eye makeup routine by using a mascara primer may seem annoying, but it could be an important step in achieving the look you want. And it only takes one coat.
Most people don't bother with lash primer because they think it's unnecessary or they don't know how to use it.
We're here to help! This guide will answer all of your questions about lash primer, including  the benefits of using one.
Does eyelash primer really make a difference?
There's no denying that mascara primers are a bit of an extra step in your makeup routine, but the false lash look can be worth it.
Most lash primers create a smooth surface for mascara to adhere to, which means your lashes will look fuller and more volumized. It also helps to lengthen and curl your lashes to boost volume.
Do you let lash primer dry before applying mascara?
Yes, always let primer dry before applying  mascara coats. If you don't, the mascara can end up clumping on your lashes and looking cakey.
Plus, it's just good practice to give each makeup product a few minutes to "set" before moving onto the next one - otherwise you risk them not performing as well as they should. So yeah, wait a few minutes for that mascara primer to dry and then proceed with your mascara routine!
Can Lash Primer be worn alone?
Wearing lash primer alone can give you a tinted, more voluminous look. Depending on the primer, some may contain light-reflecting properties that make your lashes appear fuller.
If you have shorter lashes, using a lash primer can give you added length and fullness that is natural looking. Many of the best mascara primers nowadays are made with conditioning agents to keep your lashes healthy and hydrated!
If you're using a very white, thick mascara primer, you will not want to wear it alone...unless that's the specific look you're going for.
What does white lash primer do?
White lash primer is used to coat the lashes and help create a smooth, even surface for mascara application. It can also help intensify the look of the mascara and make the lashes appear longer and fuller. Some mascara primers even have a white tint that can make your lashes look brighter.
Do you need primer before mascara?
Do you want our opinion? Yes, primer is a necessity before you apply mascara. It helps to lengthen and thicken lashes while providing a mascara base as it separates lashes. This will help your lashes look fuller, more voluminous and clump free.
Does lash primer keep mascara from smudging?
Lash primer's formula does help keep mascara smudge proof, but it's not a guarantee. Mascara smudging can be caused by a number of things, such as sweat, humidity, oily skin, and contact with other products (like eyeliner).
Do you curl your eyelashes before or after primer?
Some people curl their eyelashes with an eyelash curler before primer, and some people curl their eyelashes after primer.
Some people find that curling their eyelashes before primer helps the primer to adhere better to the lashes. However, others have found that when they curl their eyelashes after primer, their lash curl lasted longer. It's a personal choice when to use your eyelash curler.
Is it OK to use lash primer everyday?
Yes, absolutely! In fact, we would even say that using a lash primer is one of the best things you can do for your lashes, even if you have sensitive eyes.  
A thin layer of lash primer helps those who have short, sparse, or straight lashes. It provides a lovely base that helps to lengthen, volumize, and curl your lashes.
Primers also help your best mascara to last longer – no more raccoon eyes by midday! And some primers contain coconut oils, mineral oils, sunflower seed oil, or even an antioxidant vitamin to keep lashes conditioned.
Do eyelash primers make lashes look longer?
There is no definitive answer to this question since everyone's lashes are different. However, primer can help to make lashes look longer because it helps to define and separate them from the eyelid. This makes them appear more visible and gives the illusion of length.
What color is lash primer?
Mascara primers can be any color. Other primers are known to come in different colors. Black, brown, and clear are the three most popular colors.
However, newer formulas of lash primers have started to experiment with fun colors like deep purples and bright reds!
Clear lash primer is still the best choice if you want to maintain a natural look. But if you're feeling daring, go ahead and try out a colored lash primer!

The Best Lash Primer For You
So, we've come to the end of our search for the best mascara primer. We've read through Amazon reviews and social media posts to find the best eyelash primer on the market for you.
All of these products are available at a great price, so don't wait. Click the product buttons to check out prices and buy your favorite lash primer today. Thanks for reading!