Best Cruelty Free Mascara of 2023 to Buy Guilt Free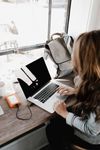 We've done the research and found some great lengthening, curling, conditioning, and volumizing mascaras that don't test on animals.
Love animals? So do we! And that's why we only use the best cruelty free vegan mascaras.
We know finding a good cruelty free mascara can be quite the battle, but ensuring it's cruelty-free makes the hunt even harder.
So we've done the research for you and found some great lengthening, curling, darkening, conditioning, and volume mascaras that don't test on animals.
Not only are these mascaras cruelty-free, but they also look amazing on you! With so many different types to choose from, you're sure to find one that makes your lashes look longer, thicker, and more defined.
How We Choose the Best Cruelty Free Mascaras for You
It can be hard to find a good cruelty free mascara that also meets all of your desires.
With so many different cruelty free mascaras out there, it's hard to know which one is right for you. Do you want lengthening or volumizing?  Vegan waterproof mascara or non-waterproof? How about vegan or gluten-free?
We have taken the guesswork out of finding the best cruelty free mascara for you. After reading this article, you will know everything you need to make an informed decision about the best cruelty free mascara for your needs.
Why We Picked It
Looking for a volumizing and waterproof cruelty free mascara that can give you an intense lash look in one sweep?
Meet Pixi Large Lash Mascara. This specialized formula is buildable for extreme volume, and the oversized brush makes it easy to coat your lashes evenly.
This mascara is paraben-free and suitable for all skin types. Vitamin E nourishes, Panthenol strengthens, and bamboo extract fortifies and helps to retain moisture, so your lashes will be gorgeous and healthy.
Why We Picked It
Looking for an iconic fiber brush mascara that provides dramatic volume to your lashes without harming any animals? Look no further than Essence Lash Princess False Lash Effect Mascara.
This cruelty free drugstore mascara is ophthalmologically tested and formulated without alcohol, oil, parabens, fragrance, or animal byproducts. For beautiful sculpted length, try Essence Lash Princess False Lash Effect Mascara today!
Why We Picked It
Looking for a lash-enhancing mascara that's gentle enough for sensitive eyes? Burt's Bees has you covered with their 100% Natural Origin Nourishing Mascara.
The brush and formula work together to give you long-lasting definition and soft, healthy-looking lashes.
Made with Jojoba Oil and naturally moisturizing Glycerin, this lengthening mascara is ophthalmologist-tested and safe for contact lens wearers. Plus, it comes in a rich black brown shade that enhances all eye colors.
Formulated without parabens, phthalates, SLS, petrolatum or synthetic fragrances, Burt's Bees Nourishing Mascara is nature's way to help you achieve beautiful lashes. And of course it's never tested on animals.
Why We Picked It
Looking for a natural way to achieve voluminous lashes? Meet Kush High Volume Mascara from Milk Makeup. This black pigmented mascara is formulated with hemp-derived cannabis seed oil to help promote stronger, healthier lashes.
The unique criss crossing bristles catch and coat each lash from root to tip for intense coverage, while the cannabis seed oil keeps lashes soft and supple all day long.
Best of all, this product is vegan, clean, cruelty-free, paraben-free, silicone-free, alcohol-free, fragrance-free, gluten-free, and coal tar-free - minimizing risk of eye irritation.
Why We Picked It
Looking for a lengthening mascara that will give you clump free gorgeous lash definition?
Look no further than COVERGIRL's Flourish Blast Mascara! This formula is enriched with Coconut oil, avocado oil, and papaya seed oil to help nourish your lashes.
Plus, it's ophthalmological tested so you can wear it with confidence knowing it won't irritate your eyes. And when it's time to remove your makeup at the end of the day, this mascara comes off easily with your favorite makeup remover.
So why wait? Get flourishing lashes today with COVERGIRL Flourish Blast Mascara,
Why We Picked It
If you're looking for a mascara that will give you unbelievable lashes, then try Too Faced Better Than Sex Mascara.
This award-winning mascara will give you the longest, thickest, most luscious lashes you've ever dreamed of.
The unique hourglass-shaped brush was designed to curl and separate your lashes, while the buildable, volumizing formula gives you incredible length and thickness.
Too Faced Better Than Sex Mascara is waterproof, smudge-proof, and long-wearing. Plus, it's easy to remove with just warm water.
Why We Picked It
Introducing Tarte's Lights, Camera, Lashes 4-in-1 Mascara!
This amazing award winning mascara does it all - it volumizes, lengthens, curls and conditions your lashes for a gorgeous look.
The ultra-black pigment delivers darker, defined lashes while the vitamin-rich formula conditions with each coat.
The 360 degree magniLASH wand provides an instant lash lift with shorter bristles adding intense volume and longer bristles giving an instant curl. The vegan formula is smudge-proof, flake-free and clinically proven to volumize, lengthen and curl your lashes.
Get ready for your close up with Tarte's Lights, Camera, Lashes 4-in-1 vegan mascara.
FAQ's About Mascara & Eyelashes
Mascara is a staple, but applying it can sometimes be tricky. You don't want your lashes to look too clumpy or spidery.
A lot of women avoid wearing mascara because they're not sure how to apply it properly and they don't want their lashes to look too done up.
We've got the answers to all of your most frequently asked questions about mascara and eyelashes right here.
From how to apply it for a natural look and colored mascara for drama, to choosing the right color for your eyes. We'll help you get the perfect lash look every time.
Should I wear black or brown mascara?
When it comes to mascara, there isn't necessarily a black or brown rule. It all depends on what effect you're going for. You can even wear colored mascara if you're feeling fun.
If you want your natural lashes to look fuller and more voluminous, then black is the way to go.
But if you're aiming for a more natural look, brown will do the trick. So it really comes down to personal preference and what style you're aiming for.
How can I make my short eyelashes look longer with mascara?
There are a few things you can do to make your short eyelashes look longer with mascara.
First, choose a quality mascara that will help give your lashes some volume and length. And use a lash primer so your precision mascara will stay on. Try Kush Volumizing Lash Primer by Milk makeup.
Second, use an eyelash curler to curl your straight lashes before applying mascara. This will help give them a little extra lift.
Finally, apply several coats of mascara, making sure to wiggle the brush back and forth at the base of your lashes to coat them evenly. With a little effort, you can achieve long-looking lashes that look like lash extensions.
What causes eyelashes to be short?
There are a few different factors that can cause eyelashes to be short. One of the most common causes is a nutritional deficiency. Without the proper nutrients, lashes can become thin and short.
Another common cause is hormonal changes, which can affect the growth of both lashes and hair. Finally, excessive tweezing or use of lash extensions can also lead to shorter lashes.
What helps your eyelashes grow?
There are a few things that can help your eyelashes grow. One is to make sure you're getting enough vitamins, especially vitamin A.
Try to include plenty of leafy greens and other vegetables in your diet, as well as fruits like apricots, mangoes, and papaya.
Another thing that can help even the tiniest lashes is castor oil. Rub a little bit of castor oil on your lash line every night before you go to bed, and you may start to see them growing thicker and longer in no time.
Does Vaseline help eyelashes grow?
There is no scientific evidence to suggest that Vaseline helps eyelashes grow. In fact, Vaseline can actually be harmful to your lashes if it's not removed daily.
Some people believe that Vaseline can help eyelashes grow because it coats the lashes and supposedly protects them from environmental toxins and harsh products.
While this may be true, it's also important to note that Vaseline prevents your lashes from breathing, which can lead to a number of problems, such as lash loss and infection.
Do eyelashes get shorter as you get older?
Yes, your eyelashes do tend to get shorter as you age. This is because the rate of growth of your eyelashes slows down as you get older.
Additionally, the lashes may also become thinner and more brittle with age.
Although there are products available that claim to be able to strengthen and lengthen your lashes, it is important to keep in mind that these will not change the rate of growth of your lashes or reverse the effects of aging on your lashes.
How do you apply mascara to old eyes?
There are a few things you can do to make applying mascara easier when you have older eyes. First, use a lengthening and curling mascara formula to help open up the eye area and add definition and curl straight lashes.
Secondly, use an eyelash curler to curl your lashes before applying curling mascara - this will help give your eyes a lift. Finally, apply mascara in short, gentle strokes to avoid pulling on delicate lash hairs.
How do you fix short eyelashes?
There are a few things you can do to help fix short eyelashes. One is to use an eyelash serum or growth treatment along your lash line.
This will help to promote lash growth and make them look fuller and longer.
Another thing you can do is use an eyeliner pencil to create a thicker looking line along your lash line. This will make your lashes look more voluminous and pronounced.
Finally, try not to tug on your lashes when applying mascara or removing it - this can cause them to become brittle and break off.
Do eyelashes still grow back after 50?
Yes, eyelashes will continue to grow even after you reach the age of 50. However, the growth rate may slow down as you get older. Make sure to take good care of your lashes by using an eyelash serum or conditioner, and avoid using harsh cosmetics or facial cleansers that could potentially damage them.
How can I stimulate my eyelashes naturally?
There are quite a few ways to help stimulate growth and health in your eyelashes naturally!  Dietary changes such as increasing biotin-rich foods in your diet (onions, garlic, egg yolks, salmon, nuts, and seeds) or taking a biotin supplement can be beneficial.
Antioxidant-rich foods like berries, dark leafy greens, and tomatoes can also promote lash health by helping to fight inflammation and damage caused by free radicals.
Regularly massaging the base of your lashes with a nourishing oil like castor oil or coconut oil can also help to stimulate growth of the tiniest lashes.
Best Cruelty Free Mascara for You
So, there you have it. Our top mascaras that are furry friend friendly. We've read through countless reviews and social media posts to find the best of the best cruelty free brands for you.
We think we've found the good ones. Just click on any of the links above to check out prices and reviews for yourself.