Blotting Powder That Will Keep You Photo Ready All Day!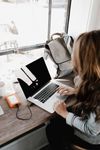 RiRi's blotting powder will keep your makeup looking IG ready and you looking airbrushed IRL. We love it, but we also found these amazing dupes!
Want that instantly filtered look?
Blotting powder is the perfect way to keep your makeup looking fresh and your skin looking flawless all day long. Plus, it extends makeup wear considerably.
Looking for the best blotting powder for any age? We can help!
From Rhianna's Fenty Beauty's Invisimatte to NYX Professional Makeup HD Finishing Powder, these blotting powders will help you stay shine-free no matter what the weather throws at you and they come in universal shades fit for all.
Let's take a look at each one so you can find the powder that's best for your skin type!
How We Choose the Best Beauty Products for You
What are the best blotting powders? We wanted to know!
That's why our team reads through thousands of Amazon reviews, TikTok and YouTube videos and social media posts so you don't have to!
We've compiled a list of the absolute best makeup products. We know after reading this article you will find the best pressed powder to freshen up your makeup throughout the day.
Why We Picked It
How can you not love this powder? This Invisimatte instant setting blotting powder is designed to set your makeup without caking or creating any flashback in photos.
The universal blotting powder shade is the perfect match for all skin tones wether you are light, medium dark, or dark.
This exclusive pore diffusing complex is also vegan, cruelty free and talc free so you can feel good about putting it on your face.
Why We Picked It
This lightweight powder absorbs shine and helps minimize pores while keeping your makeup in place all day long.
This instant setting blotting powder is formulated in three shades so you can find your perfect match and it won't dry out your skin.
You'll love the natural matte finish of this powder and the oil control it provides on any skin tone.
Why We Picked It
This ultra-fine powder is formulated with ingredients like sugar polymer which controls the extra oil and cotton extract which improves health of your skin while it absorbs excess oil.
Plus, this universal shade has an almost translucent finish so you don't have to worry about it changing the color of your foundation or concealer.
This powder is free from pigments, mineral oil, talc, animal material and artificial fragrance yet it still absorbs shininess instantly.
Why We Picked It
This oil absorbing powder is designed specifically for oily skin types and helps reduce shine without drying out the skin or leaving behind any residue.
It is infused with powerful antioxidants such as citrus, aloe vera and broccoli to help neutralize harmful free radicals and shield skin.
Non-chalky, non-cakey and free from added parabens, phthalates, and mineral oil so it won't clog pores either!
Why We Picked It
You'll be photo ready after a few swipes on this powder.
This lightweight formula sets makeup with a silky smooth finish that won't cake up throughout the day.
This formula is cruelty-free, vegan and 100% free from phthalates, parabens, nonylphenol, ethoxylates, triclosan, triclocarban and hydroquinone - whatever those are!
Blotted is Better
If you're looking for a way to set your makeup and keep shine away all day long, then blotting powder is definitely worth trying out.
Especially if you're looking for that instant filtered look IRL and not just on IG.
From Fenty Beauty's Invisimatte to the K-Beauty brands, there are plenty of great options on the market that will help keep you shine-free all day long.
So, try them out today and see which one works best for you. We know you'll be happy with any powder on this list!
You may want a matte finish on your face, but a little gloss on your pout is quite nice!
We found some amazing lip plumping glosses while we were on the hunt for powders. It's so easy to get sidetracked!
Tap the button below for our list of the best lip plumper glosses you can buy online!