Sexy Hair: The Best Burgundy Hair Dye for Your Skin Tone!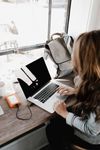 Whether you're looking to go all out with a deep wine shade or just add a touch of color, we've got you covered. Here are the best hair dyes.
Looking for the best burgundy hair dye to enhance your natural skin tone? You've come to the right place!
In this article, we will discuss a few different shades of burgundy hair dye and how to find the perfect one for you.
We'll also cover how to do burgundy hair colors yourself at home with ease with a burgundy box hair dye.
So whether you're looking to go all out with a deep wine shade or just add a touch of color, we've got you covered. Keep reading for all the details!
How We Choose the Best Burgundy Hair Dyes
What is the best burgundy hair dye? We want to know! That's why our team reads through thousands of Amazon reviews, TikTok and YouTube videos and social media posts so you don't have to!
We've compiled a list of the absolute best hair dyes. We know after reading this article you will find the best dye for you.
Why We Picked It
Ready to give your hair a breathtakingly bold makeover? Then you need Garnier Nutrisse 362, Darkest Berry Burgundy!
This permanent hair dye is perfect for those seeking the darkest berry hue with maximum impact. Its color boost technology and blend of triple fruit oils—avocado, olive, and shea—give you the perfect color without sacrificing your hair's health.
Packed with nourishing vitamins and ingredients like Shea, grape seed and avocado oil, Nutisse's rich non-drip crème formula will have you feeling silky soft after each use.
And since it's totally permanent, you can keep that gorgeous berry burgundy hue all year round!
Plus, you can trust that this product has over a hundred years of pioneering in hair care behind it – ever since 1904, Garnier has been finding and blending natural ingredients into amazing breakthrough formulas.
Why We Picked It
Tired of the same boring hair color? Ready to make a statement and turn heads? Look no further than L'Oreal Paris Feria Permanent Hair Color in R37, Deep Burgundy.
This edgy shade of permanent burgundy hair dye is sure to create a buzz with its shimmery hue and intense vibrancy. It'll be hard not to get noticed with this daring change.
L'Oreal's Power Shimmer Feria Conditioner locks in this dramatic color while leaving your hair looking and feeling smooth, soft, and silky. Plus, it seals in the shine that will have everyone asking "who did your hair?"
Why We Picked It
Ready for something new? Unearth your inner beauty with Arctic Fox's Ritual Semi-Permanent Hair Color.
If you're looking for something that's richly pigmented and vibrant, look no further - Ritual is here to turn all your wildest hair fantasies into reality.
Featuring a gorgeous jewel-toned burgundy hue, it looks best on levels 7 and above. Have to keep it professional at work?
Then don't worry - this subtle yet irresistible red velvet shade will make sure you stay under the radar while still feeling bold AF.
Craving something softer? No problem! Simply dilute Ritual and BOOM – you've got yourself a sultry dusty rose masterpiece.
Beyond amazing color, Ritual also has zero nasty chemicals that can damage your hair like chemical-based colors do.
Instead, it only uses vegan ingredients with no animal by-products; plus it conditions as it restores vibrancy. And the long-lasting color, lack of smears, sweet scent, no peroxide or ammonia…we could go on forever!
Why We Picked It
Ready to up your hair game? Let's do it!
Revlon Colorsilk offers the perfect solution for a salon-quality look and long-lasting, intensive deep burgundy color.
With the convenience of at-home use and co-development from experts, you can ensure that your color won't fade away any time soon.
Plus, with zero ammonia, Revlon Colorsilk not only gives you beautiful results but also nourishes and fortifies your hair with keratin and silk amino acid!
Their 3D Color Gel Technology will give you results that leave you looking and feeling great with intense 100% gray coverage. This easy to use kit offers a quick process from root to tip for changing up or covering over any unwanted greys in a snap.
Why We Picked It
Welcome to a world of better color, better you!
With Naturtint Permanent Hair Color 5R Fire Red, you can achieve a head full of luxurious, glowing tresses in no time.
This mega red shade promises to leave you looking and feeling great thanks to its cruelty-free and vegan formula which is FREE from ammonia, parabens, artificial fragrance, heavy metals, sodium lauryl sulfate and sodium laureth sulfate.
Enriched with plant ingredients like oleic acid derived from olives and meadowfoam seed oil to nourish your tresses for added softness and shine.
Plus, gray coverage of up to 100% for long-lasting natural-looking results - this hassle-free hair dye says 'yes' to all the good stuff without any of the bad.
Why We Picked It
Ready to feel out of this world? Look no further than Schwarzkopf Keratin Color Permanent Hair Color, 1.8 Ruby Noir.
Whether you're trying to cover up some pesky grays or just looking to give yourself a revitalized look, this is the perfect shade for your hair.
With long lasting color intensity and pre-color serum, you'll have strong and healthy-looking strands that will make everyone do a double take.
The K Bond-Plex repairs the inner hair structure and coats the surface after coloring – that's up to 80% less hair breakage!
The pre-color serum also ensures an even color from root to tip – overall giving you a royal look that's nothing short of luminescent.
If your hair is past shoulder length, we recommend using two boxes for the complete application.
Burgundy Hair Dye FAQ's
Dying your hair burgundy can be a little overwhelming. You want to make sure you get the right color and don't damage your hair in the process.
A lot of people are hesitant to dye their hair burgundy because they're afraid of making a mistake. They're not sure what color to choose or how to go about dying their hair.
We've put together a list of the most frequently asked questions about dying your hair burgundy.
This will help you figure out what color to choose, how to prepare for the dye job, and how to take care of your hair afterwards.
What skin tone is best for burgundy hair?
Burgundy hair can look great on a range of skin tones, but it will be most flattering on someone with a warm complexion.
This is because cool colors like burgundy tend to emphasize any yellow undertones in your skin.
Depending on your skin tone, you may want to consider different shades of burgundy.
For example, lighter skin tones might want to go with a brighter shade of burgundy, while darker skin tones might prefer a richer or darker shade.
No matter what your skin tone is, it's important to make sure that the color of your hair complements your complexion.
So if you're thinking about going burgundy, be sure to take into account the overall color of your skin and hair before making a decision.
How do you get the best burgundy hair color?
There are a few things to consider when trying to get the best burgundy hair color.
The first is your natural hair color – the darker your hair is, the richer and more burgundy the burgundy color will be.
Second, you'll want to think about what undertone you want your burgundy color to have.
For example, if you have cool skin undertones, go for a cool-toned burgundy; if you have warm skin undertones, go for a warm-toned burgundy.
And finally, you'll need to decide on the level of burgundy that you want in your hair. There are light burgundies, dark burgundies, and everything in between.
Does burgundy hair color damage hair?
It can, but it doesn't have to. There are a few things to consider when it comes to coloring your hair burgundy. The most important is finding a shade of burgundy that is appropriate for your hair color and type.
Going too dark or too light can damage your hair, so be sure to choose a color that is close to your natural shade.
Also, be sure to use a good quality hair coloring product that is made for damaged hair. This will help protect your hair from further damage and will also help keep the color looking vibrant for longer.
Finally, use a good quality conditioner after you color your hair to help restore the moisture that has been lost during the coloring process.
Does burgundy hair make you look older?
There's no single answer to this question since everyone's features and coloring are different.
However, generally speaking, burgundy hair can make you look a bit older if it's not styled or colored in the right way.
Burgundy hair is a beautiful color and it can really enhance your features if done correctly.
But like all other hair colors, it takes time and practice to get the look just right. So if you're thinking of dyeing your hair burgundy, be sure to consult with a professional stylist who can help you choose the right shade and style for your complexion.
What color will burgundy hair fade to?
As your burgundy hair grows out, the natural warmth of your hair color will start to show through.
The red tones in your hair will fade to a warmer brown, and the black tones will fade to a deep chocolate brown.
Over time, this natural warmth will become more dominant, and your burgundy hair color will eventually fade to a light chestnut brown.
Is burgundy hair low maintenance?
Burgundy hair is low maintenance for some people, but high maintenance for others. It really depends on your natural hair color and how light or dark the burgundy shade is that you choose.
If your natural hair color is light, then a deep burgundy shade will require more upkeep since it will be more visible against your natural hair color.
But if you have medium to dark hair, then choosing a lighter burgundy shade can be low maintenance.
What hair color makes a woman look younger?
Many women look younger with lighter hair colors, especially ash blondes and light browns. Brunettes can also look younger by adding blonde highlights.
Keep in mind, however, that the most important thing is to have a color that complements your complexion and skin tone.
For example, if you have very pale skin, avoid hair colors that are too dark or harsh. Talk to your stylist about what would be best for you. They will be able to offer advice based on your specific features.
How do I keep my burgundy hair from fading?
There are a few things you can do to help keep your dark burgundy hair dye from fading. First, be sure to use a shampoo and conditioner that are designed for color-treated hair.
You may also want to invest in a good quality hair dye or color protection spray to help keep your color looking vibrant.
Finally, avoid excessive exposure to the sun and other harsh weather conditions.
Does burgundy show up on dark hair?
Yes, burgundy can show up on dark brown hair. Burgundy is a type of red that has more purple in it, so it can be a bit darker than other shades of red.
If your hair is very dark brown or black, the burgundy may not show up as much, but if your hair is medium to light brown, the burgundy will show up more strongly.
Is burgundy good for grey hair?
There are a few things to consider when it comes to whether burgundy is good for grey hair.
The first is that not all shades of burgundy will look good with grey hair. You'll want to find a shade that has cool undertones, as this will help to counteract any yellow or orange tones in the grey hair.
You'll also want to make sure that you use a shampoo and conditioner specifically for colored hair, as these products will help to keep the burgundy from fading.
Finally, be sure to avoid washing your hair with super hot water, as this can cause the burgundy color to fade more quickly.
Is burgundy same as auburn?
There is a lot of confusion about the difference between burgundy and auburn hair colors, but the two are actually quite different.
Burgundy is a dark red color that has purple undertones, while auburn is a light brown hair color with reddish undertones.
What is the highest maintenance hair color?
There is no definitive answer to this question since it largely depends on a person's natural hair color, hair type, and lifestyle.
However, some people have reported that platinum blonde hair is the highest maintenance hair color because it requires regular bleaching and toning to maintain its light shade.
The Best Burgundy Dye for Your Hair
So what is the best burgundy hair dye? According to customer reviews, the best  include the brands we listed here.
We've included links to shop so you can check out prices and reviews of burgundy color hair dye for yourself.
If you're researching other trending hair colors, you've come to the right place! We have been researching hair color trends and we have even more suggestions. How about periwinkle?
Tap the button below for our list of the best periwinkle hair dyes you can do at home.