Give Your Lips Dimension & Definition with the 6 Best Terracotta Lipstick Shades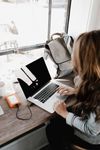 Whether you're looking for a subtle natural look or something more dramatic, these shades will help you achieve the perfect lip color.
Looking for a new way to add dimension and definition to your lips? Check out this guide to the best terracotta lipstick shades!
These warm, earthy colors are perfect for adding depth and intensity to your look. Whether you're looking for a subtle natural look or something more dramatic, these shades will help you achieve the perfect lip color.
After reading this post, you'll surely want to pop one of these into your makeup bag ASAP!
How We Choose the Best Terracotta Lipstick Shades for You
What are the best terracotta lipsticks? We want to know! That's why our team reads through thousands of Amazon reviews, TikTok and YouTube videos and social media posts so you don't have to!
We've compiled a list of the absolute best of the best. We know after reading this article you will find the best terracotta lipstick for you.
Why We Picked It
ILIA Colorblock High Impact Lipstick in Cinnabar is the perfect balance of classic style and performance-driven beauty.
With four times more pigment than any other lipstick ILIA has ever made, you'll get lasting full coverage with just one swipe along with a creamy finish.
Crafted by hand and milled with customized pigments in organic castor seed oil, lips are left feeling supple, hydrated, and cared for even after several hours of wear.
Cinnabar: the perfect lipstick for lusciously supple lips without compromising on lasting color.
Why We Picked It
Meet Julep's It's Whipped Matte Lip Mousse. Offering a velvety matte finish, this light and fluffy lip mousse provides full-coverage color without drying out your lips.
This classic shade is enriched with shea butter, sunflower oils and rosemary extract to nourish and soften lips with natural ingredients.
Enjoy velvety matte lip color in a burnt orange tone all day with a barely-there feel.
Why We Picked It
Make your lips look fuller and more voluminous with it Cosmetics Pillow Lips Lipstick in the universally flattering shade Serene.
With one swipe, experience high-impact color payoff without feeling dry or cakey. Its unique bullet shape hugs the curves of your pout for added plumping and a smooth application.
Its conditioning matte formula glides on and helps minimize lip wrinkles and contains nourishing ingredients like collagen, hyaluronic filling spheres, shea butter, and beeswax to keep your lips feeling moisturized all day. You'll feel like you're just wearing lip balm.
Get full coverage color that is specifically designed for all skin tones.
Why We Picked It
Get soft, comfortable lips with Lime Crime Soft Touch Comfort Matte Lipstick in Vintage Spice.
Glide it on and smooth out lip lines with its blurring effect while enjoying its tantalizing vanilla minty scent.
With its earthy reddish brown hue, Soft Touch is non-drying, feather-light, and free of talc & parabens.
Plus, it comes in a unique paper packaging that reduces plastic use. Feel good knowing that Lime Crime is certified by both Leaping Bunny and PETA with quality products made using globally sourced ingredients!
Why We Picked It
Introducing Kuckian in Wildfire: the world-famous, 12-hour long-wear, kiss-proof terracotta lipstick.
Kuckian is dedicated to clean beauty and is vegan and cruelty free; every lipstick is enriched with Vitamin E for a powerful antioxidant burst.
Plus, you get two precision applicators with each color so your masterpiece lip stain stays put and transfer proof all day.
Why We Picked It
NYX Professional Makeup's Cactus Dream Satin Lipstick is as hip and innovative as the desert flower it's named after.
Packed with pigment, each swipe delivers up to four hours of hydration--along with shea and mango butters for soft yet vibrant lips.
Cruelty free and PETA certified, they love animals so much that it shows in every step of their products' production.
Terracotta Lipstick FAQ's
You've heard all the hype about terracotta lipstick and you're curious, but you have some questions.
There are a lot of questions about terracotta lipstick because it's a trendy shade. But don't worry, we've got answers.
Keep reading for the answers to your questions about terracotta lipstick, including what it is, how to wear it, and where you can buy it.
What color is terracotta lipstick?
Some people think terracotta is orange lipstick. However, it is typically a warm, reddish-brown shade that can evoke the earthy tones found in nature.
It has copper and bronze undertones, which give it more of an orange hue than a pink one.
Some people may describe terracotta lipstick as a rusty color or even a burnt sienna.
It's often likened to the color of clay or autumn leaves, with subtle gold shimmer flecks that make it suitable for special occasions such as weddings or formal events.
When applying terracotta lipstick, try to find neutral lip liner colors like nude or mocha to create contrast with the boldness of the shade itself.
With its ability to provide depth while still looking natural and vibrant, terracotta is sure to be your new go-to lipstick color. Just stay away from the bright oranges, unless the rest of your makeup is very toned down!
What undertone is terracotta?
Terracotta has a warm, earthy undertone that is similar to the natural tones of clay, dirt and berries.
It is milder in intensity than other earth tones such as ochre or burnt sienna, but still offers a lot of warmth and depth.
What type of lipstick looks most natural?
When it comes to finding a natural-looking lipstick, you'll want to choose one that is both moisturizing and lightweight.
Look for formulas that contain beneficial ingredients like shea butter, jojoba oil, aloe vera, beeswax and vitamin E, as these will help keep your lips hydrated without feeling or looking heavy.
When selecting the shade of lipstick that looks most natural on your skin tone, stay away from overly bright colors or opaque finishes.
Instead opt for a sheer or glossy formula with a subtle hue which will look more flattering and believable on your skin.
Nudes and pinks in an array of light shades are considered universally flattering options.
What type of lipstick should an older woman wear?
When it comes to choosing the right color of lipstick for an older woman, there are a few key points to keep in mind.
First of all, since skin's texture and tone tend to change with age, bolder shades of lip color are often more flattering on those over 50.
A deep burgundy or plum shade is especially beautiful with gray or silver hair. Rich berry shades like raspberry, cranberry, or a spiked punch color will help create definition along the lips while creating a softer look overall.
On the other hand, if your hair has taken on more golden tones overtime, try experimenting with warm peach or rose hues.
Deep brownish-reds often work well too – they won't draw too much attention but still provide full coverage to help define lips without looking unnatural.
Another factor to consider is that as we age our teeth can become dulled due to certain medications and behaviors such as drinking coffee and tea.
To counteract this yellowing effect avoid dark and matte lipstick colors which can make teeth appear even yellower in comparison; instead opt for light pinks or apricots that have some shine so your smile stands out! Charlotte Tilbury offers some very nice muted shades you can try.
Finally, when selecting a shade for yourself always swatch it directly onto your lips rather than relying solely on how it looks in the container – this way you can map how each one complements your natural lip pigment accurately so you end up picking the perfect hue!
The Best Terracotta Lipstick for Your Look
What is the best lipstick for your look? According to customer and makeup artist reviews, the best products include the brands we featured in this article.
We've included links to shop so you can check out prices and reviews of these products for yourself.
Another lip product that is trending is lip plumping gloss. We went looking for the best ones and we found them. Tap the button below for our list of the best lip plumping glosses you can buy online.