8 Best Japanese Mascaras That Will Make Your Lashes Look Incredible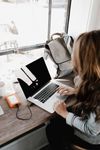 Just a couple swipes of these magical Japanese mascaras will give you thick,dramatic, eye-catching lashes that will last all day long.
If you're looking for the best mascara to enhance your lashes, you should definitely check out Japanese mascaras.
They are known for being some of the best in the world with unique mascara brushes, and they will make your lashes look longer, thicker, and more voluminous.
In this post, we will reveal the best Japanese mascaras that are available right now. We'll also give you a little bit of information about each one so that you can decide which one is best for you. Let's get started!
How We Choose the Best Japanese Mascaras
What is the best Japanese mascara? We wanted to know! That's why our team reads through thousands of Amazon reviews, TikTok and YouTube videos and social media posts so you don't have to!
We've compiled a list of the absolute best Japanese mascara. We know after reading this article you will find the best product for you.
Why We Picked It
There's nothing like long, voluminous lashes to make your eyes pop. And with Heroine Make Long and Curl Mascara advanced film, you can achieve the look of falsies without the expense.
Just a couple swipes of this magical mascara will give you dramatic, eye-catching lashes that will last all day long.
But it's not just about the length, this mascara also gives your lashes a boost of curl that will make them look even more luscious.
This lengthening mascara provides up to 10 hours of curl with dynamic lengthening effect. A waterproof, long-lasting mascara that won't irritate sensitive eyes. And, it's super easy to apply thanks to the innovative wand design.
This mascara contains delicious ingredients that protect sensitive lashes, such as wild rose oil, argan oil, royal jelly extract and camellia oil.
Why We Picked It
Koji's Dolly Wink Volume Mascara is perfect for creating a thick, dramatic fringe that highlights your eyes.
The long-lasting and waterproof formula is enhanced with polymers that coat each lash from root to tip, bulking and fattening them up with just a few swipes.
Whether you're looking for a night out or just want to add some extra drama to your look, this mascara is sure to give you the results you're after.
Why We Picked It
Looking for a water resistant lengthening mascara that won't flake or smear? Look no further than DHC's Double Protection Mascara.
Featuring innovative Japanese polymer tube technology, this lash advanced mascara long-wearing formula will give your lashes lengthening and overall definition like never before. In addition, its flexible wand is great for reaching even the tiniest of lashes - perfect for creating a bold and dramatic look.
Why We Picked It
One stroke is all it takes to achieve long, lush lashes with Shiseido Majolica Majorca Lash Expander Edge Meister Mascara.
This innovative mascara has a curved brush that hugs the lash line to deliver a major lash boost with each sweep. The ultra-fine bristles evenly coat each lash for clump-free definition and a fluttery effect.
The lightweight formula is buildable for custom coverage, so you can go as bold or natural as you like. And because it's waterproof, you can count on your lashes looking fabulous all day long—no matter what the weather brings.
Why We Picked It
Say hello to Opera My Lash Mascara. This unique formula contains active ingredients that help to lengthen, volumize, and curl your lashes for a dramatic look.
Got short, stubby lashes? No problem! Opera My Lash Mascara contains an innovative lengthening agent that instantly adds length and definition to your lashes.
Plus, the buildable formula allows you to create the exact look you want, whether it's natural and understated or bold and dramatic.
And if you're looking for long-lasting results, this mascara is for you! The long-wearing formula ensures that your lashes will stay put all day (and night!) long. So go ahead and flutter those lashes with confidence.
Why We Picked It
Looking for a way to extend your lashes and give them a false lash finish? Look no further than Dejavu Fiberwig Ultra Long And Tiny Sniper Mascara.
This innovative mascara uses Eyelash Film Technology to coat each individual lash with a smooth, clump-free film, giving you the long, separated lashes of your dreams.
Plus, the smudge-proof, flake-proof formula is water-based, so it repels oil, sweat, tears, and friction throughout the day.
And when it's time to remove your makeup, just add some warm water and the film will slide right off - no damage to your natural lashes or delicate eye area.
Why We Picked It
Looking for a mascara that will give you ultra-thick, fluttery lashes? Look no further than Canmake Tokyo Gokubuto Mascara.
This super-volumizing and curling mascara is perfect for achieving the look you want. The film-type formulation ensures that your lashes will stay in place all day long, and the long-lasting curling effect will keep them looking great.
Plus, the easy-to-remove formula means that you can take it off at the end of the day with just warm water.
Why We Picked It
Are you looking for a mascara that will give you long, Dramatic lashes with just one coat? Look no further than Canmake Tokyo's Gokubuto Mascara.
This amazing mascara is easy to apply and will not smudge all day long. Plus, it is easy to remove with warm water. You don't need makeup remover so it's perfect for busy ladies on the go!
Japanese Mascara FAQ's
People are often curious about Japanese mascaras, but they don't know where to start when it comes to researching them.
There's a lot of misinformation out there about Japanese mascaras. Some people think the ingredients might be different or they're not as good as American products.
We've compiled the most frequently asked questions about Japanese mascaras so that you can make an informed decision before you buy.
Our FAQ includes information about the different types of Japanese mascaras, how to use them, and what to expect from their performance.
Which mascara is best in Japan?
Japanese mascaras are known for being some of the best in the world. They often have unique, innovative formulas that give your lashes a lot of volume and length.
Some of the most popular Japanese mascaras include Shu Uemura, Dolly Wink, and Collistar. So if you're looking for an amazing mascara, it's worth checking out products from these brands.
What is the best mascara in the world?
The best mascara in the world is the one that makes your lashes look the best. It might be a high-end brand like Chanel or Givenchy, or it might be a drugstore brand like Maybelline or CoverGirl.
The bottom line is that there is no one "best" mascara. What works for someone else might not work for you, and what works today might not work tomorrow.
So if you find a mascara that you really love, stick with it! And if you're looking for something new, experiment until you find one that gives your lashes the look you want.
Which Korean mascara is best?
There a lot of great Korean mascaras on the market, but a cult favorite is the Clio Kill Black Waterproof Mascara. It's super black, waterproof, and doesn't smudge. Plus, it separates and lengthens lashes beautifully.
What is the healthiest mascara to wear?
There's no one definitive answer to this question since different people have different allergies and sensitivities. However, most natural mascaras are made with ingredients like beeswax, carnauba wax, and vegetable glycerin, which are all known to be gentle and non-toxic.
That said, it's always a good idea to read the ingredients list before purchasing any product to make sure there are no harsh chemicals or other harmful ingredients.
Some of the best natural mascaras on the market include Purlisse Blue Lotus Waterproof Mascara, 100% Pure Fruit Pigmented Mascara, and W3ll People Expressionist Mascara.
Which brand is famous in Japan?
There is no definitive answer to this question since it depends on personal preferences. However, some of the most popular cosmetics brands in Japan include Shiseido, Kanebo, Kao, SK-II and KATE. These brands are known for their high quality products and unique packaging.
What is the best Japanese makeup brand?
There is no one "best" Japanese makeup brand, since there are so many different brands that specialize in different types of products. However, some of the most popular Japanese makeup brands include Shiseido, SK-II, KATE, and Tarte.
Shiseido is a well-known brand that offers a wide range of cosmetics products, from skincare to foundation to mascara. They're known for their high quality and luxurious formulations.
SK-II is another popular brand known for their excellent skincare products. Their Facial Treatment Essence has been called a "holy grail" product by many beauty enthusiasts.
KATE is a Japanese brand that specializes in eyelash curlers and other makeup tools. Their best-selling products include the Kiss Me Heroine Make Long and Curl Mascara, as well as their Precision Eye Liner.
And finally, Tarte is a popular makeup brand best known for their high-quality beauty serums, skincare and cosmetics products that are formulated without parabens or sulfates.
Some of their best-selling products include the Tarte Shape Tape Contour Concealer, as well as their best-selling Amazonian Clay 12-Hour Full Coverage Foundation.
Are Japanese products higher quality?
There is no easy answer to this question, as "quality" can be a subjective term. However, many people feel that Japanese products are of a higher quality than other products on the market, due to the country's focus on precision and detail.
For example, Japanese knives are renowned for their sharpness and durability, and Japanese cars are often praised for their high level of engineering and attention to detail.
So it seems that in general, Japanese products do tend to have a reputation for being well-made and long-lasting.
What is the best beauty product in Japan?
There are a lot of great beauty products in Japan, but one of the most popular is the Kose Sekkisei line. Sekkisei is a Japanese word that means "pure and clear."
The Kose Sekkisei line is designed to brighten and even skin tone, while also providing hydration. The products are made with natural ingredients, so they're gentle on skin and effective at restoring a healthy complexion.
What beauty products must buy in Japan?
If you're in Japan and looking to buy some top-quality beauty products, here are a few recommendations:
1. SK-II Facial Treatment Essence: This cult Japanese beauty product is known for its ability to improve the appearance of skin texture and brightness.
2. Shiseido Ultimune Power Infusing Concentrate: This serum is designed to boost the immune system of your skin and protect it from environmental stressors.
3. KOSE Softymo Speedy Cleansing Oil: A gentle cleansing oil that removes all traces of makeup and dirt without leaving your skin feeling dry or tight.
4. Kanebo Freshel White C Foaming Face Wash: A foaming face wash  that helps brighten skin tone and restore radiance.
5. Tatcha Luminous Deep Hydration Firming Eye Serum: A best-selling Japanese eye serum that helps to reduce the appearance of fine lines, wrinkles, and puffiness.
What is tubing mascara?
A tubing mascara is a type of mascara that coats the lashes in a clear, flexible film. When you apply mascara, this film forms "tubes" around each lash and helps to lengthen and curl them.
One of the benefits of tubing mascaras is that they don't smudge or flake like traditional mascaras can. They also come off very easily with just warm water, so there's no need for harsh makeup removers.
How do I use an eyelash curler to curl lashes?
To use a lash curler for the best curled lashes, clamp the lashes at the base near the roots and hold for about 10 seconds. Curl in the opposite direction of how they grow - if they grow downwards, curl upwards.
Be careful not to clamp too hard as this could damage your lashes. Combine a quick lash curler with one of our recommended mascaras and you'll be good to go!
The Best Japanese Mascaras
So what is the best Japanese mascara for natural looking lashes? According to our findings, it looks like the best products include the brands we listed above.
We've included links to Amazon so you can check out prices and reviews of these products for yourself. And don't forget – experiment with different products until you find the one that works best for you.
Now that you have some mascara recommendations, you'll want to use a great eyelash curler for the best effect. Need some suggestions? We have a few! Tap the button below for our list of the best eyelash curlers, including an awesome Japanese brand.