Brow Hack for Busy Mornings: The Best Eyebrow Stamp Kits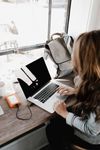 If you're looking for a quick and easy way to improve your brow game, then this is the brow hack for you. Here are the best kits for the job.
Forget the days of using an eyebrow pencil to try and create the perfect arch. With  eyebrow stamp kits, you can have fabulous brows in seconds!
These easy-to-use kits come with either eyebrow stamps or brow powder and stencils to help you get the perfect shape every time.
If you're looking for a quick and easy way to improve your brow game, then this is the hack for you.
How We Choose the Best Brow Stamp Kit for You
What is the best brow stamp kit for flawless brows? We want to know!
That's why our team reads through thousands of Amazon reviews, TikTok and YouTube videos and social media posts so you don't have to!
We've compiled a list of the absolute best kits. We know after reading this post you will find the best eyebrow stamp kit 2022-2023 according to customer reviews.
Why We Picked It
Transform your dream of perfect eyebrows into reality with the Aesthetica Brow Contour Kit.
This all-inclusive palette includes 6 blendable brow powders, a highlighting powder, cream concealer and highlighter, setting wax/pomade, tweezers, 5 eye brow stencils and a pro series double ended brow brush – everything you need for transforming your look.
All proudly cruelty-free, paraben free and gluten free. Get natural brows with this handy, all-in-one kit.
Why We Picked It
Enhance your brow game with the Madluvv Brow Stamp - the perfect tool to get beautiful, flawlessly shaped brows.
Each kit contains one stamp, six user-customizable shaped stencils, a spoolie brush and a carrying bag so you can achieve salon quality brows on-the-go.
The stencils offer the six most popular shapes while our comprehensive tutorial helps you understand which shape is appropriate for your look of the day.
Found in some of the world's most prestigious salons, upgrade your beauty routine with Madluvv today.
Why We Picked It
Anastasia Beverly Hills Classic Stencils are the perfect kit for creating glamorous brow shapes while maintaining a natural look.
The set of five patented eyebrow shapes helps you to recreate Anastasia's Golden Ratio Eyebrow Shaping Method, making it easy to find the best shape for your face.
The flexible plastic hugs the brow bone, ensuring precise application when using brow powder (sold separately).
Achieve naturally balanced and beautiful eyebrows with Anastasia Beverly Hills Classic Stencils.
Why We Picked It
Get the perfect brows with Salon Perfect's Brow Powder & Stencil Combo.
This kit is designed to take your eyebrows to the next level, with an easy-to-use lightweight formula that offers medium coverage.
The package comes with powder, four stencils, a professional angled brush and two shades so you can get an optimal match for your natural look.
The universal brown hue pairs perfectly with other makeup in different shades.
Why We Picked It
Get your perfect brows with iMethod's Eyebrow Stamp and Eyebrow Stencil Kit.
This easy to use kit includes 10 eyebrow stencils, eyebrow pomade, a sponge applicator for stamping, and a dual-ended angled eyebrow brush.
Get salon-level brows with long-lasting, smudge-proof and waterproof formula that won't run or fade away in any weather.
Perfect for both beginners and pros alike! Cruelty-free, fast and fuss-free - get your best arches now with iMethod Brow Stamp and Shaping Kit.
Eyebrow Stamp Kit FAQ's
Eyebrow stamp kits are a new and innovative way to fill in and shape your eyebrows, but you may have some questions about how they work.
Not to worry! We've answered the most frequently asked questions about eyebrow stamp kits so that you can decide if this is the right beauty product for you.
Here are the most frequently asked questions about the eyebrow stamp trend.
Do eyebrow stamp kits work?
Eyebrow stamp kits are an increasingly popular choice for those looking to achieve a bold, full brow in seconds.
Ultimately whether or not eyebrow stamp kits work will depend heavily on the look you want to achieve.
If you're looking for something quick and easy, they could prove beneficial but if you want more softness/naturalness out of your look then perhaps traditional brow makeup could suit you better in this case!
What color brow stamp should I get?
The best way to find a shade that complements your eyebrows is to look at different options and assess how they look on your skin tone, hair color, and overall aesthetic.
If you have light brown or blonde hair and fair skin, opt for an ashy taupe or cool grayish brown hue.
For those with medium-brown locks and warm undertones in their skin, a reddish brown shade would work nicely, or you can go dark brown.
Those with darker complexions should choose something like deep chocolate brown while those with black hair should stick to deep black for an edgy finish.
It's also important not to go too dark with your brow stamp selection since this can easily result in an unnatural appearance.
Ultimately, how much pigment you apply (and the precise color) depend on everyone's preference but finding a shade that works well for you will give your brows definition without looking overly done up.
How long does eyebrow stamp last?
Eyebrow powder stamping can last up to two days depending on the application technique, the type of product used, and your skin type.
The best way to ensure long-lasting brows is proper application and upkeep. Start by exfoliating and moisturizing well before applying; this will help keep the product in place for longer.
More importantly, use a water-resistant eyebrow tint specifically designed for an all-day hold.
When using a powder stamp method with stencils or other applicators, be sure to press firmly against the skin before lifting away from the brow area so that you get a crisp line that lasts!
Finally, avoid rubbing or smudging your eyebrows throughout the day as much as possible to preserve their shape and color.
Should my eyebrows be lighter or darker than my hair color?
Generally, it is best to match the color of your eyebrows with your hair color. If you have dark hair, select a shade slightly lighter than your natural hair color for your eyebrows.
For those with light colored locks, a darker hue works better. However, this is ultimately determined by personal preference and desired look.
In addition to matching eyebrow color to one's hair tone, various other factors should be taken into consideration such as facial structure or skin complexion - selecting an eyebrow shade that compliments these features helps create balance and symmetry in the facial area.
What eyebrow color makes you look younger?
While there is no single answer to this question, light or medium shades of brown eyebrows are typically the most youth-enhancing.
Eyebrows that are too dark can age your face, while eyebrows that are too light can make you look washed out.
A softer color – such as a taupe shade – can help redefine facial features and shape brows perfectly.
In short, it's best to opt for a natural shade which will flatter your skin tone and frame the eyes subtly yet effectively - this is key when trying to create a more youthful appearance.
It's also important to consider brow shape when looking for ways to appear younger.
A fuller arch with sharper angles mimics our youthful eyebrow structure by lifting the eyes. So you may have to pluck some brow hairs to get the optimal shape.
You can also opt for brow lamination. Having lifted, straight brows can show you are on trend and give you a more youthful appearance.
The Best Brow Stamp Kit for You
So what is the best eyebrow stamp kit for a fast, beautiful eyebrow shape? According to customer reviews, the best best eyebrow stencils for perfect brows include the brands featured in this article.
We've included shopping links so you can check out prices and reviews of these products for yourself.
If you're trying to create the perfect brow arch, you may need some brow concealer. We researched and found a few of the best. Tap the button below for a list of the best brow concealers.