High Drama: The Very Best Black Eyeshadow Trends of 2023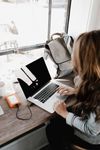 Whether your wanting a smoky eye look or extreme drama, these highly pigmented eyeshadow shades will deliver professional results.
When it comes to eyeshadow, black is one of the most versatile colors. Black eyeshadows can be used for a smoky eye look or to create a more dramatic effect.
However, not all black eyeshadows are created equal. Some are more pigmented than others, and some are easier to blend. Some have a high price point while others are budget buys.
In this post, we will reveal the best black eyeshadow options and why we love them!
How We Choose the Best Black Eyeshadow for You
How do we choose the best cosmetics for you? Our team reads through thousands of Amazon reviews, TikTok and YouTube videos and social media posts to compile the absolute best products. We know after reading this post you will find the best black eyeshadow for you.
Why We Picked It
Looking for a highly pigmented matte eyeshadow? Check out MAC eyeshadow in Carbon This beautiful color provides rich, saturated without shine in an easy-to-blend, long-lasting formula.
It's perfect for layering to build intensity, and when applied with a damp brush, can also double as a nice liner.
Plus, it's long-wearing and non-creasing, making it ideal for busy people on the go. MAC Carbon eyeshadow is also safe for contact-lens wearers and has been tested by both dermatologists and ophthalmologists.
Why We Picked It
Julep's Eyeshadow Stick is not only highly pigmented, but also waterproof and crease-proof, thanks to the crème-to-powder formula. Its crease resistant colors glide on effortlessly and they dry to a powder finish that will last all day (or night).
But what really sets this eyeshadow stick apart is the fact that it contains naturally effective ingredients like vitamin C and E. Vitamin C treats environmental damage and improves skin tone, while vitamin E protects against free radicals with antioxidants.
No brush needed with this shadow. Just glide and go. A built-in smudger allows for effortless blending.
Why We Picked It
Looking for an eye shadow that will stay put all day and night? Look no further than Maybelline New York's 24HR Cream Gel Eyeshadow. This unique formula is designed to last for a full 24 hours, giving you bold, beautiful eyes without any touch-ups.
The secret to this long-lasting eye shadow is in the ink technology, which delivers super-saturated color that won't fade or smudge.
The creamy gel texture glides on smoothly and dries to a matte finish, ensuring that your eye makeup will look fabulous from morning until night.
Best of all, this eye shadow is ophthalmologist tested and suitable for sensitive eyes and contact lens wearers. So go ahead and dare to wear your favorite shades with confidence.
Why We Picked It
Introducing Urban Decay Eyeshadow, the softest, most velvety eyeshadow formula out there. The rich, buildable colors are perfect for creating any look you desire, from a natural daytime look to a smoky eye for a night out.
And because this eyeshadow is crease-free, you'll never have to worry about your makeup losing its staying power. Urban Decay eyeshadow is a must-have for anyone who wants to experiment with color and create looks that are truly unique.
Why We Picked It
Looking for an eyeshadow that will make your eyes pop? Look no further than our Glam Attack Liquid Eyeshadow. This fallout-free, smear-proof, multidimensional liquid eyeshadow is perfect for creating a dramatic look.
With its blendable, buildable formula, you can create serious color payoff and add shade-shifting shimmer to your look. Whether you want depth, dimension, highlight, or intensity, our Glam Attack Liquid Eyeshadow will help you create the perfect look.
Black Eyeshadow FAQ's
Here are the most frequently asked questions about wearing black eyeshadow.
How do you rock black eyeshadow?
You can wear black eyeshadow in a number of ways, but the most common way is to sweep it across your upper eyelid, from the inner corners to the outer corners. You can also smudge it along your lower lash line for a smokey effect.
To make sure your eyeshadow stays put all day long, start by priming your eyelids with some eye primer.
Then, use a brush to apply the eyeshadow in layers, starting with a light shade as an eyeshadow base and then adding more depth and intensity with a darker shade.
And don't forget to blend! Blending is key when it comes to creating a seamless look.
How do you apply black eyeshadow for beginners?
For a natural-looking black eye, use a matte black eyeshadow as close to your lash line as possible. Start at the inner corner of your eye and work your way out.
If you want a more dramatic look, use a black eyeliner to create sharp cat eyes. Start at the inner corner of your eye and extend the liner up and out, making sure it's thicker towards the end. Apply mascara to top and bottom lashes for added drama.
Can you wear dark eyeshadow during the day?
Yes, you can wear dark eyeshadow during the day. In fact, many people prefer to wear darker colors during the day because they can be more subtle and less dramatic than vivid, bright colors.
That said, it's important to choose a color that complements your eye color and skin tone.
For example, deep green eyeshadow looks great with brown eyes and light olive skin tones, while deep purple or plum looks good with lighter blue or green eyes and fair skin tones. So take some time to experiment with different colors until you find a look that you love!
How do you blend black eyeshadow?
There are a few ways to blend black eyeshadow. You can use a brush, your fingers, or a sponge.
If you're using a brush, pick up some of the shadow with the bristles and tap off any excess. Then, starting at the inner corner of your eye, apply the shadow in a sweeping motion along the lash line. You can also use the brush to apply shadow in the crease of your eye.
If you're using your fingers, take some of the shadow and press it into your eyelid with your thumb and index finger. Then, use your middle finger to sweep the ultra fine powders outward toward the outer corner of your eye.
If you're using a sponge, moisten it with water and then dip it into the shadow. Dab it onto your eyelid and use a patting motion to blend it out.
Whatever method you choose, make sure to blend well so there are no harsh lines.
Where do you apply black eyeshadow?
You can apply black eyeshadow in a number of places, depending on the look you're going for.
Some people like to apply it all over the eyelid, while others prefer to just use it in the crease creating depth. Some people even use it as liner. The most important thing is to make sure that you blend it well so that there aren't any harsh lines.
How do you make your eyes look bigger?
There are a few things you can do to make your eyes look bigger.
One is to use a light eye shadow primer all over your lid, and then apply a light beige or champagne eye shadow on the inner half of your lid. This will make your eyes look brighter and bigger.
Another thing you can do is use an eyeliner pencil that is one shade lighter than your natural skin tone, and line the waterline of your eyes with it.
What color eyeshadow goes with black lipstick?
A black lipstick can be paired with eyeshadows in a variety of colors, but to create a look that is cohesive and complementary, it is best to opt for shades that are in the same color family.
For instance, purple eyeshadow goes well with black lipstick, as does gray or dark green. However, avoid light colors like yellow or beige; these will not complement the look of a black lip very well.
How do you use black eyeshadow as eyeliner?
You can wear black eyeshadow in a variety of ways, but the most popular way to wear it is by using it as a liner.
There are a few ways to use black eyeshadow as eyeliner. One way is to apply the eyeshadow with an angled brush, starting at the inner corner of the eye and drawing a thin line towards the outer corner.
You can also create a thicker line by sweeping the brush in one motion from the inner corner to the middle of the eyelid.
Another option is to use an eyeliner pencil to draw a thin line along your upper lashline, and then go over it with black eyeshadow. You can also smudge the shadow outwards with a brush for a more smokey look.
The Best Black Eye Shadow For Your Makeup Routine
So what is the best black shadow for your smokey eye? According to our findings, it looks like the best include the brands we listed above.
We've included links to shop so you can check out prices and reviews of these products for yourself. And don't forget – experiment with different products until you find the one that works best for you.