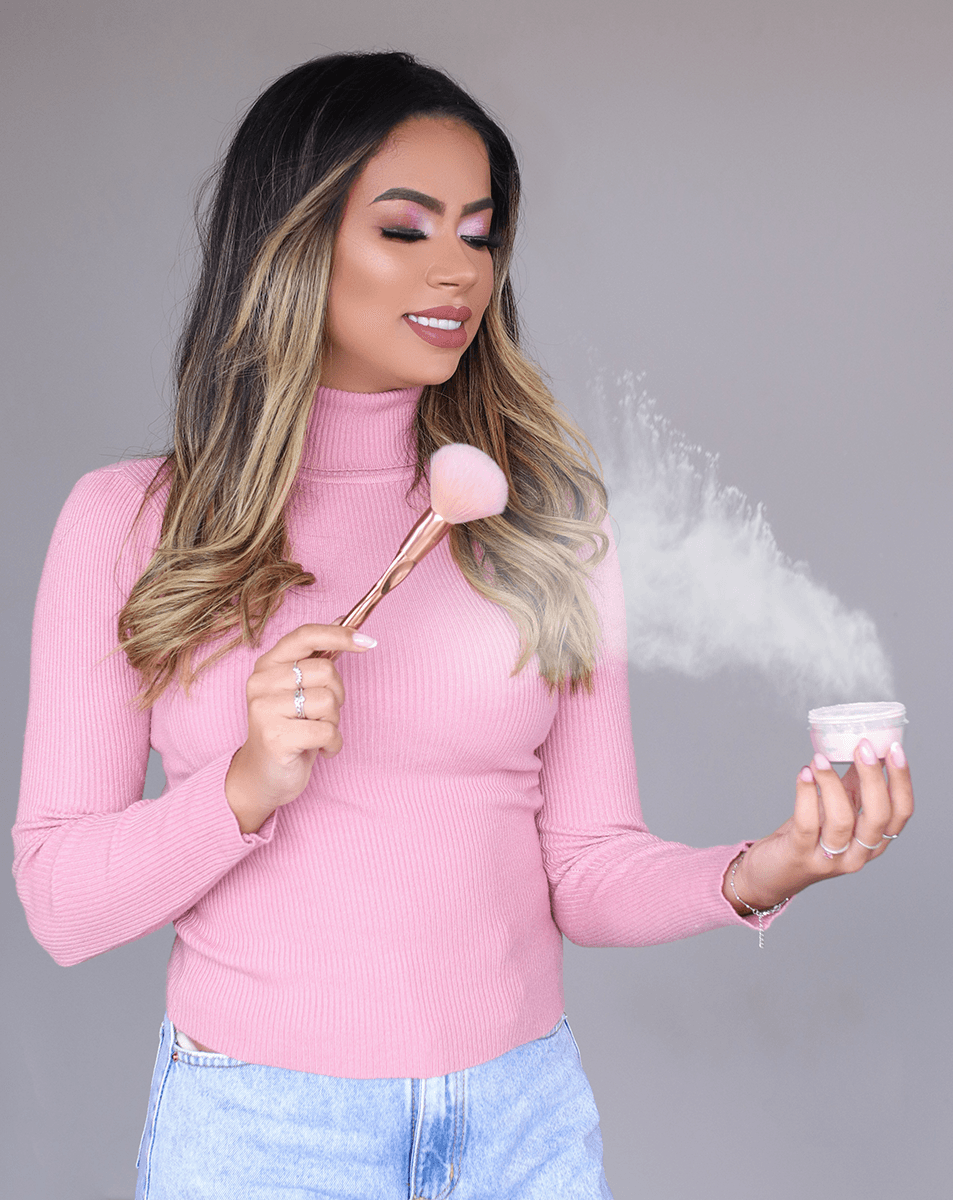 Loose Powder vs Pressed Powder: Which is Best?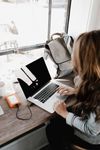 What's the difference between loose powder and pressed powder? Do both have their place in your makeup routine? Here are the answers!
If you've ever been to a beauty counter, then you know that there are a lot of choices when it comes to powders.
But when it comes down to it, what's the difference between loose powder and pressed powder?
Do both have their place in your makeup routine? And how do you know which one is right for your skin type? Let's dive in and find out who wins with pressed powder vs loose powder!
Loose Powder or Pressed Powder: What's the Difference?
The biggest difference between loose powder and pressed powder is the texture. Loose powders tend to be more finely milled, while pressed powders are more densely packed together into a compact form.
This means that loose powders will provide a lighter coverage than pressed powders, so they're better suited for those with oily skin who need to control shine.
Also, today's loose powders are so fine they can give you more of an airbrushed look than ever before.
Which One Is Better For Your Makeup Look?
This really depends on what kind of look you're going for. If you're looking for a light, natural finish, then loose powder is the way to go.
It will help set your makeup without adding too much coverage or weight.
However, if you're looking for something more dramatic or heavier coverage, then pressed powder might be the better option.
It will provide a bit more coverage than loose powder and can help create an even complexion that lasts all day long.
Plus, pressed powders usually come in a wider variety of shades to match your skin tone and many of them are actual powder foundations.
Which Powders are the Best?
We went looking for the best powders and we found them! Our team reads through thousands of Amazon reviews, TikTok and YouTube videos and social media posts so you don't have to!
We've compiled a list of the absolute best of the best pressed and loose powders. Here they are!
Why We Picked It
Dermablend Loose Setting Powder sets makeup, concealer and liquid foundation, blurring pores and giving skin a matte finish.
It presents white but applies clear, making it suitable for all skin tones. Lightweight yet long-lasting, the setting powder also eliminates shine and is great for flash photography.
Fragrance-free and oil-free, it's ideal for both dry skin and oily skin types.
Give your look an effortless finish with the vanilla-hued Dermablend Loose Setting Powder.
Why We Picked It
Lock in your look with L'Oréal Infallible Pro Sweep & Lock Loose Powder.
Its micro-fine formula sweeps on to blur lines and pores for a smooth finish and a matte look.
The translucent loose powder quickly sets makeup for an all-day finish that won't cake.
Use it with a fluffy powder brush to set makeup, bake under eyes or even mattify lip products - you'll always achieve perfect complexion perfection!
Why We Picked It
Get your hands on Hourglass Veil Translucent Setting Powder, and experience the most perfect finish for skin.
This weightless, finely milled powder is formulated with light-reflecting particles to blur imperfections, minimize pores and fine lines, leaving skin flawless.
It works for all skin tones, giving you a natural, invisible skin finish effortlessly.
Why We Picked It
Get the perfect selfie-ready look with the e.l.f Cosmetics High Definition Powder—delivering sheer, natural light coverage that blends effortlessly onto your skin for a smooth soft-focus finish.
The loose, light-as-air formula subtly blurs fine lines, pores and blemishes, leaving you with a radiant complexion.
Use it alone or to set foundation and makeup for a long-lasting look.
This face powder is perfectly compatible with all skin types and made with skin-loving ingredients you want, minus the toxins you don't–all at good prices.
Why We Picked It
Revamp your skincare routine with Glo Skin Beauty Pressed Base Powder.
This award-winning, triple-milled minerals provide flexible coverage for a natural, radiant finish and long wear.
Formulated with green tea & vitamins C & E, this talc-free powder defends against environmental damage, perfects and blurs for a second-skin like feel — perfect for all skin types, even sensitive & post-treatment skin!
Get ready for that semi-matte finish that won't cake or flashback and will stay in place all day.
Why We Picked It
Give yourself a perfected, airbrushed complexion with LORAC POREfection Baked Perfecting Setting Powder.
This non-drying formula smooths pores and helps create a youthful look while providing an effortless mattifying finish.
Enjoy flawless skin that lasts all day with this easy-to-use, oil-absorbing powder.
Master the perfect makeup look with LORAC POREfection Baked Perfecting Setting Powder.
Why We Picked It
Maybelline New York Fit Me Powder is ideal for anyone looking to achieve a natural, poreless-looking finish with long-lasting shine control.
It's available in a range of shades from Ivory to Mocha, so you can find your perfect shade.
This powder can be used to set makeup or just on its own to control shine and get that beautiful "I woke up like this" look.
And it won't irritate your skin - Maybelline Fit Me finishing powder is allergy tested and non-comedogenic.
Add it to your makeup collection today and take your look to the next level!
Why We Picked It
L'Oreal Paris True Match Super-Blendable Powder has a range of true to you shades, from light to dark and warm, neutral, and cool.
This soft-to-the-touch powder works to mattify skin and control shine—you'll never have to worry about it looking chalky or cakey.
True Match Powder provides a natural finish with undetectable coverage that feels like a second skin.
Micro-fine powders contain just enough pearl pigment for poreless, matte skin, while blotting away oils and controlling shine.
Plus, an applicator and mirror are included in the compact—so you can keep your look freshly blended all day long.
Pressed and Loose Powder FAQ's
A lot of people are confused about the difference between pressed and loose powders, and how to use them.
It can be confusing trying to figure out which powder is right for you, and how to apply it.
We've put together a list of the most frequently asked questions about using pressed and loose powders.
By answering these questions, we hope to clear up any confusion and help you find the best powder for your needs.
What is the purpose of loose powder?
Loose powder is an essential cosmetic product that has many important functions.
It's often used to set foundation and concealer, add sheer coverage and texture to the skin, provide a matte finish on oily skin, blur fine lines and wrinkles, reduce shine from oily spots throughout the day and soften contouring for more natural definition.
On top of all this it can also be used as a baking technique in which you have an extra layer of loose powder sit over foundation or concealer in certain areas like under eyes before blending it out with a damp sponge or brush.
Loose powders are great at giving a flawless looking complexion while setting the entire face but they're so much more than just that!
Can I use loose powder alone?
Absolutely! Loose powder is a fantastic and versatile tool for achieving almost any makeup look you desire.
The trick with loose powder is to find the perfect color and texture for your complexion.
It's also important to select a fine formula that won't cake up in the wrong places; this will help give you a smooth finish with no creasing or fading out of color throughout the day.
When applying loose powder alone, start by selecting a targeted area such as under eyes or around cheekbones that need extra coverage—this will make sure all areas get equal attention when blending in seamlessly with other products afterward.
Then take a small brush (try using one specifically designed for powder) and lightly dust it over the area. Gently sweep using circular motions.
Lastly, remember that setting sprays are key when using loose powders since they help "lock in" the product so it doesn't wear away during wear time- an absolutely essential step if you want your makeup look long-lasting.
So don't forget: loose powder not only looks great on its own but also works wonders when paired with other cosmetics- just remember these tricks along with choosing quality ingredients so each application is always flawless!
When should I use pressed powder?
When it comes to rounding out your makeup look, pressed powder should be your go-to.
While both pressed and loose powder have their place in makeup, there are certain benefits that pressed powders have over their loose counterparts.
To begin with, the packaging of a pressed powder compact is incredibly convenient — making it much easier to transport while still providing enough coverage for everyday use.
Plus, the ingredients used in pressed powders often provide additional skincare benefits which can include hydration, reduction of wrinkles/fine lines, and oil control throughout the day.
Another advantage is that because these powders come pre-mixed — meaning all you need to do is sweep some on for even coverage — they make for effortless blending regardless of skill level or time constraint!
This feature gives you more time to focus on other areas such as sculpting the face with highlight and contour without risking your foundation looking patchy.
In addition, if you're heading somewhere humid or just need long lasting coverage – then pressing powders will get you through any situation without requiring mid day touch ups or major reworks every few hours!
As one of the most versatile cosmetics out there – having a trusty compact on hand can provide peace of mind when hitting up high stress situations like business meetings or special occasions.
Does loose powder make you look older?
It might surprise you to know that a powder puff of loose powder could actually help you look younger and more vibrant.
That's because it does an excellent job of setting your makeup, keeping it in place for longer periods of time without causing creasing or fading.
Plus, it helps absorb oil, which can make the skin look shiny and thus make the visible signs of aging more pronounced.
At the same time, however, using too much loose powder can also cause problems as it can create a mask-like effect on your face by settling into fine lines and wrinkles – making them appear deeper!
So while a light dusting with a quality product should do wonders for minimizing signs of aging, being heavy-handed with too much powder may have the opposite effect.
As always, be sure to apply only as much product as necessary.
The Best Powder for Your Skin
Loose or pressed powder -  so which one should you use?
The answer depends on what kind of look you're going for and what kind of skin type you have.
Many loose powders are great if you want a light natural finish while pressed powders offer more coverage if you're looking for something heavier and longer lasting.
Do some research on different products available and makeup tips and read reviews from people who have tried them out before deciding which one is right for your skin type!
With these tips in mind, now it's time to unleash your inner makeup artist and try some new products!
If you're looking for translucent powder specifically formulated for mature skin, we have some suggestions! Tap the button below for our list of the best loose powders for mature skin.