How to Put On Bronzer Like a Pro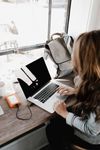 Learn how to apply bronzer the correct way so you look like a bronzed goddess. not a bronzed statue.
We all know the saying, "Winter is coming."  If there's one beauty product that can instantly give you a glamorous, sun-kissed look, it's bronzer. But if you've ever tried to apply it and overdid it, you know that bronzer isn't always easy to get right. Never fear—we're here to help. Read on for our top tips on how to apply bronzer like a pro.
Getting the Shade Right
Choose the right shade of bronzer. If you have fair skin, go for a bronzer with golden undertones. If you have olive skin, opt for a bronzer with pink undertones. And if you have dark skin, look for a richly pigmented bronzer with deep hues. Regardless of your skin tone, make sure to stay away from bronzers with shimmer, as they tend to emphasize imperfections instead of camouflaging them.
Prepping Your Skin
Prep your skin before applying bronzer. For the most even application possible, start by smoothing on a hydrating primer or lotion all over your face. This will create a smooth canvas for your bronzer and help it go on more evenly. Trust us—your skin will thank you for the extra hydration, too!
Applying Bronzer Like a Pro
Use the right brush. To avoid getting streaks, it's important to use the right brush when applying bronzer. We recommend using a large powder brush with natural bristles. Synthetic brushes can sometimes deposit too much color at once, while natural bristles will pick up just the right amount of product. Plus, they're gentle on your skin and won't cause any irritation.
Apply bronzer where the sun would naturally hit your face. To get that believable sun-kissed look, start by dusting bronzer along your forehead, cheeks, and nose using sweeping motions. Then, blend it down onto your neck and décolletage so there's no visible line of demarcation between your face and neck—the last thing you want is to look like a bronzed statue.
Check Yourself at the Door
Review your work in natural light before walking out the door. Once you've applied your bronzer, step outside or stand near a window to make sure everything looks even and not overdone. If it looks good in the natural light, then you're good to go.
Bronzers with the Best Glow
By following these tips, you can learn how to apply bronzer like a pro. But for the best look, you need the best product. Tap the button below for the best bronzers for that sun-kissed look!