Luxury for Less: Meet the Best Tom Ford Bitter Peach Dupe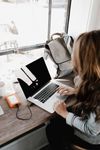 The secret's out! These scents can give you a gorgeous Tom Ford Bitter Peach smell while saving you money. Here's our roundup of the best dupes!
Do you want to rock the original bitter peach fragrance of Tom Ford but don't want to pay full price? Then this post is for you!
Tom Ford's Bitter Peach perfume has been a cult favorite since its launch. But what if we told you there was an easier and more cost-effective way to get that same luxurious scent?
We rounded up all of the best dupe perfumes out there to find the ones that truly smell like Tom Ford.
Keep reading to find out which are our absolute favorites when it comes to getting this peach and blood orange luxury scent for less!
How We Choose the Best Tom Ford Bitter Peach Dupes for You
What are the best Tom Ford Bitter Peach dupes? We want to know! That's why our team reads through thousands of Amazon reviews, TikTok and YouTube videos and social media posts so you don't have to!
We've compiled a list of the absolute best of the best. We know after reading this article you will find the best Tom Ford Bitter Peach Dupe for you.
Why We Picked It
Savor the scents of Tom Ford with the ultra-tempting Bitter Peach.
Crafted for both men and women, this fragrance is crisp, warm, intense and creamy all at once - the perfect signature scent to embrace autumn and winter.
The top notes are a delectable blend of sweet peach, blood orange, cardamom and heliotrope that tantalizes your nose from the very start.
Its heart notes blend together rum, cognac, davana aromatics and jasmine sambac for a truly exquisite aroma.
Ground it all in Indonesian patchouli leaf, sandalwood and creamy vanilla tones blended perfectly with tonka bean and cashmeran benzoin and you've got a truly sensational sense experience that you won't soon forget!
Don't like the price tag? No problem. Keep reading for the dupes!
Why We Picked It
Welcome to the garden of sweet and fruity delights! Jo Malone Nectarine Blossom & Honey is a floral fruity gourmand fragrance fit for royalty.
With notes of black currant, petitgrain, nectarine, black locust, juicy peach, plum and vetiver, your senses will be delightfully indulged in this clever concoction.
Get lost amidst the blossoms as you adventure through an olfactory journey of honey-drenched blooms and fragrant fruit.
Experience life's small pleasures with Jo Malone; let this honey cologne adorn your very being in its scent and grace.
Why We Picked It
Welcome to paradise! Say hello to 4711 Acqua Colonia White Peach & Coriander: a fruity fragrance mix that's as surprising as it is seductive.
If ever there was a perfect blend of the summery sweet and tangy—this is it. Think of this captivating fragrance like an awakening summer dream.
From the initial burst of white peaches and bright citrus to the woody undertones, herbal notes, this unisex scent embodies the essence of an evening stroll with nature in full bloom.
Let Acqua Colonia take you away—all you need is love (and a little bit of white peach & coriander).
Why We Picked It
Let the luscious scent of Bright Peach by Maison Alhambra take you on a sensual, delightful ride.
The top notes are a playful mix of juicy peach, feisty green leaves, and zesty blood orange to wake up your senses.
Then comes the middle notes of patchouli that brings with it an earthy moisture that will give you life.
And lastly, to finish off this incredible symphony, you get the sweet smell of honey with a splash of cognac – like two lovers kissing into the night.
This cleverly crafted perfume is your invitation to indulge in something special and unforgettable.
It's a guaranteed showstopper with its long-lasting aroma - all you have to do is spray some on, be yourself, and let Bright Peach work its magic.
Why We Picked It
Everyone loves a budget dupe! CA Perfume's premium grade amber vanilla fragrance is just that—the perfect alternative to the high-end, expensive Bitter Peach created by Tom Ford.
But you don't have to worry about breaking the bank; CA Perfume delivers rich, high quality scents with no buyer's remorse.
Whether you're looking for something for yourself or for your special someone, this signature blend of top notes including peach, blood orange and cardamom, mid-notes such as rum and cognac and base notes Indonesian patchouli leaf, vanilla, sandalwood, tonka bean and more will surely tantalize the senses.
So pick up a bottle of CA Perfume Bitter Peach today and smell like an absolute peach smash!
Tom Ford Bitter Peach FAQ's
You're considering buying Tom Ford Bitter Peach, but you have some questions.
Buying a new perfume can be tricky. There are so many different scents out there and it's hard to know if you should splurge on one of them.
We've got you covered. Here are the most frequently asked questions about Tom Ford Bitter Peach. This will help you decide if this unisex fragrance is right for you.
What does bitter peach by Tom Ford smell like?
Tom Ford's Bitter Peach is a warm, floral scent that opens with fruity notes of peach and citrusy bergamot.
The heart is composed of a range of florals including rose, jasmine and heliotrope, kept spicy with pink pepper and cardamom. The fragrance is grounded by base notes of patchouli, creamy sandalwood, amber and musk.
Is Bitter Peach masculine?
Tom Ford's Bitter Peach fragrance has a warm, floral scent which can be considered androgynous.
It does lean slightly more towards the masculine side due to its spicy, woody base notes but can be worn by anyone looking for a sophisticated, yet subtle, scent.
Is Tom Ford bitter peach strong?
Tom Ford's Bitter Peach fragrance has a strong and impactful scent. The top notes of juicy peach, bergamot and pink pepper create an initial burst of sweetness that makes for an unforgettable introduction.
It is balanced out by the spicier heart of rose, jasmine, heliotrope and a woody base of patchouli, sandalwood, amber and musk which make this fragrance linger on the skin.
What is the nicest Tom Ford fragrance?
Tom Ford's Neroli Portofino is widely considered to be the nicest and most popular fragrance in his range, with top notes of mandarin, bergamot and lemon, this scent has a zesty citrus aroma.
The heart notes of orange blossom and rosemary provide a subtle sweetness while the base of amber and olive wood add a woody, earthy finish.
This beautiful combination creates an inviting fragrance that is both timeless and sophisticated.
Another Tom Ford perfume that is very popular is Lost Cherry. This sweet and smoky scent will have you smelling ike a million bucks!
Why Tom Ford perfume is so expensive?
Original Tom Ford scent is so expensive because it is a luxurious fragrance that is carefully crafted and made with high-quality ingredients.
The combination of rare and exotic materials, including oud, musk, amber, vanilla and sandalwood, results in a unique scent that is hard to come by.
It also comes with a hefty price tag due its ultra-luxurious packaging and design.
What is Tom Ford most masculine perfume?
Tom Ford's most masculine perfume is definitely Tobacco Vanille.
With its rich, smoky and spicy blend of tobacco flower, vanilla bean, coconut, gingerbread and cocoa, this fragrance exudes strong masculinity.
It is a complex scent that captures the essence of a cozy tobacco shop with its warm and heady aroma.
Who is Tom Ford perfume target audience?
Tom Ford appeals to a wide range of consumers, from the most sophisticated and well-heeled to those who simply appreciate quality fragrances.
It is a preferred choice among the fashion elite, but anyone wanting to experience a luxurious, timeless scent will find it appealing.
Tom Ford fragrances have a universal appeal, with its ability to evoke feelings of power and confidence in both men and women.
Do Tom Ford perfumes last long?
Yes, Tom Ford perfumes are known for their longevity. These high-end fragrances are crafted with top-notch ingredients that help them last longer than most other perfumes.
Tom Ford's special blends and unique notes also add to the lasting power of the scent, ensuring you can still enjoy the lovely fragrance many hours after you first apply it.
Who is the owner of Tom Ford?
The iconic, ever-popular Tom Ford fragrance is owned by the Estee Lauder Companies, Inc.
Although Tom Ford has his own fashion line, he struck a licensing agreement with the cosmetics giant in 2005 to leverage their resources and expertise in commercializing fragrances.
Tom Ford became involved in fashion design from an early age and was hired as creative director of Gucci at the age of 30.
After leaving the company some years later, he decided to pursue his own venture which led to him launching his own company in 2006 along with his distinctive fragrance line.
Since then, each scent has become a cult classic - from products such as 'Tuscan Leather' to 'Jasmine Rouge'. They are renowned for their high quality ingredients and masterful blending techniques that take years to perfect!
Estee Lauder Companies also owns or holds licenses for several other beauty brands including products in the fragrance industry.
With its well-established distribution network across many countries, it's no wonder that they have been able make Tom Ford fragrances so successful over the last 15 years - providing an exclusive experience that only they could offer!
The Best Tom Ford Bitter Peach Dupes for You
So what is the best Tom Ford Bitter Peach dupe? According to customer reviews, you'll find the best bitter peach smell from the scents we featured in this article.
We've included links to shop online so you can check out prices and reviews of these products for yourself.
Looking for more cosmetic dupes? We have so many for you! How about skincare dupes? Tap the button below for the best Tatcha Water Cream dupe!