The Best Oil Based Pomade to Control Your Thick, Coarse Hair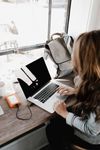 Oil based pomades are making a comeback, but can be tricky to use. Here's how to use them and the best ones you should try today!
If you have thick, coarse hair, then you know how difficult it can be to control. You've probably tried a variety of products in an attempt to tame your unruly hair, but nothing seems to work.
Well, we have good news for you! There is a product that has been specifically designed for thick, coarse hair - and that product is oil based pomade.
In this post, we will reveal the benefits of using oil based pomade to control your thick, coarse mane. We will also recommend some of the best oil based pomades on the market!
How We Choose the Best Oil Based Pomades
What is the best oil based pomade? We want to know! That's why our team reads through thousands of Amazon reviews, TikTok and YouTube videos and social media posts so you don't have to!
We've compiled a list of the absolute best of the best. We know after reading this article you will find the best oil based pomade for you.
Why We Picked It
Suavecito is the perfect pomade for anyone who wants a manageable, long-lasting hold with a traditional feel.
This 3-ingredient oil-based pomade formula has medium hold and shine, works on any hair type, and comes in a 3 oz collectible tin.
Plus, it offers the classic Suavecito fragrance to take your game up a notch.
For easy application: Scoop up a small amount, work between palms and into hair evenly, use a comb to shape and style. Get ready for great results!
Why We Picked It
Look your best with Lucky 13 Tru-Hold Heavy Grease Pomade.
This oil and wax pomade will give you a heavy hold and high shine, perfect for those high and tight looks and other classic styles.
Formulated with an intoxicating pina colada scent, the 3.4oz size will help you reach that picture perfect look. Say hello to style confidence with Lucky 13 Tru-Hold Heavy Grease Pomade.
Why We Picked It
Johnny Slicks offers a range of high-quality, organic grooming products for those who care about their hair and skin.
This synthetic color free, dye free, propylene glycol free, sulfate free, and alcohol free formula promises to promote hair growth and help prevent future hair loss.
With natural ingredients such as beeswax, coconut oil, tea tree oil, argan oil, and jojoba oil blended into this pomade product line. And, fueled by the incredible aroma of juniper berry, cedarwood and cuban tobacco.
Johnny Slicks is a veteran-owned business situated in North Carolina since 2007.
Why We Picked It
Looking to tame your hair with a high-performing, heat and sweat resistant heavy hold pomade that won't ever let you down? Lockhart's Heavy Hold pomade is the answer.
This handmade medium shine and almost matte finish pomade provides a strong but not excessive level of hold, perfect for tall pompadours, tight slick backs, clean parts--you name it.
Its coco vanilla scent won't overpower your senses, so you can feel confident wearing it all day long.
Feel the use the ultimate level of confidence knowing your style won't budge no matter what life throws your way.
Why We Picked It
Seeking the perfect hairstyle? Look no further than Don Juan Hair Grease—the ultimate wax based pomade for strong and lasting hold.
Your style will stay intact with a brilliant high shine, plus it's convenient enough to take with you wherever you go.
Made from handcrafted components, this 4oz of all-natural goodness won't harm your scalp or irritate it either.
Say goodbye to stressed, irritated hair follicles and hello to a citrus bay rum fragrance that lingers. Don Juan Hair Grease is the ideal finishing touch for any style!
Why We Picked It
Introduce a touch of the traditional with Uppercut Deluxe Monster Hold, the perfect strong pomade for the signature look of the 1950's, the Pomp.
This wax based, classic pomade is sweat resistant and offers extreme staying power, making it perfect for bold and daring styles that require more hold.
Whether you're an experienced user or new to styling, Monster Hold's non-set formula provides lightweight control that can be restyled throughout the day.
Oil Based Pomade FAQ's
You may have heard about oil based pomades, but you're not sure what they are or how to use them.
Oil based pomades have been around for years and are making a comeback. Their oil based formula offers a different texture and hold than water based pomades.
Here are the most frequently asked questions about oil based pomade to help you decide if this product is right for you.
Is oil based pomade good for your hair?
It depends on your hair type. If you have oily hair, then oil-based pomade is not a good choice because it will only make your hair greasier.
However, if you have dry hair, then oil-based pomade can be a good option because it will help to seal in moisture and add shine.
Can you use oil based pomade everyday?
Yes, you can use oil-based pomade everyday. However, it's important to make sure that you're using a high quality pomade that doesn't contain any harsh chemicals or artificial ingredients.
Otherwise, you might end up putting unhealthy stuff right on your scalp every day.
A good rule of thumb is to stick with all natural products as much as possible. That way, you can be sure that your hair and scalp are getting the best possible care.
Which is better oil based or water based pomade?
It depends on personal preference. Some people find oil-based pomades more difficult to wash out, while others find them easier to distribute through their hair.
Water-based pomades, on the other hand, can be less greasy and more manageable in the summertime heat. Water-based pomades are typically better for thin or fine hair.
Ultimately, it's up to the individual to decide which type of pomade works best for them.
Do you wet hair before putting pomade in?
It's a personal preference. Some people apply to towel dried hair to help the pomade spread evenly and to help it last longer; others find that it makes their hair greasy. Try both ways and see which one you prefer.
What happens if you use too much pomade?
If you use too much pomade, it will make your hair look greasy and weighed down. It will also be more difficult to style your hair.
Does oil based pomade harden?
It depends on the pomade. Generally, oil-based pomades will stay soft and pliable, but some may harden over time.
Water-based pomades, on the other hand, will usually harden as they dry.
How do you remove oil based pomade?
To remove oil-based pomade from hair, you can use a special degreasing shampoo. These hair products are specifically designed to remove built-up oils and grease from the scalp and hair.
First, wet your hair and massage the degreasing shampoo into your scalp. Lather up well and make sure to get the shampoo all over your head.
Leave the shampoo on your head for a few minutes before rinsing it out.
Then, use a conditioner to help smooth down the cuticles of your hair and add shine.
We do see some people using plain old dish soap to wash the pomade out, but dish soap can be very drying so don't use it too often.
Why does my hair fall out when I use pomade?
Most pomades are made with oils and waxes that can weigh down hair and prevent it from growing. They can also cause scalp sebum to accumulate, which can lead to hair loss.
Is it okay to use pomade everyday?
There is no definitive answer to this question as everyone's hair type is different. However, using pomade every day can result in product buildup, which can make your hair greasy and difficult to style. It's generally recommended to use a small amount of pomade.
Should I use pomade for thinning hair?
Pomades can be helpful for thinning hair types to get a desired style, but it's important to find the right one. Look for a pomade that is light and not too greasy. It should also be a water soluble pomade so it can be easily washed out.
The Best Oil Based Pomade for Your Thick Hair
So what is the best oil based pomade for your hair or beard? According to customer reviews, the best products include the brands we listed above.
We've included links to Amazon so you can check out prices and reviews of each hair product for yourself.
If you'd like to try some water based pomades instead, we can help you out with that, too. We compiled a list of the best water based pomades according to customer reviews. Tap the button below for a list of the best.