Blown Away: The Best Hair Dryer for Curly Hair!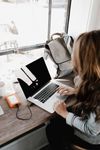 We found a hair dryer gentle enough to preserve your natural curl pattern while still being powerful enough to get the job done quickly.
Do you have curly hair? If so, then you know the struggle of finding a great hair dryer.
Most hair dryers on the market are either too powerful and frizz out your curls, or they are not powerful enough and take forever to dry your hair. But we have found the perfect solution – the best hair dryers for curly hair.
Gentle enough to preserve your natural curl pattern while still being powerful enough to get the job done quickly. Plus, hair dryers that come with diffuser attachments which are essential for getting defined, bouncy curls.
We know how important it is to find a good hair dryer, so we wanted to share our finds with you. We promise you won't be disappointed.
How We Choose the Best Hair Dryer for Your Curly Hair
You have curly hair and you don't know which hair dryer is the best for your hair type.
Millions of women have curly hair, and they all need to find the best hair dryer for their specific curl pattern.
We did the research for you! Our team reads through thousands of Amazon reviews, TikTok and YouTube videos and social media posts and found the 5 best hair dryers for curly hair. After reading this article, you will be able to find the perfect one for your unique curls.

Why We Picked It
The Dyson Supersonic Hair Dryer is as good as it gets! This revolutionary hair dryer is lightweight, yet powerful. It's perfect for all hair types, including wavy, frizzy, and curly.  
The Dyson Supersonic Hair Dryer helps prevent extreme heat damage to your hair, keeping it healthy and shiny.
With its ultra fast drying power, you'll be able to dry your hair quickly and easily. Plus, it comes with Magnetic attachments for smoothing and styling.
The Dyson Supersonic Hair Dryer is also acoustically tuned to produce one inaudible frequency, so it won't disturb your peace and quiet.
And finally, it's cool to the touch with heat shield technology. And it's made in the USA. If you can afford this luxury, go for it. You'll be glad you did.
Why We Picked It
If you're looking for a powerful hair dryer that can help enhance your natural curls and waves, the Bed Head Curls in Check Diffuser Hair Dryer is a great option.
This 1875 watt dryer is designed with curly hair gals in mind, and its unique diffuser attachment helps to define and enhance your curls while also reducing frizz.
Made with Tourmaline IONIC technology, this hair dryer not only dries your hair quickly and efficiently, but also helps to fight frizz and enhance shine.
It's also super easy to use – simply attach the diffuser attachment and style your hair as desired. The cool shot button releases cool air to keep your style in place.
So if you're looking for a hair dryer that can help you achieve gorgeous, bouncy curls, the Bed Head Curls in Check Diffuser Hair Dryer is a great choice.
Why We Picked It
If you're looking for a salon-quality blowout at home at a budget price, the Revlon Volume Booster hair dryer is the perfect tool for the job. With 1875 watts of power and 3 heat/2 speed settings, this hair dryer can handle any hair type and texture.
The IONIC TECHNOLOGY protects your hair from heat damage while creating shiny, healthy-looking locks.
The included diffuser softens airflow to define natural curls and waves, while the Cool Shot Button releases cool air to set your style. For a limited time, get Kylie Jenner's favorite hair dryer at an exclusive price.
Why We Picked It
Drybar's Buttercup Blow-Dryer is the ultimate tool for getting the perfect blowout at home. With its ultra-powerful 1875 watt motor and ionic technology, this dryer provides shiny, frizz-free results in 20% less time than other professional dryers on the market.
The wave heater and lightweight design allow for uniform heat distribution and comfortable styling, while the three heat and two power settings give you the ability to customize your blowout to perfection.
Plus, the 9 ft cord gives you plenty of reach to style all over, and the two concentrator nozzles ensure targeted airflow for a salon-quality finish.
Why We Picked It
Looking for a hair dryer that can give you salon-quality results at home? Check out the Hot Tools Ceramic Ionic Dryer!
This powerful ceramic technology hair dryer features 1875 watts of drying power, making it perfect for all hair types and textures.
With six heat/speed settings, you can tailor your drying and styling to your specific needs. And the cold shot button is great for setting your style with a cool burst of air. Plus, the lint filter is removable for easy cleaning.
So why not give the Hot Tools Ceramic Ionic Dryer a try? Your hair will thank you!
Hair Dryer FAQ's
Curly hair is a unique and beautiful thing, but it can be hard to style and blow dry. With the right tools and knowledge, styling curly hair can be easy and fun.
We've collected the best tips and tricks for drying curly hair into this easy-to-read FAQ. By following these tips you'll have beautiful, bouncy curls in no time.
How do you pick a hair dryer for curly hair?
You should pick a hair dryer for curly hair by looking for one with a diffuser.
A diffuser will help to spread the air flow more evenly and prevent your curls from frizzing. You should also look for a hair dryer with multiple heat settings so that you can choose the right amount of heat for your curls.
Is hair drying good for curly hair?
Hair drying isn't really good for curly hair, but it's a necessary evil. Curly hair is naturally drier and more prone to breakage, so it's important to use a gentle hair dryer and low heat setting.
Try to avoid direct heat exposure to your hair, and always use a heat protectant spray.
Drying your hair with a towel can also cause breakage, so try to gently squeeze the water out of your hair instead.
And finally, remember to give your curls lots of love and don't be too harsh with them - they're already fighting an uphill battle!
Is it better to air dry or diffuse curls?
Air drying is better for curls. When hair is wet, the cuticles are open and can absorb more of the ingredients in your styling products.
When you diffuse your hair, you're blasting it with hot air, which causes the cuticles to close up, so the products don't penetrate as well. And since curly hair is drier by nature, it's important to make sure your products are fully absorbed for defined curls.
How do you dry curly hair without frizz?
Curly hair is more prone to frizzing because the natural oils from your scalp don't travel down the hair shaft as easily as they do with straight hair. This leaves the curly hair dry and frizzy.
To help combat frizz, make sure you use a conditioner that's specifically for curly hair and apply it evenly throughout your locks.
Leave the conditioner in your hair for a few minutes before rinsing it out so that it can fully penetrate your curls.
You may also want to try using a leave-in conditioner or curl cream containing coconut oil or shea butter, which will help keep your curls hydrated all day long. Curl activator can also be amazing for defining your curls.
Also, avoid using heat styling tools on curly hair too often, as this can cause frizziness.
Finally, consider using a silk or satin pillowcase. This will also help prevent frizz while you're sleeping and prevent hair breakage.
What is plopping for curly hair?
Plopping is a technique of wrapping your curls in a T-shirt or cloth after you shower to help them dry without frizz. Curls don't like to be wet for long periods of time, because the weight of the water makes them droop.
Frizziness is also caused by water droplets combining with the air and forming little spheres that make your hair look fuzzy. By plopping, you're getting rid of as much water as possible and not giving those little spheres a chance to form.
You can also use this technique on day-old hair to revive your curls and get some extra bounce. All you need is a fresh T-shirt (or cloth) and some patience while your hair dries.
Should I plop or diffuse?
It depends on your hair type. If you have curly, coarse, or frizzy hair, plopping is the better option because it will help to define your curls and reduce frizz.
If you have fine or straight hair, diffuse drying will be better because it will add volume and prevent your hair from becoming too weighed down.
Why do people diffuse curly hair?
People diffuse curly hair because it gets frizzy and bushy when it's dry. Diffusing it wet and then drying it with a diffuser will help to keep the curls defined and frizz-free.
What is pineappling hair?
Pineappling is a method of detangling the hair after washing it. It is done by taking a section of the wet hair, applying conditioner to it, and rolling the hair up into a bun, then securing it with a clip or bobby pins. Doing this will help keep your curls defined and bouncy.
Why are microfiber towels better for curly hair?
Microfiber towels are better to dry curly hair because they absorb more water than traditional cotton towels, which helps to reduce frizz and keep your curls looking defined.
Using a microfiber towel and the right brush can also help to distribute product evenly throughout your fine hair, which can make it look more hydrated and healthy.
The Best Hair Dryer for Your Curly Hair
So what is the best hair dryer for wavy and curly hair? Any of the above should do your hair right. We've included links to shop online so you can check out prices and reviews of these products for yourself.