The Top Selling Satin Pillowcase for Curly Hair & Why it's So Popular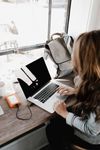 What is the best pillowcase for curly hair? Cotton, satin, or silk? We research and found the absolute best, including Oprah's favorite!
Attention, curly girls! Satin pillowcases are a must-have for curly hair. If you're not using one, you're doing damage to your hair each and every night.
But with so many satin pillowcases out there, which one should you buy? Which is better for your hair - a silk or a satin pillowcase? And the most important question is...what pillowcase does Oprah use? We have the answer!
We've done the research and found the absolute best selling satin and silk pillowcases for curly hair. Keep reading to find out why they're so popular and why you should toss your traditional cotton pillowcase for good!
How We Choose the Best Pillowcase for You
What is the best satin pillowcase for curly hair? We went looking for the answer!
Our team reads through thousands of Amazon reviews, social media posts and TikTok and YouTube videos so you don't have to!
We've put together a list of the absolute best pillowcases you can find. We know after reading this post you will find the best satin pillowcase for you.
Why We Picked It
If Oprah approves, so do we! Wake up beautiful every morning with the Mulberry Park 19 Momme Silk Pillowcase.
Crafted from luxurious 100% pure 19 Momme silk designed to provide the sleeping comfort you deserve, this pillowcase won't pull or tug your delicate facial skin like cotton pillowcases do, eliminating those pesky sleep creases and wrinkles.
Plus, the high silk quality keeps hair manageable and hydrated all night long. Treat yourself to an Oprah quality  sleep and experience true overnight luxury with a Mulberry Park's mulberry silk pillowcases.
Why We Picked It
Here's a pillowcase splurge for you! Slip Pure Silk Pillowcase is crafted from 100% imported silk.
It has been shown to reduce friction by 43% on average which can reduce stretching and tugging on hair and delicate facial skin.
This pillowcase offers anti-aging and anti-sleep crease benefits to help you look your best.
Laboratory testing has proven Slipsilk to reduce face cream absorption, friction and hair tangling – leaving skin hydrated and hair soft.
Why We Picked It
Improve your sleep and wake up looking beautiful with the Morning Glamour Satin Pillowcase.
It is gentle on hair, skin and scalp, minimizing hair frizz, reducing sleep wrinkles and helping to maintain a healthier moisture balance for both your skin and hair. It can even help with eyelash extension loss - if you're a face sleeper!
As recommended by the American Cancer Society, it even helps reduce hair loss attributed to chemotherapy.
With a stay-put pocket flap that keeps the pillowcase in place while sleeping and being made in the USA from easy-care machine washable fabric, you can enjoy a peaceful nights rest each night. And we love all the color options available!
Why We Picked It
Pamper your hair with the Betty Dain Satin Pillowcase. Crafted from 100% Poly Blend Satin, this pillowcase feels luxuriously soft on your skin while protecting your hair while you sleep.
Enhanced by a concealed zipper for extra security, experience less tangles and breakage and reduce wrinkles from fabrics pressing on your skin with this silky smooth pillowcase.
Sleep peacefully and wake up with beautiful hair and wrinkle-free skin!
Why We Picked It
Introducing Spasilk, the 100% pure charmeuse silk pillowcase.
Both sides of this luxurious pillowcase are made from pure silk for a beautiful, smooth feel and an elegant drape.
Plus, Spasilk dissipates static electricity and retains moisture, helping to keep your skin and hair hydrated throughout the night.
The hypoallergenic quality makes it exceptionally breathable, while the envelope style flap closure keeps it in place. Keep your hair tangle-free with Spasilk's premium silk pillowcase.
Why We Picked It
Fishers Finery has received the seal of approval from Good Housekeeping Magazine—an honor that requires intensive product testing.
This pillowcase is made of renowned Grade 6A Pure Mulberry Silk, with silk on both sides of the pillowcase.
Featuring a unique side entry and an envelope flap for a secure fit, it's great for shams and pillows alike.
Not only does it look fabulous, but also its 100% mulberry silk is scientifically proven to prevent wrinkles, regulate sleep temperature, protect hair damage, and retain moisture—giving you something beautiful and beneficial at once.
Why We Picked It
MYK Silk offers the finest in comfort and natural beauty care. This 100% 19 momme mulberry silk is on both sides of the pillow and gives you unmatched tranquility.
While OEKO-TEX Standard 100 Certification ensures your skin and hair are safe.
With machine-washable easy care, this pillowcase doesn't contain any chemicals or dyes.
Enjoy hassle-free anti-aging hair and skin care with a reliable fit, all backed by the recommendation of dermatologists and beauty experts.
Satin & Silk Pillowcase FAQ's
You may have heard that using a satin pillowcase is good for curly hair, but you're not sure why.
Most people don't know the benefits of using a satin pillowcase for curly hair. They just assume that it's another one of those "urban myths" like sleeping on a silk scarf to preserve your hairstyle.
Here are the most frequently asked questions about satin pillowcases and the answers.
Are satin pillowcases good for curly hair?
Yes, and here are the top five reasons why you should switch to a satin pillowcase if you have curly hair:
1) Satin pillowcases help reduce frizz and keep your curls looking defined and bouncy all night long.
2) Satin pillowcases won't snag or pull at your hair like cotton ones can, so they are much gentler on your locks and prevent hair breakage.
3) Satin pillowcases help retain moisture in your hair, which is essential for keeping curls healthy and hydrated.
4) Satin pillowcases don't cause as much friction as cotton does, so they won't create split ends or tangles in your curls.
5) Satin pillowcases will keep your hairstyle intact for longer because there is less frizz and fewer flyaways.
Which is better silk or satin pillowcase?
Both silk and satin pillowcases have their benefits. A lot of it is personal preference.
Silk pillowcases are said to be better for your hair, as they help keep it from becoming frizzy or tangled. They are also softer than satin pillowcases and less likely to cause skin irritation.
Satin pillowcases are said to be better for your skin, as they help keep moisture in and prevent wrinkles from forming. They are also cooler than silk pillowcases, making them a good choice for people who tend to get hot at night.
What is Oprah's favorite silk pillowcase?
Oprah's favorite silk pillowcase is the  silk pillowcase is the 19 momme pillowcase by Mulberry Park Silks. It was recognized by O, The Oprah Magazine, in the article titled "The Best Silk Pillowcases for Healthier Hair and Skin."
This silk fabric pillowcase made of 100% mulberry silk and is said to help keep your hair and skin healthy by reducing wrinkles and frizz, and preventing bed head.
Is silk or satin better for frizzy hair?
Some people believe that a silk or satin pillowcase will help to reduce frizz, while others believe that it makes no difference.
The bottom line is that they both can be beneficial for frizzy hair because they help to reduce friction and prevents your hair from becoming tangled or matted while you sleep.
Really, it's up to you whether you prefer an authentic silk pillowcase made from the  silk production of worm and other insects or one made with synthetic fibers like polyester, rayon, and cotton.
Is silk or satin bonnet better for curly hair?
Some people believe that silk bonnets are better because they help to preserve the natural oils in your hair, while others say that satin bonnets are better because they reduce frizz.
Ultimately, it comes down to personal preference. Some people find that silk bonnets make their hair feel greasy, while others find that satin bonnets reduce their frizz. So, you may want to experiment with both types of bonnets to see which one works best for you.
How can I protect my curls while sleeping?
You can protect your curls while sleeping by using a silk scarf or silk satin pillowcase. The silk will help to reduce frizz and keep your curls looking their best.
Can you sleep with wet hair on a satin pillowcase?
Yes, you can sleep with wet hair on a satin pillowcase. However, it is not recommended because the moisture will make the pillowcase slippery and difficult to keep in place.
It is also more likely to cause your hair to become a tangled mess while you sleep. A better option is to sleep on a silk scarf or bonnet that will absorb the moisture from your hair.
How do you wash satin pillowcases?
The easiest way to wash a satin pillowcase is to hand-wash it in cold water with a mild detergent. Rinse it well, and then squeeze out the excess water. Lay it flat or on a drying rack to dry.
What's better satin pillowcase or bonnet?
A satin pillowcase can help to reduce frizz and keep your hair from drying out, while a bonnet can help to keep your hair curly and in place. However, a bonnet may not be comfortable to wear if you sleep on your side. Both are helpful to keep you having healthy hair.
Does a satin pillowcase really make a difference?
There is anecdotal evidence that a satin pillowcase can help keep hair from breaking and reduce wrinkles, but there is no scientific research to support these beauty benefits.
Some people believe that the slick surface of a satin pillowcase prevents hair from being pulled as you sleep, which can lead to fewer breakages.
Others claim that the smooth texture of satin helps reduce the appearance of wrinkles.
The Best Pillowcase for Your Hair
So what is the best satin pillowcase for curly hair? According to customer reviews (and Oprah), the best include Mulberry Park, among others.
We've included links to Amazon so you can check out prices and reviews of these products for yourself. Now, go get some beauty sleep!
If you have curly locks, you probably are in need of a good curl activator. But, not all curl activators are created equal - some work better than others depending on your hair type. We checked the reviews, tap the button below for a list of the best!