Ditch the Damage: The Best Blow Dryer for Natural Hair!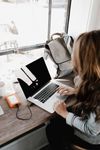 We've rounded up the best blow dryers for natural hair that will be gentle so you don't have to worry about damage every time you use them.
Do you have natural hair? If you're like most people with natural hair, then you probably have a love-hate relationship with your hair dryer.
On the one hand, it's a lifesaver when you need to get your hair dry quickly. But on the other hand, it can often leave your hair feeling dry and damaged.
That's why we've rounded up the best blow dryers for natural hair that will help take care of your locks and keep them healthy and shiny.
These blow dryers are specifically designed to be gentle on natural hair, so you don't have to worry about damaging your strands every time you use them.
How We Choose the Best Blow Dryers for Your Natural Hair
What is the best blow dryer for natural hair? We wanted to know! That's why our team reads through thousands of Amazon reviews, TikTok and YouTube videos and social media posts so you don't have to!
We've compiled a list of the absolute best hair dryers. We know after reading this article you will find the best product for you.
Why We Picked It
Introducing the Dyson Supersonic and the pinnacle of luxury hair dryers. It's one of the most innovative hair dryers we've seen in a long time.
Get ready to say goodbye to extreme heat damage, as this bad boy is here to protect your hair's natural shine. This is one great hair dryer, especially for thick hair, as it is able to distribute heat evenly through your hair.
The air temperature gets measured 20 times every second, to ensure maximum heat control so you can trust that it won't be too hot during usage.
Plus, this Ultra Fast Dryer features a powerful 1600-watt motor which is acoustically tuned, meaning it doesn't produce noisy sounds while in use.
And thanks to its heat shield technology, the attachments stay cool so you don't have to worry about burning yourself while blow-drying your hair. Talk about amazing!
You also get several magnetic attachments with your purchase, including a smooth nozzle, styling concentrator and diffuser - all designed to give you precise heat settings and fast drying and styling options.
Not to forget that it's made in the USA and lightweight and balanced, considering where the motor has been situated - within the handle!
Why We Picked It
Are you dying to know the secret behind shiny and touchable curls? Your search ends here!
Introducing DevaCurl's revolutionary DevaDryer, engineered with Curl Flexible Alternating Ionic Technology, specifically designed for wavy, curly, and super curly hair.
With this marvelous device in your possession, you can kiss goodbye those days when you were stuck blow-drying with an ordinary hairdryer.
Freshen up your hairstyling routine with the unparalleled powers of DevaDryer; its sweat-friendly design including two distinct heat settings plus a cool shot button enable the best possible dry-time experience, while its ergonomic handle makes styling a breeze.
Achieve long lasting results that are genuinely salon worthy by following the basics: Transform your curls into a spectacular array of sumptuous locks wrapped around your head like a halo without sacrificing moisture.
With air flow speeds of 62mph from the lightweight Devafuser combined with expert tips from curl master stylists worldwide such as "dry roots first" and "cradle end in the diffuser and push toward scalp" along with "scrunch and hold" for extra definition – your gorgeous ringlets will stay healthy, luscious and full of life all day long!
Why We Picked It
Calling all ladies who want to switch up their look without spending hours at the salon. Introducing the one and only Revlon One-Step - the revolutionary styling tool that cuts your usual styling time down in half.
This magical device combines the power of a dryer and precision of a styler all in one so you can get your desired look with just one-step. This is a good hair dryer for those of us who can't coordinate handling a hair dryer and a round brush at the same time.
Hear that? That's the sound of the legendary technical ionic technology doing its job and saturating your  hair with negative ions, which keeps it looking shiny and smooth while reducing frizz and static.
Plus, this lightweight product has only 1100 watts but still provides 2 heat/speed settings for maximum comfort.
On top of being fast and efficient, this ingenious tool is designed with a large paddle that allows you to detangle, dry, and smooth your hair like nobody's business! Now ain't that something?
Go ahead and try out Revlon One-Step today and give yourself completely new looks with full-on confidence. All within minutes - literally!
Why We Picked It
Look no further - This fantastic Andis Tourmaline Ceramic Ionic Styling Hair Dryer is here to make all of your hair dreams come true.
No more frizz and no more dryness. This 3-in-1 powerhouse takes care of everything, from detangling to providing natural texture and luster.
With the option of up to 50% more ions for improved manageability, you can have that frizz free shine you've always wanted.
Just turn up the heat or adjust the speed to get the perfect look for any occasion. Plus, if you want an extra boost, just press the shot button.
With included attachments to provide extra body and shine, this Andis Tourmaline Ceramic Ionic Styling Hair Dryer has it all. This is one hair dryer everyone needs in their toolkit.
Why We Picked It
Get salon-style blowouts in just a fraction of the time with Hot Tools One Step Volumizer.
It's designed to provide a comfortable grip and freedom of movement with an 8 ft. professional cord, while giving your locks quick, even blowout so you can achieve enviable hair styles with minimal effort.
The versatile oval brush design also gently curves sides created to smooth wavy hair, as well as rounded edges to help craft volume from the root for beautiful curls at the ends.
Plus, Ionic Technology helps maintain a neutral charge on the hair's surface so it looks conditioned and smooths out any frizz or static.
Why We Picked It
The Turbo Power Twin Turbo 3200 Hair Dryer is here, and it's going to revolutionize your perfect coiffure.
This professional salon hair dryer has all the bells and whistles—4 temperature settings AND instant cold air, 2 speeds plus an anti-overheating device so you won't damage your hair.
Oh, and did we mention that it also features a removable stainless steel filter plus a super long and strong cable?
Turbo Power strives to make sure their products reach excellence with practical and ergonomic design.
Why We Picked It
Got serious hair goals but don't want to risk damage from styling? The Conair Infinitipro Hair Dryer is here to your rescue.
This lightweight, ergonomically designed hair dryer is packed with advanced technology that offers 50% faster drying with 50% less damage than other conventional dryers.
Boasting a powerful ionic conditioning system, it helps you achieve controlled styles without added frizz; the cold shot button even locks in the look for added potential.
But convenience doesn't stop there--it also includes three heat settings /2 speed custom settings and a concentrator nozzle so you can tailor your routine one switch at a time.
Plus, its removable filter ensures lint buildup stays in check, because nobody likes sudden surprises when they style their hair.
Blow Drying FAQ's
Drying natural hair can be a challenge, but it's worth it to have healthy and styled hair.
Many women with natural hair avoid blow drying because they are afraid of damage. Others don't know how to properly dry their hair without causing frizz or breakage.
Here are the most frequently asked questions about the best blow dryer for natural hair.
What type of blow dryer is best for black hair?
There isn't one definitive answer to this question because black hair comes in so many different textures and styles.
However, a good general rule of thumb is to use a blow dryer with low heat and high speed, and always avoid using the highest setting.
Also, be sure to use a thermal protectant spray before drying to help shield your hair from heat damage.
What kind of blow dryer is best for 4C hair?
The best type of blow dryer for 4C hair may vary depending on the individual's hair type and texture.
However, in general, a blow dryer with a diffuser attachment is often recommended for curly or kinky hair types, as it helps to minimize frizz and lock in moisture.
Is hair dryer good for afro hair?
Some people with afro hair find that using a hair dryer can help to dry their hair more quickly and evenly, which can be helpful in avoiding frizziness.
However, it's important to be careful when using a hair dryer on afro hair, as too much heat can cause damage and make the hair more prone to breakage.
So if you're going to use a hair dryer, try to keep the temperature on low and hold the hairdryer at least 6 inches away from your head. And always use a good quality heat protectant
Is it better to blow dry or air dry black natural hair?
There's no right or wrong answer to this question – it all depends on your hair type and what works best for you.
Some people find that blow drying their hair helps to add volume and style, while others find that air drying results in a more natural look. Experiment with different methods and see which one gives you the best results.
Is ceramic or titanium hair dryer better for hair?
There isn't a definitive answer for this question since people's hair tends to differ in terms of its porosity, thickness, and natural oiliness.
However, generally speaking, titanium dryers are better for people with thick or coarse hair because they generate more heat and help to dry hair more quickly.
Ceramic dryers are generally thought to be gentler on hair and are therefore a better choice for people with fine or delicate hair.
Do blow dryers damage natural hair?
There's a lot of debate on this topic, but the general consensus seems to be that blow dryers and curling irons can damage natural hair if not used properly.
One of the biggest dangers is blow drying your hair when it's wet and curly, as this can cause the curls to frizz and damage the hair cuticle.
A good way to protect your hair from the heat of a blow dryer is to use a heat-protective product, like a serum or oil.
You can also try diffusing your hair instead of drying it directly. This will help reduce the amount of heat exposure your hair receives.
Finally, make sure you're using a low-heat setting on your blow dryer, and keep it moving around constantly to
How often should natural hair be blow dried?
Some people blow dry their hair every day, while others only do it once a week. It really depends on your individual hair type and how healthy your hair is.
If you have dry or damaged hair, it's important to avoid heat drying it too often, as this can further damage your hair. Try to air dry your hair as often as possible and only use the blow dryer when necessary.
If you have oily hair, you may need to blow dry it more often in order to keep it from looking greasy. However, you still need to be careful not to over-dry your hair, as this can cause damage and lead to frizziness.
Why is my hair frizzy after air drying?
Air drying your hair can often result in frizziness because it dries the hair shafts out and makes them brittle.
Frizzy hair is caused by a combination of genetics and environmental factors like humidity, weather, and styling products.
When the outer layer of the hair shaft swells from moisture in the air, the individual strands become more visible and create the frizzy look.
One way to help reduce frizziness when air drying your hair is to use a diffuser. A diffuser helps to evenly distribute the air flow from your dryer, which prevents strands from swelling at different rates and creating more frizz.
You can also apply a serum or oil to damp hair before air drying to coat each strand and
How do I choose a hair dryer?
When choosing a hairdryer, the most important factor to consider is the power of the dryer. A hairdryer with more power will be able to quickly dry your hair.
Another factor to consider is the type of hair you have. If you have fine hair, you should choose a hairdryer with low heat and speed settings.
If you have curly hair, you should choose a hairdryer with multiple heat and speed settings so that you can customize the drying process instead of only having super hot air.
Finally, consider how loud the hairdryer is before making your purchase. If noise is a concern, look for a model that has an adjustable noise level.
Which flat iron is less damaging to hair titanium or ceramic?
There really isn't a definitive answer to this question since it depends on a lot of factors, such as the porosity of your hair, how often you use each type of flat iron, and your own individual hair type.
Generally speaking, titanium flat irons are thought to be a bit harsher on hair than ceramic ones because they can sometimes cause more damage and breakage.
However, this doesn't mean that all titanium irons are bad for your hair – it just depends on the particular model that you choose.
If you're looking for a less damaging option, then ceramic irons are usually considered to be safer. They also tend to distribute heat more evenly across the surface of the plate, which helps to
The Best Blow Dryer for Your Hair
So what is the best blow dryer for natural hair? According to customer reviews, the best products include the brands we listed above.
We've included links to shop so you can check out prices and reviews of these products for yourself. And don't forget – experiment with different products until you find the one that works best for you.
Got curly hair? We can recommend some hair dryers for curly locks as well! Tap the button below for our list of the best hair dryers for curly hair.