Tape In Hair Extension Remover for Fast, Painless Removal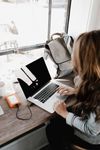 Remove your hair extensions with ease! We found the best extension removers that work like a charm.
Tired of painful hair extension removal? Trying to remove tape in extensions with your fingernails or a fine tooth comb and it is not fun. That's why we've discovered some amazing hair extension removers that work like a charm.
You deserve to have pain-free hair extension removal so you can change your look without damaging your hair.
These removers will make life much easier for you and you'll be able to take them out with ease.
Keep reading to find the perfect hair extension remover for your tape in extensions.
How We Choose the Best Hair Products for You
What is the best hair extension remover? We wanted to know! That's why our team reads through thousands of Amazon reviews, TikTok and YouTube videos and social media posts so you don't have to!
We've compiled a list of the absolute best hair tape in hair extension removers. We know after reading this article you will find the best product for you.
Why We Picked It
This adhesive remover will have those pesky tape-ins outta there in 10 seconds flat, with no tugging on your tresses.
Say goodbye to sticky accidental hair-pulling horror stories now that Big Kizzy is here to save the day.
This remover removes the tape without disintegrating it into tiny pieces all over your head, leaving you mess-free afterwards. It works its magic without making a dent in your hair.
This box includes two removers, the  8oz Release & Reuse and 4oz Remove & Residue. You start your tape removal process with Release & Reuse.
This remover  neutralizes the stickiness of extension tape allowing it to be easily removed. Remove & Residue helps deal with sticky residue that is sometimes left behind after removing tape extensions.
This two step system is truly the easiest solution for removing your tape in extensions.
Why We Picked It
This specially formulated spray is designed to remove hair extension glue without damaging your skin or natural hair and with minimal reaction time.
No more tugging and pulling, simply spray and you're one step closer to having beautiful, luscious locks.
No fussy chemistry involved; just place, spray and remove.
Feel free to give your extensions a fresh start with every use - this hair glue remover works especially well with any tape-in hair extensions.
There are no irritating chemicals or toxins in this product so you can trust that it's safe for your body.
Why We Picked It
Here is a safe, gentle and non-aerosol way to take off your wigs and weaves without damaging your edges.
Cutting corners can mean some serious damage when removing glued-down styles, so don't be left in a sticky mess.
This alcohol-free bond release hairspray is specially formulated with tea tree oil, borage seed oil and aloe vera so you can be sure that it won't just release adhesives, but also soften and hydrate your hairline too.
Say goodbye to those screaming scalp sessions - now you can take those locks off without any loss.
Just grab a cotton pad to hold against your hairline for one minute to give the bonds that extra bit of slippage. Rub the spray to lather. Then wipe off hair line completely.
Why We Picked It
Introducing the X10 Pro-Tools D Bond Gel Remover, your fast and effective solution to breaking the strongest adhesive bonds.
With this product, the toughest of extensions are no match. It's oil free which means it won't leave residue behind, so don't worry about having to mess with any sticky situations.
Plus you can safely reuse your extensions. This bond breaker works on all tape-in hair extensions including an extension weft. The Hair Shop, Inc. products have been popular in this arena since 1990 so they definitely know what they're doing.
Why We Picked It
Say goodbye to painful and dangerous removal of hair extensions. Piaou Tape in Extension Remover is the easy way to remove tape-in extensions without any pulling or damage.
This oil based remover uses citrus oils and extracts to gently loosen bonds between skin & tape as well as tape and lace wig units, making clean up and maintenance a breezy experience.
There's no need for nasty, harsh chemicals that may damage your hair shaft or skin. This tape in remover is 100% safe for your human hair extensions - it contains no toxins and no latex - so you can say goodbye to messes and damage while protecting your beauty and sanity.
Hair Extension Removal FAQ's
You're considering getting tape in hair extensions, but you're worried about how to remove them without damaging your own hair.
Tape in hair extensions are a great way to get longer, fuller hair without having to wait for your natural locks to grow out, but what happens when you want to take them out?
We've got you covered. Our FAQ's cover everything from how to prepare your hair before removing the extensions, to the best ways to remove them without causing any damage.
Plus, we've got tips on how to keep your hair healthy and full once the extensions are gone.
What is the best way to remove tape in hair extensions?
The best way to remove tape in hair extensions is to use a solvent that will dissolve the adhesive.
Make sure to test the solvent on a small area of the extension first to make sure it doesn't cause any damage. Then, use a cotton ball or pad to apply the solvent and let it sit for a few minutes.
Finally, gently peel off the extension and wash your hair with shampoo and conditioner.
How do I remove tape in hair extensions at home?
Removing tape in hair extensions at home can be a bit tricky, but it can be done. Here are a few tips:
- Start by gently pulling on the extension to loosen the adhesive.
- Apply an adhesive remover for about 30 seconds to soften it up.
- Gently peel off the adhesive. If some of the hair comes with it, that's okay.
- Apply a small amount of olive oil or baby oil to the area where the adhesive was removed to help condition and moisturize your hair.
Can you use rubbing alcohol to remove tape in hair extensions?
You can use rubbing alcohol to remove tape in hair extensions, but it's not recommended. It is important to take caution when using this method, as it can be harsh on the hair and scalp.
To remove the tape from hair extensions using rubbing alcohol, start by mixing one part rubbing alcohol with two parts water in a small bowl or cup. Next, use a cotton ball or pad to apply the mixture to the adhesive on the extension tape.
Gently rub the adhesive until it begins to loosen and peel off of the hair. Finally, rinse the hair thoroughly with warm water and condition as usual.
Can I use hand sanitizer to remove tape-in extensions?
This should be a last resort. While hand sanitizer won't damage the extensions, it's not the best way to remove them.
The adhesive residue left behind by the tape-in extensions can be removed more easily with a small amount of olive oil or baby oil. Apply the oil to a cotton ball and wipe the adhesive residue away.
How do you remove tape-in extensions without remover?
If you don't have any hair extension remover, you can try using some household items to remove them.
For example, you can use baby oil, coconut oil, or olive oil to help loosen the adhesive. You can also use a hot shower to soften the adhesive before trying to remove them.
Can you use acetone to remove tape-in extensions?
Tape-in extensions are a type of hair extension that is attached to natural hair using adhesive tape. They are considered to be one of the most popular and damage-free methods of hair extensions.
While acetone can be used to remove tape-in extensions, it is not recommended because it can damage the adhesive agent that is used to attach the extensions.
There are certainly better options available than using acetone.
What happens if you leave tape in extensions in too long?
Tape in extensions can be left in for 2-3 weeks, but no more than that. Leaving them in for too long will cause them to become matted and tangled, and it will be difficult to get the tape out without causing damage to your natural hair.
Does it hurt to remove tape in extensions?
There are a few different schools of thought on this subject. Some people say that if you're gentle and take your time, removing tape in extensions shouldn't hurt.
Others say that it definitely does hurt, especially if the extensions have been in for a while and the adhesive has had time to set.
The best advice is probably to go slowly and be gentle, but also expect that it might still be a bit painful. If you're worried about how much pain you'll experience, you can try testing a small piece of tape first to see how bad it is.
Can tape in extensions cause bald spots?
Tape in extensions don't typically cause bald spots. Tape in extensions are made with human hair or synthetic hair and are applied by placing a small amount of adhesive along the top of each extension and then pressing it into place against your natural hair.
The adhesive is designed to be gentle and will not cause any damage or pulling on your natural hair.
If you are experiencing bald spots while wearing tape in extensions, it is most likely due to another issue such as traction alopecia. Traction alopecia is a type of hair loss that is caused by continuous pulling or tension on the hair follicles.
If you are experiencing this type of hair loss, the best solution is to discontinue use of the extensions and seek medical advice.
The Best Hair Extension Remover for You
So what are the best tape hair extensions removers for extension hair? According to our findings, it looks like the best products include the brands we listed in this article.
We've included links to Amazon so you can check out prices and reviews of these products for yourself. And don't forget – experiment with different products until you find the one that works best for you.
Want to keep your tape hair extensions looking fabulous? Be sure to brush them and oil them regularly to extend the life of both your hair and the extensions. If you need hair oil suggestions, we have a few. Here is our list of the best oils made just for extensions.