The Best Oil for Hair Extensions to Keep Them Fabulous!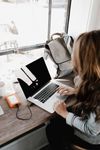 By using the right oil on your hair extensions, you can keep them looking fabulous longer. Here are the best hair oils based on customer reviews.
We're guessing you probably adore your hair extensions. They make your hair look thicker and longer, and they can be a great way to change up your style.
But if you're not taking care of them properly, they can quickly become damaged and look terrible. That's why it's important to use the right oil when you're taking care of your hair extensions.
In this post, we will reveal five oils that are perfect for keeping your hair extensions looking amazing. By using the right oil on your hair extensions, you can keep them looking shiny and new for much longer.
Not to mention, it will also help to protect them from damage. So if you want to keep your hair extensions looking their best, keep reading!
How We Choose the Best Hair Extension Oil
What is the best oil for hair extensions? We wanted to know!
That's why our team reads through thousands of Amazon reviews, TikTok and YouTube videos and social media posts so you don't have to!
We've compiled a list of the absolute best oil for hair extensions. We know after reading this article you will find the best product for you.
Why We Picked It
With a single step you can now transform lackluster, lifeless locks into shining, softer hair strands full of vitality. Olaplex No.7 is here to give your extensions the abundant lift they deserve.
This revolutionary product is engineered to take hair from dry, brittle and dull to soft, vibrant and full of life.
Dramatically increase color vibrancy while softening each strand with a weightless blend of reparative styling oils. Fly-aways are minimized while frizz is no longer an issue providing gentle detangling and tangle-free finish.
Olaplex No.7 also delivers substantial heat protection to natural hair, up to 450° possible due to the patented bond building technology delivered in each drop.
Now thinning out or breaking off ends due to excessive heat styling simply won't stand a chance.
Plus additional benefits such as UV protection and strength hardening included—it's like having the perfect little package offering it all. Olaplex serum can be used on wet or dry hair.
Why We Picked It
Are you looking for a product that can help turn your hair into a masterpiece? Look no further than Moroccanoil.
Packed with nutrient-rich argan oil and other natural ingredients, Moroccan oil is the perfect foundation for styling routines or to give second-day strands a refresh.
Plus, it's certified as cruelty-free by PETA, so you can feel good about using it.
This hair treatment does more than just your average product - it conditions, smooths frizz and flyaways, detangles, and boosts shine by up to 118%.
Why We Picked It
This natural source of fatty acids helps condition and nourish hair follicles for healthier, stronger, and fuller looking hair extensions.
Sky Organics takes only the purest ingredients from certified organic sources to ensure a quality product. Their Cold-Pressed Organic Castor Oil is USDA certified organic, 100% vegan and cruelty-free, so not just your hair will be thanking you
In addition to being an amazing moisturizer for your hair extensions, this product may also help with thinning edges and strengthening split ends. Talk about a multi-tasking miracle worker.
Why We Picked It
This formula is packed with beneficial fatty acids, and even UV protectants — your body's natural defense against the sun.
These ingredients come together to provide ultra-moisturizing properties that stimulate healthy hair growth and condition hair extensions without leaving them feeling weighed down or greasy.
With Kate Blanc Cosmetics Pure Castor Oil, you get all of these amazing benefits in one simple USDA certified organic product.
Why We Picked It
Calling all rough and tumble hair types! OGX is here to save the day and give you smooth hair.
This amazing Moroccan argan oil blend will transform your hair extensions in seconds with just a few drops.
Forget damaged, coarse locks - OGX will help you show off smooth, sexy tresses in no time!
This serum will deeply heal, smooth, and restore luster to your dry and brittle mane while protecting it from bad styling habits or UV damage.
And don't worry - you got this! You can even trust that you'll beat the humidity too.
Hair Extension Oil FAQ's
You're considering getting hair extensions, but you have a lot of questions about how to take care of them.
Extensions can be a great way to add length, volume, or color to your hair, but there are a lot of things to consider when taking care of them.
We've compiled a list of the most frequently asked questions about hair extension oils so that you can make an informed decision before moving forward.
What oil can I put on hair extensions?
You can put any type of oil on hair extensions, but some oils are better than others.
For example, olive oil is a good choice because it's rich in antioxidants and nutrients that help to nourish and protect hair. Other good oils to use include coconut oil, argan oil, and jojoba oil.
How do you keep extensions moisturized?
It's important to keep hair extensions moisturized in order to keep them looking healthy and shiny. You can do this by using a moisturizing shampoo and conditioner, as well as a moisturizing hair treatment.
You can also use a leave-in conditioner or hair oil for your damaged hair.
It's also important to avoid exposing your hair extensions to excessive heat or humidity, which can cause them to become dry and brittle.
How do I keep my extensions soft and silky?
By using a good conditioner or hair mask. Conditioners are essential for keeping extensions looking and feeling their best.
Look for a conditioner that is silicone-based, as this type will help to smooth the hair shaft and reduce frizz. Be sure to apply the conditioner evenly throughout the hair, from roots to tips, and allow it to soak in for a few minutes before rinsing.
You may need to use a hair oil on days when you don't shampoo your hair. This will help keep the extensions looking healthy and shiny between washes.
What should you not put in hair extensions?
You should not put any product in hair extensions that you would not put in your own hair. This includes gels, mousses, sprays, and other styling products.
If you put products in your hair extensions that are too heavy or that contain alcohol, they can damage the extensions and make them look frizzy or oily.
It's best to stick to light products like hair serums or curl creams, and to use a small amount so that the extensions don't feel weighed down - especially if you have thin hair.
How often should you oil extensions?
How often you oil your extensions will depend on a variety of factors, including the type of hair extension, the quality of the extension, and how often you wear them.
In general, it's a good idea to oil your extensions at least once a week to keep them looking healthy and shiny.
If you have curly or textured hair extensions, you may need to oil them more often, since they're more prone to becoming dry and brittle. You can also use oil as a conditioning treatment between washings.
What can I put on dry hair extensions?
If you're looking for a way to add some shine and moisture to your dry hair extensions, one option is to use light, natural oils like jojoba or grapeseed oil.
You can either apply the oil directly to the extensions, or you can give yourself a light scalp massage with it before washing your hair. Another option is to use a deep-conditioning treatment once or twice a week.
How often should I put argan oil in my extensions?
It's best to apply argan oil to your extensions every other day. This will help keep them looking shiny and healthy.
Be sure to avoid getting the oil near the bonds, as this could weaken them and cause your extensions to fall out prematurely.
Is vitamin E good for hair extensions?
It can be. This vitamin is a nutrient that is beneficial for hair health. It helps to protect the hair from damage and promotes hair growth. Because of this, vitamin E can be a good addition to your regular haircare routine if you have hair extensions.
You can find this vitamin in many different forms, including capsules, oils, and creams.
Can I put coconut oil on my hair extensions?
Coconut oil is a great natural option for hair extensions. For hair extensions coconut oil
has a light texture that won't weigh down your hair, and it helps to seal in moisture and protect against damage. Plus, it has a wonderful tropical scent that will leave your hair smelling gorgeous!
The Best Oil for Your Hair Extensions
So what are the best hair oils for beautiful, manageable hair extensions? According to our findings, it looks like the best products include the brands we listed above.
We've included links to Amazon so you can check out prices and reviews of these products for yourself. And don't forget – experiment with different products until you find the one that works best for you.
You definitely want to protect your hair extensions by using only the best hair products on them. If you use a dry shampoo, make sure it's one recommended for extensions.