Why You Should Try Hair Straightening Spray Right Now!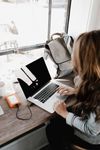 Don't let humidity ruin your straightened hair. Here are the benefits of using a hair straightening spray and the best ones you should try!
Are you tired of your hair being a never-ending battle of frizz, curl and kink? Do you want to put an end to the disappointing attempts with hot tools that often results in heat damage and not enough curl control?
Well then it's time for you to join the thousands of people who have already benefited from using hair straightening spray.
This revolutionary product is quickly becoming an essential purchase for anyone ready to make their tresses easier and more manageable.
Discover what makes this must-have styling solution so unique and why now is the best time to give it a try yourself!
How We Choose the Best Hair Straightening Sprays for You
What is the best hair straightening spray? We want to know! That's why our team reads through thousands of Amazon reviews, TikTok and YouTube videos and social media posts so you don't have to!
We've compiled a list of the absolute best sprays for all hair types. We know after reading this article you will find the best spray for you.
Why We Picked It
Introducing Straight Silk Spray – the perfect way to keep your hair looking and feeling as smooth and glossy as silk, no matter what temperature you're styling with.
This formula is engineered to protect hair up to a sizzling 450F degrees.
Make sure to never exceed the maximum operating temperature for your styling instrument - we want you to look gorgeous without any frizz, not turn into frizz!
From blow drying to flat iron, this protective formula sends static packing.
Get ready for silky strands that stay effortlessly straight – no matter what temperature you take them.
Why We Picked It
Ready to stay sleek and chic for the next three days? Look no further than L'Oréal Paris Sleek It Iron Straight Heat Spray!
This lightweight flat iron spray protects hair from intense heat up to 450 degrees, taming frizz and forming a barrier of shine around each strand.
It's perfect for fighting off humidity and keeping fly-aways at bay for long-lasting silky style.
Whether you're aiming for classic, straight strands or a modern texture, this spray has all your styling needs covered!
Just spritz Perfection Heat Spray part by part as you go and you'll be ready to flaunt your perfect hairstyle in no time.
Why We Picked It
You'll be happy to see your hair so smooth and playful with the help of John Frieda Frizz Ease 3-Day Flat Iron Heat.
Now you can enjoy straight hairstyles that last up to three days or until your next shampoo.
If you've ever experimented with heat-activating products in the past, you know how annoying it can be when your mane starts reverting back to it's frizzy state after just a few hours.
No more worrying about how long your style will hold... this lightweight smoothing spray, fortified by a unique blend of polymers plus keratin protein, will keep hair glossy and smooth for days.
The best part? This salon quality product contains a special anti-frizz formula specially designed to work wonders on dry and damaged hair.
For head-turning, frizz free results every time, combine with other Frizz Ease products from John Frieda's line and make your long lasting style dreams come true!
Why We Picked It
Introducing Color Wow's Dream Coat - your daily summer savior!
This product, inspired by textile innovation and technology, turns your morning routine into a breeze.
Its light-as-water formula wraps each strand of hair in an imperceptible, water-resistant barrier so that you are left with silky, glossy, glassy hair that is resistant to humidity, no matter the weather.
It's like a raincoat for flyaways that can easily be sprayed on and brushed through your hair for an all-day look that will make you dreamy.
Get ready to rock the heat this summer and finally enjoy frizz-free hair with our one-of-a kind dream coat!
Why We Picked It
Want sleek, smooth, and fabulous locks all day? Look no further than MATRIX Total Results Mega Sleek.
This innovative leave-in spray will lock in frizz-fighting goodness while protecting your hair from heat damage from heat styling up to an impressive 450° F.
Plus, it's humidity-resistant so you can survive a rainy forecast without worrying about having your hairstyle washed away!
For best results, simply part your hair into sections before giving a spritz of this magic potion and flat ironing from roots to ends.
Why We Picked It
Style with confidence and protect your hair from heat damage with Hot Off The Press Thermal Protection Spray.
This heat protectant spray is designed to give your hair an extra layer of protection against the harsh heat of flat and curling irons.
Protect your precious locks while you create salon-worthy styles, so you don't have to worry about a thing.
Whether you're looking for soft curls or sleek strands, Hot Off The Press will help lock in the look with just a few spritzes.
Get ready to say goodbye to dull locks and hello to gorgeous, healthy-looking hair.
Why We Picked It
This thermal heat flat iron straightening protector guards against the searing of blow dryers and flat irons that can damage even the most protective of manes.
It's created from natural ingredients so its protection remains pure, preventing dryness and split ends for healthy, glossy strands.
Now you don't have to worry about weak hair or regular deep conditioning - just use Argan Oil Thermal Shield for the ultimate nourishment and protectant all-in-one.
Hair Straightening Spray FAQ's
Straightening your hair can be a real pain. You have to worry about burning yourself with the flat iron, dealing with frizz, and making sure your hair doesn't look greasy or oily.
Not to mention, using a straightener every day without a heat protectant can really damage your hair.
Hair straightening spray can help to tame frizz, protect your hair from heat damage and make it look sleek and shiny.
Here are the most frequently asked questions about straightening spray.
What products will keep my hair straight?
To keep your hair straight, you'll need to invest in a few key products.
These include a heat protectant spray, an ionic blow dryer (preferably ceramic or tourmaline), a round brush, and flat irons.
First you'll want to use the heat protectant before every time you style your hair. This will help shield it from high temperatures that can cause damage over time.
It should be applied evenly to damp strands prior to styling with any hot tool such as the hairdryer or flat iron.
When using the hairdryer, look for one that has ionic technology which helps tame flyaways and delivers sleeker results without leaving behind too much frizz.
A round brush is also essential for straightening thick hair as it helps stretch out sections of hair when drying achieving smoother results than just running your fingers through it would do so alone.
Finally, when straying completely smooth strands, finish off with flat irons that are made from either ceramic or tourmaline plates since these materials produce infrared heat which works better at locking in moisture while keeping unwanted frizz away.
What do hairdressers use to straighten hair?
Hairdressers use a variety of tools and products to achieve straight hair.
Typically, they start by washing the hair with a clarifying shampoo to remove any build-up from styling products or dirt.
Then they will apply a thermal protectant product so that the heat applied doesn't damage the hair in any way.
From there, hairdressers either use flat irons, hot combs, presses combs, creme relaxers or chemical relaxers to straighten the hair depending on its texture and type. Heat-based tools like flat irons can be used on all types of hair.
The most popular tools are ceramic flat irons because they have adjustable temperatures which helps avoid overdoing it when straightening finer or damaged/dyed hair textures.
Pressing combs utilize an electric heating element that heats metal teeth; this method is usually better for thicker natural textures as it achieves more even results than using a flat iron does.
Creme relaxer and chemicals are powerful on the cuticle layer than heat based methods; these should only be used by professionals due to their strength and potential for irritation if not handled properly over time.
What is the least damaging way to straighten hair?
If you want to straighten your hair in a way that does minimal damage to thin hair, try using a flat iron or blow dry your hair with the cold or cool settings on your dryer.
Flat irons produce very hot temperatures and can cause heat damage if not used safely.
Make sure that the heat setting is at its lowest possible level before using it, and don't leave it passing over one section of the hair for too long.
Additionally, use a heat protectant spray before applying any type of heat to ensure you are further protecting your strands from high temperatures.
If blow drying is more convenient for you, it's important to practice good "drying" form: Don't hold the dryer too close and don't concentrate it on one specific area for an extended period of time as this could create localized hotspots in which severe burning may occur.
Finally, consider investing in an ionic ceramic blow dryer to dry hair; these types of tools reduce static electricity in the air around us as well as help minimize frizziness due to their negative charge-enhancing features (unlike regular plastic-based models which draw moisture off our scalp).
Staying away from chemicals such as peroxide or ammonia found in relaxers can also help with preserving overall health of the hair shafts since they work by breaking down its protein bonds – something that cannot be reversed easily without compromising quality.
Does keratin spray straighten hair?
Keratin spray is a product that can help to temporarily straighten hair and make it easier to style.
Unlike chemical treatments like relaxers or keratin treatments, the effects of keratin spray are temporary. The active ingredients in the product bind to your hair causing it to become temporarily straighter and stronger, resulting in the desired effect.
Keratin sprays are best used on already straightened hair, as they won't have as much of an impact on curly or wavy strands.
Before using a keratin spray, make sure your hair is clean and free from any oils or products that may weigh down the effect of the spray.
Additionally, many brands recommend using a blow dryer with nozzles when applying for extra volume and shine.
While not permanent like a relaxer or keratin treatment, some people find that regular use of a quality keratin spray on their natural hair will result in long-term benefits such as enhanced strength and reduced breakage due to increased hydration levels in your hair strands.
In addition, these sprays tend to be gentler than more traditional methods so they're suitable for any type of hair texture!
How do I keep my hair super straight all day?
You can use finishing touches like hairspray that has medium hold capability while still allowing movement. This is one of the easiest ways to keep your hair smooth.
How can I straighten my hair without heat protectant?
One of the best ways to straighten your hair without using heat protectant is to tie your damp hair in a tight bun and let it air dry.
This will allow the natural curl of your hair to loosen out to more of a wave while keeping most of its shape, giving you a more relaxed look.
Additionally, you can apply leave-in conditioners or styling gels to wet hair to help straighten and smooth the cuticle down as it dries. This will create a smoother, shinier finish with less frizz or flyaways.
Finally, try a blowout crème for extra protection against heat damage when blow drying your hair.
Heat protectants are important for protecting vulnerable strands from excessive heat exposure but there are plenty of other ways that can help provide some level of protection from direct contact with heated styling tools such as flat irons or curling wands.
The Best Hair Straightening Spray for You
So what is the heat protection spray for straight hair? According to customer reviews, the best products include the brands featured in this article.
We've included shopping links to each flat iron protection spray so you can check out prices and reviews of these products for yourself.
Another way you can maintain your straightened hair is by using a satin or silk pillowcase. Using one of these special pillowcases prevents breakage and damage to your hair.
We went looking for the most popular pillowcases for your hair and skin. Tap the button below for our list of the best!