We Found the Best Shampoo for Extensions: Our 6 Top Picks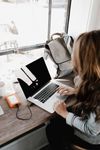 Hair extensions are expensive and using the wrong shampoo can damage them. Here are 6 shampoos that will help you protect your investment!
Hair extensions have gone mainstream over the past few years. And, if you have hair extensions, you want to protect your investment and make sure your extensions look their best.
That's why it's important to use a good shampoo specifically designed for hair extensions. In this post, we will reveal 6 of the best shampoos for hair extensions out there today.
How We Choose the Best Shampoo for You
What is the best shampoo to wash hair extensions? Our team reads through thousands of Amazon reviews, TikTok and YouTube videos and social media posts to compile the absolute best products. We know after reading this article you will find the best shampoo for your extensions.
Why We Picked It
Looking for a gentle, sulfate-free shampoo that won't compromise your hair extensions? Look no further than Matrix Total Length Goals Shampoo.
This shampoo is designed specifically for extensions, and provides delicate cleansing without damaging the extension adhesive. Plus, it protects color vibrancy and restores shine.
So if you're looking for a shampoo that will help keep your hair extensions looking their best, Matrix Total Length Goals Shampoo is the perfect choice.
Why We Picked It
If you're looking for a shampoo that will help maintain your hair color for up to 9 weeks, look no further than Biolage Color Last Shampoo.
This nourishing shampoo is essential for keeping your color looking vibrant and shiny. It gently cleanses your hair without stripping away color, and helps maintain depth, tone, and shine.
Plus, it's vegan-friendly! So why wait? Give your hair the lasting color it deserves with Biolage Color Last Shampoo.
Why We Picked It
Not only will this nourishing shampoo transport your hair to the tropics, OGX Nourishing + Coconut Milk Shampoo will also protect your extensions.
This shampoo is infused with coconut milk, coconut oil and egg white protein to help strengthen and hydrate your hair. It's also suitable for all hair types and textures, so everyone can enjoy its benefits.
Plus, it is available in a 25.4-fluid ounce bottle so you'll be able to enjoy its tropical goodness for a long time.
Why We Picked It
Nutritive Shampoo from Kerastase is a gentle, yet effective shampoo cleanses and nourishes your hair, leaving it soft, shiny and with a lightweight finish while protecting your hair extensions. This is a great shampoo for damaged hair.
Thanks to the Iris Rhizome Extract, it also protects against oxidation, while the Conditioning Polymer enhances nutrition to fragile areas.
So if you're looking to enhance your image and highlight your beauty, Nutritive Shampoo is the ideal choice.
Why We Picked It
Big Kizzy's F.A.T.T. "Full and Thickening Treatment" Volumizing Biotin Shampoo & Conditioner isn't just known for it's cute name.
This product was designed by a hairdresser specifically for the needs of today's modern hair, and it is perfect for those with fragile, color-treated hair, as well as those who have keratin treatments, Brazilian blowouts, or hair extensions.
Fortified with biotin and provitamin B5, two potent vitamins that add shine, nourish, and strengthen hair.
A cocktail of 11 amino acids (the building blocks of protein) help strengthen, repair, and condition the hair shaft. With regular use, your hair will look and feel fuller, thicker, and healthier.
Why We Picked It
Pureology Strength Cure Shampoo will not only protect your color but also heal your hair and promote hair growth.
Pureology Strength Cure Shampoo is formulated with exclusive Asta Repair with Astaxanthin, a powerful antioxidant, plus Keravis, Ceramide and Arginine.
This shampoo will help restore and repair damaged and breakage prone hair while delivering color protection. The scent of sandalwood, pear and rose makes this shampoo even more inviting.
Shampooing Hair Extensions FAQ's
Wearing hair extensions  can be a bit of a challenge. You spend a lot for those lovely extensions and you want to take care of them. That means using the right shampoo.
But, it's hard to know which ones are best. We've got you covered. Our FAQ section will answer all of your questions about extensions and which products are best for keeping them looking good.
What can I wash my extensions with?
You can wash your extensions with a mild shampoo, but you should avoid using products that contain alcohol or sulfates.
Sulfates are harsh chemicals that can strip the hair of its natural oils and make it brittle. Alcohol can also dry out the hair and make it more prone to breakage.
Instead, try using a shampoo that is specifically designed for curly or color-treated hair.
These shampoos are gentler and will be less likely to cause damage to your extensions. You can also use a conditioner with shea butter or deep conditioning treatment once a week to keep your extensions healthy and shiny.
What shampoos to avoid with hair extensions?
It is best to avoid shampoos with sulfates. Sulfates are harsh detergents that can be very drying and damaging to hair, especially if it is already dry or damaged.
They can also strip away color and other treatments from hair. Look for shampoos that are labeled "sulfate-free" or "paraben-free."
How often should hair extensions be washed?
It depends on your hair type and the quality of the extensions. Generally, you should wash them every two weeks.
If you have a lot of oil in your hair, you may need to wash them more often. If you have fine or thin hair, you may need to wash them less often.
Washing your extensions too often can strip away oils and cause them to become dry and brittle. You can get by between shampoos by using dry shampoo.
What ingredients to avoid with extensions?
When you have extensions, it's important to avoid any products that contain sulfates, sodium chloride, and ammonium lauryl sulfate.
These ingredients can be very harsh on your extensions and can cause them to become brittle and break.
They can also strip oils from your hair and make it more difficult for the extensions to stay in place.
Is Moroccan oil shampoo good for hair extensions?
Moroccan oil shampoo is a good option for hair extensions.
It's important to use a gentle shampoo that won't strip the hair extension and your hair of its naturally occurring oils, and Moroccan oil shampoo is perfect for that.
It's also moisturizing and helps protect the hair from heat damage, which is essential when using hair extensions.
How can I make my extensions soft again at home?
There are a few things you can do to make your extensions soft again at home. One is to use a conditioner or hot oil treatment on them.
Another is to avoid using products that contain alcohol or sulfates, which can strip the hair of its natural oils and make it dry and brittle.
You can also try styling your hair in a way that doesn't put as much stress on the extensions as heat tools do, such as braiding it or putting it in a bun.
How do you dry extensions after washing?
You can dry extensions by gently patting them with a towel. Do not brush or comb them while they are wet. Let them air-dry completely before styling.
If you have a lot of extensions, you might want to consider using a hair dryer. Set the hair dryer to low heat and slowly blow the extensions until they are completely dry. Do not use high heat, as this could damage the extensions.
Can you let hair extensions dry naturally?
Yes, extensions can be dried naturally, but there are a few things to keep in mind. First, it's important to make sure that the extensions are 100% dry before styling them. Otherwise, you might end up with frizzy hair.
Second, it's a good idea to use a low-heat setting when drying your extensions. This will help protect them from heat damage.
Finally, avoid using excessive amounts of heat styling products on your extensions. They can cause the hair to become brittle and susceptible to breakage.
How do you take care of human hair extensions?
There are a few key things to keep in mind when caring for your human hair extensions.
First and foremost, you should always use a gentle shampoo and conditioner that is designed for use on human hair. You should also avoid using any products that contain alcohol, as these can dry out your hair and lead to breakage.
It's also important to be gentle when brushing or styling your extensions. Always use a wide-tooth comb and start at the ends, working your way up to the roots.
And if you're going to blow-dry your extensions, make sure you use a low heat setting and avoid brushed too close to the scalp.
How long can you go without washing extensions?
Depending on the quality of the extensions, you could probably go a week or two without washing them.
However, it's recommended that you wash them every other week to keep them looking their best.
Washing extensions is important because it removes the oils and dirt that can accumulate on them over time.
If these oils and dirt are not removed, they can cause the extensions to become greasy and matted. Washing them also helps to keep them from becoming tangled or matted.
How do you sleep with hair extensions?
There are a few  things to consider when sleeping with hair extensions. First, make sure that the extensions are 100% real human hair.
If they're not natural hair, you run the risk of having your own hair pulled out when you sleep.
Second, before going to bed, braid your hair in a loose style. This will help keep the extensions from getting tangled up with your own hair.
Third, use a silk or satin pillowcase instead of a cotton one. Silk and satin are less harsh on your hair and won't cause as much friction while you're sleeping.
Finally, give your head a gentle shake before getting out of bed in the morning to loosen any tangles that may have formed during the night.
How do you maintain curly hair extensions?
The key to maintaining curly extensions is keeping them moisturized. Be sure to use a good conditioner and detangler, and try to avoid shampoos that are harsh or contain sulfates.
You may also want to invest in a silk bonnet or scarf to help keep the curls from frizzing.
Finally, be gentle when brushing or combing your extensions—a wide-tooth comb is best.
Why does my hair extensions smell?
The most common cause of bad odor in hair extensions is bacteria.
When hair extensions are installed, the scalp's natural oils and sweat can get trapped against the extensions, providing a perfect breeding ground for bacteria. Bacteria produce an unpleasant smell that can be difficult to get rid of.
To prevent your hair extensions from smelling bad, make sure to keep them clean. Wash them with a gentle shampoo and conditioner once to twice a week, and use a dryer sheet to reduce static and keep them smelling fresh.
You can also buy special products made specifically for keeping hair extensions clean and smelling nice.
How do you deodorize synthetic hair?
You can deodorize synthetic hair extensions by spraying them with a mixture of one part vinegar and two parts water. Then, let them air-dry. The vinegar will kill the bacteria that cause the smell.
Does wet hair absorb smell?
It absorbs smell to a certain degree. The smell of wet hair is often stronger than the smell of dry hair because the moisture on the scalp and hair helps to lock in the scent.
The pores on your head are also open when your hair is wet, which allows for more contact with surrounding objects and people, leading to a stronger scent.
The Best Shampoo for Your Extensions
So what is the best shampoo to keep your hair extensions soft? According to our findings, it looks like the best include the brands featured in this article.
We've included links to Amazon so you can check out prices and reviews of these products for yourself. Happy shopping!