Stylists Say This is the Best Copper Hair Dye for 2023!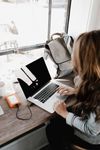 Here's everything you need to know about this trendy hue, including the best brands professional stylists say you should try at home.
If you're looking for a new hair color, copper might be the perfect choice for you!
This shade is becoming more and more popular, and it's easy to see why.
Copper hair dye can give your locks a beautiful warm glow that will make you stand out from the crowd.
In this post, we'll tell you everything you need to know about this trendy hue, including the best brands professional stylists say you should try.
We'll also give you some tips on how to care for your copper hair color so it looks its best. So if you're ready to go copper, keep reading!
How We Choose the Best Dye for Your Hair
What are the best dyes for your hair? We wanted to know! That's why our team reads through thousands of Amazon reviews, TikTok and YouTube videos and social media posts so you don't have to!
We've compiled a list of the absolute best hair copper hair dyes according to hair stylists. We know after reading this article you will find the best product for you.
Why We Picked It
If you're looking for extreme copper color, you just found it! Get ready to be amazed with this intense copper shade.
This is no ordinary dye—Feria gives your hair shimmering 3D highlights to reveal an intensely brilliant and unique look that will turn heads everywhere you go!
Plus, the Power Shimmer Conditioner keeps strands in tip-top shape so you never have to worry about it wreaking havoc on your locks.
So if you're dying for something a little different, look no further than L'Oreal Paris Feria for head-turning color without all the fuss of going to a salon.
Why We Picked It
This shade is perfect for achieving that desired lighter, more natural copper tone while providing lasting coverage even to dark hair.
The triple fruit oil blend of avocado, olive and shea helps nourish the hair while Color Boost Technology amplifies the color pigment for maximum results.
Plus, the rich non-drip crème formula was designed with convenience in mind, taking all the stress out of at-home dyeing.
With over 100 years of experience in hair care and pioneering formulas, Garnier is committed to giving you salon quality results without ever having to step foot outside the house.
Why We Picked It
Let your locks look their best with this ammonia-free, organic herbal product. Transform dull, dark hair into a fiery, copper sensation with warm, golden reflections of sunlight.
This gentle formula lets you lighten up to two shades while restoring the health and vitality of your natural color.
Plus, it has a special blend of eight highly pure organic herbal extracts that both soothe and tone.
And the benefits don't stop there - this gluten-free, eco-friendly product is made without ammonia, resorcinol, parabens or alcohol fragrance.
So for beautiful color without any unhealthy ingredients, trust Herbatint.
Why We Picked It
If you're looking for something fun and fabulous to make your color pop, then you need to check out Schwarzkopf Simply Color.
This is the perfect dye for anyone who wants vibrant and true-to-life hues without compromising on hair health.
It's gentle enough to be used on wispy fine hair, but still powerful enough to provide up to 100% gray coverage.
Plus, it's specially formulated with botanical oat milk, soy protein, and argan oil – so it's not only beautiful, but nourishing too!
So satisfy your craving for natural color results that are even from root to tip with Schwarzkopf Simply Color.
Why We Picked It
Go beyond ordinary and embrace extraordinary with L'Oreal Paris Superior Preference.
This revolutionary gel hair dye formula is paired with Care Supreme Conditioner and Shine Serum to offer the best of both worlds: vibrant, fade-defying color and dazzling shine.
L'Oreal Paris has been providing the gold standard in hair dyes since 1973, so you know you can count on them for gorgeous results.
Why We Picked It
Introducing Clairol Professional Textures & Tones - the best solution for luxurious, long-lasting hair color and shine!
Gone are the days of dull, lifeless locks - now you can show off beautiful hues with this innovative formula.
Each shade is ammonia-free and packed with moisture-rich Jojoba Oil, plus five nourishing botanical extracts to keep relaxed or natural hair looking its best.
Not only will your hair be vibrant and have that perfect luster, but it will also stay soft and healthy for longer than ever before.
Copper Hair Dye FAQ's
Dyeing your hair copper can be a fun way to change up your look, but it's also a big commitment. You want to make sure that you're making the right decision before you take the plunge.
There are a lot of questions about copper hair dye - how to use it, what color it will turn out, how long it will last.
We've collected the most frequently asked questions and answered them for you here. You'll learn everything from how to apply the dye, to what color it will turn out, to how long it will last.
What skin tone does copper hair look best on?
Copper hair can look great on any skin tone, but it will likely be most flattering on someone with a warm skin tone or on olive skin tones. Copper shades also really pop on a darker skin tone.
The copper color will accentuate the golden undertones in the skin, and make the eyes look brighter and more sparkly. It may wash you out if you have more of a fair skin tone.
How long does copper permanent hair dye last?
The pigment molecules in copper permanent hair dye attach to the natural color of your hair, and the longer they stay attached, the more intensely the new color will show.
However, over time these permanent hair dyes will gradually fade as it is rubbed off or washed out.
Some people may find that their hair color starts to look a bit dull after a few months, but it can usually be brightened up again with a touch-up application.
Does copper hair make you look older?
There's no definitive answer to this question since everyone's skin and hair color is unique. However, copper hair color can sometimes make you look older if it's not a good shade for your skin tone.
For example, if you have very light skin, a copper hair color may make you look washed out.
But if you have darker skin, a copper hair color can be flattering because it will add some warmth to your complexion. So it really depends on your individual coloring and what look you're going for.
If you're not sure what color would look best on you, consult with a professional hair stylist. They'll be able to give you some advice based on your specific features.
What colors should you not wear with copper hair?
You should avoid wearing any colors that are too bright or too dark, as they will clash with the copper tones in your hair.
Stick to muted colors like beige, navy, and light green. You could also try wearing shades of brown, as these colors will help to accentuate the coppery tones in your hair.
Do I need to bleach my hair to dye it copper?
Bleaching your hair prior to dyeing it copper will give you a brighter and more uniform color.
However, it is not necessary to bleach your hair in order to achieve a copper hue; many people are able to achieve this color without bleaching by using a copper hair dye that is two or three shades lighter than their natural hair color.
What is the new hair color for 2023?
According to the latest hair color trends report, the new hair color for 2023 is predicted to be a dark ash blonde.
This cool-toned shade will be perfect for those who want to lighten up their look, without completely committing to a bright blonde.
If you're looking to make a subtle change in your style, this could be the perfect option for you.
Of course, copper tones are also trending right now. So, it really depends on your skin tone and personal preference as to which shade is best for you.
Does copper hair go with brown eyes?
There is no one-size-fits-all answer to this question, as the best color combinations for your eyes will vary depending on your skin tone and hair color.
However, copper hair can often look beautiful when paired with brown eyes – particularly if your skin tone is warm or olive.
If you're not sure what color combinations would be best for you, it's always a good idea to consult with a professional hair stylist who can help you choose the right shades for your individual features.
What hair color is best to look younger?
There is no definitive answer to this question, as different people will look younger with different hair colors.
However, many people find that opting for a lighter hair color can help them to look more youthful.
This is because light hair colors generally have a brighter and more cheerful appearance than dark hair colors, and they can also make skin appear healthier and more radiant.
Who can pull off copper hair?
Copper hair can be pulled off by anyone who is looking to add a little bit of brightness and warmth to their hair color.
It's a great option for people with fair skin who want to add a little bit of color without going too crazy, and it also looks great on people with darker skin tones.
If you're thinking about trying out copper hair, it's important to make sure that your complexion complements the color well.
Ask your stylist for help finding the perfect shade of copper for you, and be prepared to experiment until you find the perfect look.
Copper hair can be customized to fit any personality, so don't be afraid to take the plunge!
Can you put copper over brown hair?
There are a few ways to go about this. One way is to use a store-bought hair color product that is specifically designed to permanently dye hair.
These products usually contain a mix of colors, including copper, that can be used to counteract the appearance of gray hair.
Another option is to use a semi-permanent hair color, such as one that contains henna. This will also help to cover up any unwanted brassiness in your hair and will add shine and luster.
Finally, you could also use a copper highlight kit if you want just a subtle hint of copper in your hair.
How do you keep copper hair red?
The best way to keep copper hair red after you apply copper hair dye is to use a color depositing shampoo and conditioner that will deposit a layer of color on the hair shaft, which will help to maintain your desired shade.
There are a number of different brands on the market, so you should be able to find one that meets your needs.
Additionally, using a hat or headscarf when outside can help shield your hair from sun exposure, which can fade your color over time.
The Best Copper Hair Dye for Your Look
So what are the best copper hair dyes? According to stylists, the best copper hair color includes the brands we listed above.
We've included links to shop so you can check out prices on copper hair colors and reviews of these products for yourself. And don't forget – experiment with different products until you find the one that works best for you.
Did you know that ginger brown hair color is also trending? It's true! You might want to explore this hair color as well before you make your final decision.
Tap the button below for our list of the best ginger brown hair dyes you can do at home.