Head Turning Teal Hair Dye That You Should Try in 2023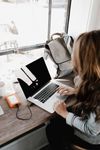 If you're ready to take your 2023 look to the next level, then read these instructions on how to get the perfect teal hair dye job at home.
Looking for a head turning hair color that will make all your friends jealous in 2023? Then you should try teal hair dye!
This bold and beautiful color is perfect for making a statement, and it will turn heads wherever you go. Teal is the perfect mix of blue and green, and it can be flattering on any skin tone.
If you're ready to take your beauty look to the next level, then read on for instructions on how to get the perfect teal hair dye job.
How We Choose the Best Hair Dyes for You
What is the best teal hair dye? We want to know! That's why our team reads through thousands of Amazon reviews, TikTok and YouTube videos and social media posts so you don't have to!
We've compiled a list of the absolute best of the best. We know after reading this article you will find the best dye for you.
Why We Picked It
Get the trendy, daring look you want with Good Dye Young. This semi-permanent dye looks best on level 10 light blonde hair and provides a unique blue-based teal color which you won't find anywhere else.
Looking for an easy no-commitment way to change up your high-beams? This formula combines salon-grade pigments with a nontoxic, conditioning solution that deposits ultra-vibrant color into your hair.
It's infused with bergamot essential oil fragrances and sunflower extract to keep your shade beautiful and protected from the elements.
Best of all, it's made without any damage to your mane - simply wash it away after 15-24 washes. Get creative and add a splash of Good Dye Young today. Because when the world says "no more," hear us say "yes please!"
Why We Picked It
Are you ready to be noticed? You need GOT2b Metallics!
This formula features a unique metallic-shine booster for cool, shimmering tones and amplifies each strand for a multi-dimensional metallic look.
Got2b permanent hair dye stands out of the crowd like no other, with its long-lasting head-turning radiance and anti-fading effect.
With this box comes a tube color cream, application bottle with developer lotion, tube of color after treatment, gloves and step by step instructions, just guarantee you will get the glossy looks you have always wanted.
If your hair is longer than shoulder length, we suggest getting two boxes for the best results.
Why We Picked It
Going turquoise doesn't have to be a high stakes game! With XMONDO Color's Turquoise Hair Healing Dye, you can get the breathtaking color you crave - and a whole lot more.
This Bond-Building Technology works while you process, rebuilding weakened fibers and locking in moisture to make sure your hair looks as strong and healthy as it is beautiful.
Plus, it's cruelty-free, vegan, gluten free and paraben free - so your conscious will be clean, too.
Ready to create some head-turning looks? Let your imaginations run wild with XMONDO Color...and let the signature scent tantalize your senses.
Why We Picked It
Looking for a way to achieve your wildest hair dreams? We've got you covered with Lime Crime Unicorn Dye.
Sea Witch is the perfect formula for achieving vibrant teal locks, and its sugary citrus vanilla scent will make your transformation even more magical.
Not only will this damage-free, vegan dye give you fun, vibrant color, but it's packed with fatty acids and vitamins that help condition and boost shine.
So if you're looking to cast a spell over your lackluster locks, get ready to transform your hair with this fabulous fantasy shade.
This hair color deposits a super saturated, vibrant color to pre-lightened platinum to medium blonde hair. If you have dark blonde and light brown hair, it adds a tint of color.
The length the color lasts depends on the shade and condition of your hair and how often you wash it.
Before using, be sure to patch and strand test as results may vary based on pre-lightened hair and current level of darkness.
Why We Picked It
For all you wild and crazy kids out there, Manic Panic has the neon blue green hair dye that won't just light up the room - it'll light up the night!
And we're not talking no ordinary dye here - Manic Panic uses three times the pigments of other dyes to turn heads for up to eight whole weeks.
Mix and match any of their bold, vibrant colors to create custom shades that'll make your mane truly one-of-a-kind. Trust us, when you walk in with a head full of Manic Panic dye glowing under blacklight, you will light up the room.
Best of all, this cruelty free and vegan formula features ingredients tested on celebrities (presumably not animals).
Plus, this PPD and ammonia free color is paraben free, gluten free and PETA accredited - so you can be sure your locks will look as good as new in no time with no harm to animals.
For best results, pre-lighten hair to the lightest level 10 blonde for unbeatable neon vibrancy that won't disappoint.
Why We Picked It
Introducing Lunar Tides, the heavenly semi-permanent hair color that will make a celestial addition to your tresses.
This formula features deep teal tones that are highly pigmented and will last long. So you can show off your unique and mysterious style with ease!
Experience the beautiful Cerulean Sea; a one-of-a kind dark teal dye. Bring new energy to your mane with this magical hue!
With its level of pigment, this ravishing shade will give you the perfect look to keep you feeling star struck all night long.
Why We Picked It
With L'Oreal Paris Colorista, you can transform your locks into a rich teal color with ease.
This semi-permanent hair color has been specifically designed for brunettes.
Invigorate your look in a single session and discover the beauty of pure direct dyes, sans bleach or ammonia.
Plus, the vegan formula contains no animal derived ingredients or byproducts. So bid farewell to dull locks and experiment with shades for the wild side of life - get creative and mix things up with L'Oreal Paris Colorista.
Hair Dying FAQ's
Dying your hair a bright, new color can be scary. What if you don't like it? What if it doesn't turn out the way you wanted it to?
A lot of people are hesitant to dye their hair a bright new color because they're afraid of the unknown. They don't know what the process is like, what the results will be, or how long it will last.
We've compiled a list of the most frequently asked questions about this bright dye so that you can make an informed decision before taking the plunge.
Whether you're looking for a vibrant new look or just want to cover up those pesky grays, we have everything you need to know about dye right here.
Here are the most frequently asked questions about the best teal hair dye.
What color does teal hair fade to?
Most people with teal hair find that their hair fades to a lighter shades of green over time.
However, it's important to keep in mind that everyone's hair will fade differently, so there is no one definitive answer to this question.
If you're looking for a color that will last longer, it might be a good idea to opt for a darker shade of teal.
Can I dye my hair teal without bleach?
Yes, you can dye your hair teal without bleach, but it will likely require a very dark brown or black base color.
To achieve a bright teal hue without bleach, you'll need to use a semi-permanent hair dye that is two or three shades lighter than your natural hair color.
If your hair is very dark brown or black, you may need to use a lightening kit for bleached hair to achieve the desired lightness before applying the teal dye.
What skin tone looks good in teal?
There are a few things to consider when matching hair color to skin tone.
For starters, it's important to know that there is no one perfect answer, and what looks good on someone else may not look good on you. With that in mind, here are some general guidelines:
- Warm skin tones generally look great with warmer hair colors, like reds, oranges, and yellows.
- Cool skin tones usually look best with cooler hair colors, like blues, greens, and purples.
- If your skin tone is somewhere in the middle (warm or cool), you can pretty much wear any color you want.
- Keep in mind, if you have any prominent blue veins in your face, your new teal hair job will accentuate those veins.
Is teal hair hard to maintain?
No, it's not hard to maintain teal hair – in fact, it's pretty easy!
You just need to make sure you use a good quality shampoo and conditioner that are designed for color-treated hair, and avoid washing your hair too often.
Also, make sure you use a good quality heat protectant when styling your hair with hot tools.
How long does turquoise hair dye last?
The dye will typically last around four to six weeks, but this can vary depending on the quality of the dye, how often you shampoo your hair, and your hair type. For best results, use a color-safe shampoo and avoid sulfates.
How do I keep my teal hair from fading?
There are a few things you can do to help keep your teal hair from fading.
First, make sure to use a good quality shampoo and conditioner that are specifically designed for color-treated hair. You might also want to try using a hair mask once or twice a week.
Another thing you can do is avoid exposing your hair to excessive heat or UV rays.
Try not to use styling tools that generate high levels of heat, and be sure to use sunscreen whenever you're going to be in the sun for an extended period of time.
What color hair dye lasts longest?
There is no definitive answer to this question since it largely depends on how well the dye is applied and how often it is shampooed.
However, dark hair dyes typically last longer than light hair dyes, and permanent hair dyes tend to last longer than semi-permanent or temporary hair dyes.
In general, the more pigment in the dye and the darker hair you have, the longer it will last.
The Best Hair Dye for Your Hair
So what are the best teal hair dyes? According to customer reviews, the best products include the brands we listed in this article.
We've included links to Amazon so you can check out prices and reviews of these products for yourself. And don't forget – experiment with different products until you find the one that works best for you.
If you're looking for other trending hair colors, we have some suggestions. A much lighter, but just as adventurous, color that is popular right now is periwinkle.
We found some beautiful shades you might want to try. Tap the button below for our list of the best periwinkle hair dyes you can do at home.