7 Hair Stylist Aprons to Keep You Protected From Root to Tip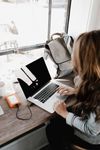 Looking for the perfect apron for doing hair? These aprons will keep your clothes protected while keeping you looking cute on the job!
Hey hair stylists, are you tired of ruining your clothes with hair dye and hair products? Looking for a bleach proof solution to wear at the salon? Something stylish, of course, and with pockets for all your tools!
We found some awesome aprons to protect your clothes from all the hair products and styling tools. They will also keep you clean and free from any residue.
We know that you'll love the protection and style that these aprons provide.
How We Choose the Best Aprons for You
What are the best aprons for barbers and stylists? We wanted to know! That's why our team reads through thousands of Amazon reviews, TikTok and YouTube videos and social media posts so you don't have to!
We've compiled a list of the absolute best hair stylist aprons. We know after reading this article you will find the best smock for you.
The Best Apron to Keep You Protected
So what are the best aprons for hair stylists? According to customer reviews on Amazon, the best products include the brands we listed above.
We've included links to Amazon so you can check out prices and reviews of these products for yourself. Look good, stay dry and keep on stylin'.
If you're looking for more hair supplies, how about some amazing hair brushes? We were looking for brushes specifically designed for hair extensions and we found some great ones. Tap the button below to see the list!