The Best Brush for Hair Extensions According to Stylists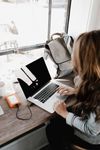 What are the best hair brushes for increasing the life of your hair extensions? We asked professional stylists and here are their recommendations.
Do you have hair extensions? You probably don't think much about the type of brush you use on your extensions.
But did you know that different types of hair extensions require different brushing techniques? You need to have the right brush!
That's why we've put together this post discussing the best brushes for hair extensions according to professional stylists. We'll also give you tips on how to care for your extensions and keep them looking shiny and healthy!
After reading this post, you'll know exactly which type of brush is best for your hair extensions.
You'll also be armed with the knowledge of how to properly care for your extensions so they last longer and look their best. Keep reading to learn more!
How We Choose the Best Brushes for You
What is the best brush for hair extensions? We wanted to know! That's why our team reads through thousands of Amazon reviews, TikTok and YouTube videos and social media posts so you don't have to!
We've compiled a list of the absolute best brushes. We know after reading this article you will find the best brush for you.
Why We Picked It
Prepare to experience salon-like softness, shine, and style with the RemySoft Beauty & Opulence Boar Bristle Brush.
This oval paddle brush features longer nylon bristles that gently detangle your hair extensions while the boar bristles leave a light coating of sebum on each strand for a lustrous shine.
From curly hair to straight hair, all hair types benefit from this classic black cushion brush. Its soft matte-finished handle makes it easy and pleasurable to use—say goodbye to tugging and pulling on both synthetic and human hair wigs.
Plus, its perfect mixture of nylon and boar bristles improve hair texture for more volume, strength, elasticity, and smoothness.
Why We Picked It
Ready to take your hair game to the next level? With The Hair Shop Black Loop brush, you'll be getting a brush that works with all types of hair, from straight to curly.
The gentle and flexible nylon bristles work their magic without snagging on a weave, wig, or toupee weft.
As if that isn't enough, the anti-slip matte finish paired with the curved ergonomically designed round handle makes styling not just efficient and painless but comfortable as well!
So whether you're styling your favorite extensions or your natural hair, The Hair Shop Black Loop Brush has got you covered! Now go make some waves (or curls!)
Why We Picked It
Introducing the Denman Tangle Tamer Brush – the paddle hairbrush that does it all!
When you have thick, wild extensions, it can feel like an uphill battle trying to keep them tamed and under control.
But don't worry, there's no need to call in reinforcements anymore – because this incredible brush has got your head covered.
With short and long length bristles that will glide through even the toughest knots with ease, a unique ergonomically shaped handle that provides optimal control and grip, and durable rubber and super-soft nylon bristles that prevent damage while detangling, this ingenious brush truly is a miracle worker.
So show those tangles who's boss by adding the Denman Tangle Tamer Brush to your everyday grooming routine!
Why We Picked It
This is the #1 brush you need for creating beautiful, natural curls that are out of this world.
With seven rows of sculpted round-ended nylon pins, this brush has a classic design that gives softer, denser movement and defines your curls.
Smooth nylon pins in an anti-static, natural rubber pad make it the perfect combination for not only smoothing, shaping and polishing your hair but also giving you those enviable ringlets.
Why We Picked It
Get your tresses in check with the Tangle Teezer hair brush. This detangling hairbrush has flexible bristles and is the perfect solution to turn routine washes into a therapeutic pamper session.
With its innovative design of 325 flexible teeth and two-tiered technology, you'll be able to quickly detangling knots and reduce breakage for frizz-free extensions.
Not to mention it's perfect for evenly distributing conditioning treatments or masques through even the most vulnerable hair strands of wet or dry hair for a shiny, smooth look.
Why We Picked It
Welcome to the world of perfect curls with Tangle Teezer Thick & Curly! If you have thick, curly or textured hair, this product is an absolute game-changer.
Quickly detangle wet and dry hair extensions without stress or pain with its two-tiered firm-flex teeth designed for voluminous locks.
The longer and stronger teeth will brush through even the toughest tangles leaving your curls totally tangle-free and looking their healthiest yet.
No more frizz – just defined soft curls that are the envy of all your friends.
The days of spending hours taming your long hair are over thanks to the easy-to-use design that truly understands what you need in a brush. Get ready to fall in love with perfectly covetable locks every single day.
Hair Extensions FAQ's
Extensions can be a great way to add length, volume, and color to your hair, but they can also be expensive and time-consuming to maintain.
You may have seen celebrities or friends with beautiful extensions and wondered how they get them to look so natural.
We've compiled a list of the most frequently asked questions about brush for hair extensions so you can make an informed decision before you buy.
Whether you're looking for clip-in extensions, tape-in extensions, or sew-in extensions, we have the answers you need.
Should you use a boar bristle brush on extensions?
There is no right or wrong answer to this question, as it depends on the individual's hair type and preferences.
Some people find that using a boar bristle brush helps to distribute the oils from their scalp down the shaft of their hair, which can help to keep their extensions looking shiny and healthy.
Other people find that using a boar bristle brush can cause their extensions to tangle, so they prefer to stick with using a plastic or metal brush. Ultimately, it's up to the individual to decide what works best for them.
What brush to use on weft extensions?
It depends on the type of extensions. If you have clip-in extensions, a brush with soft bristles will do the trick. If you have sewn-in or glued-in extensions, a brush with stiff bristles is better so that it can detangle your hair more easily.
How do you brush your hair with hair extensions?
There are a few different ways to brush your hair with hair extensions.
One way is to use a paddle brush, which will help detangle your hair and distribute the natural oils from your scalp down to the ends of your hair.
Another way is to use a wide-tooth comb, which is especially helpful for combing hair gently and removing tangles without pulling out your extensions.
You can also use your fingers to brush through your hair, but be sure not to tug on the extension roots or knots.
How often should you brush hair extensions?
You should practice brushing hair extensions as often as you would your own hair. This means brushing them every day or every other day to keep them tangle-free.
How do I make my hair extensions not frizzy?
To reduce frizz, avoid using products that contain alcohol. Alcohol dries out your hair and makes it more likely to frizz.
Look for products that are labeled "alcohol-free." You may also want to try a light serum or oil to help tame frizzy hair.
Apply the serum or oil to wet hair after shampooing and conditioning. Then, use a brush or your fingers to distribute the product evenly throughout your hair.
How can I make my extensions more fluffy?
There are a few things you can do to make your extensions more fluffy.
First, make sure you're using quality extensions. Poor-quality extensions will be less fluffy than high-quality extensions.
Second, make sure you're using the right type of extension for your hair type. If you have thin hair, for example, you'll want to use extensions that are specifically designed to add volume and texture.
Third, use a good quality hair product. A good quality product will help add shine and volume to your hair, which will in turn help make your extensions look more fluffy.
Fourth, style your hair in a way that adds volume and texture.
For example, try using a volumizing mousse or dry shampoo before styling it. This will help your hair look fuller and more fluffy overall.
How do you brush fake hair extensions?
There is no one-size-fits-all answer to this question, as the best way to brush fake hair extensions will vary depending on the type of extensions you have.
However, in general, you should use a wide-tooth comb to detangle your extensions before brushing them with a soft-bristled brush.
Be careful not to pull on your extensions while brushing them, and avoid using hot tools near your hair extensions.
How do you smooth the ends of hair extensions?
There are a few ways to smooth the ends of hair extensions. One way is to use a product called "end sealer."
End sealer is a product that helps to seal the cuticles on the ends of your extensions, which will help to protect them from becoming frizzy or tangled.
If you have human hair extensions, Olaplex #7 Bonding Oil is a great option to seal the ends of your hair, especially if you have hair breakage which is impeding hair growth.
The Best Brush for You
So what is the best hair extension brush for your hair? According to our findings, it looks like the best brushes include the brands we listed above.
We've included links to Amazon so you can check out prices and reviews of these products for yourself. And don't forget – experiment with different products until you find the one that works best for you.
Got tangles? You may need to use a hair detangler spray with your detangling brush to get the snarls out of your extensions. We can suggest a few. Tap the button below for our list of the best hair detangling sprays.