How to Find the Best Hair Conditioner for Straightening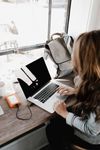 Is there an ideal conditioner to achieve a perfectly straightened hairstyle? We have all the answers and some conditioners you should try!
If you're like most of us, you know that finding the right conditioner is essential to achieving healthy, straight hair.
But with all the buzzwords and trends out there - keratin treatments, strengtheners, hydrators - it can be daunting to find the best product for your thick hair.
Never fear! In this post, we explore the world of conditioners and review a few top picks so you can make an informed decision when choosing a conditioner for straightening your locks.
Read on to learn how to identify which products will get you those coveted sleek strands!
How We Choose the Best Hair Conditioners for You
What is the best hair conditioner for straightening your hair? We want to know! That's why our team reads through thousands of Amazon reviews, TikTok and YouTube videos and social media posts so you don't have to!
We've compiled a list of the absolute best of the best. We know after reading this article you will find the best hair conditioner for straightening your hair.
Why We Picked It
Looking for a hair care solution to keep your locks smooth and frizz-free, even in up to 98% humidity? Nexxus Ultralight Smooth Conditioner has you covered!
Its special ProteinFusion formula with almond protein and jasmine flower works to restore strength from within and form an invisible barrier around each of your strands, blocking out that pesky frizz for up to 72 hours.
With this lightweight and silicone-free conditioner's scientifically proven protection, you can enjoy smooth and shiny hair no matter how humid the weather gets.
Why We Picked It
Transform your hair from its current drab state to something more dazzling with OGX Ever Straightening + Brazilian Keratin Therapy Conditioner.
With the power of four exotically infused ingredients -- coconut oil, keratin proteins, avocado oil, and cocoa butter -- this conditioner is not messing around.
Locks will get brand new life with help of OGX Ever Straightening + Brazilian Keratin Therapy Conditioner as it strengthens and softens each strand while also adding a luxurious and sexy luminescence that wouldn't look out of place on a run way.
Why We Picked It
Natural Formula Keratin Intense Hair Conditioner is here to save the day!
Packed with professional grade keratin and enriched with pentanol, this conditioner rebuilds strands and forms a protective coating around hair that has been straightened.
It's tailored for damaged hair, restoring the structure of your tresses and instantly renewing elasticity and softness.
You'll love that it also retains straightening results for up to three times longer!
Now you can go from dull and stressed out hair to sleek and fabulous in no time.
Why We Picked It
Tired of fighting losing battles against pesky frizz and flyaways? Make friends with Briogeo's Farewell Frizz Leave-In Conditioning Spray!
This spray is your ticket to goodbye to dryness and hello to naturally hydrated and healthy hair.
Whether you've got straight, wavy, curly or coily strands, this clever formula crafted from 98% natural ingredients gives your hair the TLC it needs and deserves.
Loaded with rosehip, argan and coconut oils, this lightweight leave-in conditioning spray locks in hydration while locking out humidity that causes frizz.
Not only will you get up to 48 hours of smooth & shiny hair but you can say "see ya later" to color treatments gone wrong because this product is safe for all color treated hair.
Don't let frizz be the boss of you - with Briogeo's Farewell Frizz Leave-In Conditioning Spray some of life's toughest challenges have now been tamed!
Why We Picked It
Introducing TRESemmé's Keratin Smooth Conditioner – the ultimate frizz-fighting formula.
With just one wash, say goodbye to dry, uncontrollable hair and say hello to 72 hours of sleek, shiny locks.
This conditioning treatment deeply nourishes your mane while boosting shine and softness while fighting stubborn flyaways and taming most unruly knots.
Plus the keratin formula helps lock in smoothness for long-lasting style control you won't have to worry about for days.
Why We Picked It
Are you desperate for salon-style straight hair? Introducing L'Oreal Paris Hair Care Smooth Intense Ultimate Straight Boosting Pre-Conditioner - the clever way to get gorgeous sleek locks without spending a fortune!
This advanced haircare system relaxes your strands from root to tip, giving you an extraordinary straight transformation each and every time.
Have no fear of flat, stiff or dull results - with the pro-keratin formula reacting with your tresses, they'll be left totally smooth and sleek!
Straightening Conditioner FAQ's
Straightening your hair can be a real pain. You have to worry about the right products, the right tools, and the right technique.
Even if you do everything just right, there's always a chance that your straightened hair will start to frizz up by the end of the day.
With our FAQs, you'll have all of the answers you need to achieve perfectly straight hair every time.
Our FAQs include information about how to use these conditioners and how they compare to other straightening products out there.
Can a conditioner help to straighten hair?
Yes, conditioner can help to straighten hair - it's a great way to add moisture and manageability.
Conditioners contain ingredients like fatty alcohols, silicones and oils that coat the hair shaft and help temporarily alter its shape; essentially making it smoother and more manageable, regardless of hair length.
Though these ingredients can't replace the properties of chemical straightening treatments or a flat iron, they work similarly by sealing down your cuticles so that strands lay flat. This helps to relax curls or waves for a sleeker look.
To get the best results, begin with freshly-shampooed locks before applying conditioner to your damp hair.
Leave it on for at least three minutes before rinsing generously - this will ensure maximum absorption of product into the hair follicles which will strengthen their bonds while helping them hold onto the smoothing agents found in conditioners longer.
Finish up your routine with an additional layer of protection using heat protectants or finishing sprays once fully dried to keep strands soft and shiny throughout the day.
Should I use conditioner before straightening?
Yes, using a conditioner specifically designed for straightening before you start blow drying and heat styling is essential.
By adding moisture and lubrication to your wavy hair, it will help minimize damage from the heat required for flat ironing and make the results look smoother and more professional.
Before getting started, shampoo your hair with a hydrating shampoo to remove dirt, excess oils and product buildup.
Then use a deep conditioner or masque which helps lock in extra hydration on dry damaged strands.
After that is rinsed out thoroughly, apply a leave-in conditioner that contains silicone or oil prior to flat ironing - this helps create an even surface for heat transfer so that each strand of hair can be properly straightened without sustaining excessive damage from the hot tool.
Is it OK to use keratin conditioner everyday?
Absolutely! Using keratin conditioner on a daily basis can be beneficial for keeping your hair healthy and preventing damage.
Keratin is a protein that helps to strengthen the hair follicles, making them less prone to breakage and split ends.
It also helps make your strands more elastic, so they're less likely to snap or become frizzy when exposed to heat or humidity.
A quality keratin conditioner will provide hydration and nourishment deep into the core of each strand of dry hair which helps prevent moisture loss.
This helps protect it from further damage while making hair textures look silky smooth and shiny.
What do hairdressers use to straighten hair?
Hairdressers can use a variety of tools to straighten hair depending on the desired look.
The most common tool used to achieve sleek and smooth styles is a flat iron, also known as a straightening iron.
Flat irons are heated tools with ceramic plates that smooth out the hair cuticle when run through each section of the strand. This helps create an even, shiny finish for all types of hairstyles from stick-straight looks to loose waves and curls.
Other common products used by hairdressers to make hair smooth include blow dryers, hot combs and brushes with boar bristles which help tame frizz while adding shine.
Additionally, chemical treatments such as relaxers, keratin treatments and other hair straightening products work to permanently alter curl patterns or textures in hair strands.
How do you straighten frizzy hair?
Frizzy hair is a common problem that can be difficult to manage. To straighten frizzy hair, the best way is to start with a good shampoo and conditioner.
Choose products specifically formulated for curly or natural hair and make sure they're free of sulfates, parabens, silicones or any other harsh chemical ingredients.
Once you've washed your hair, apply a leave-in conditioner then follow up with a nourishing oil like argan oil or jojoba oil for extra moisture and shine.
When it comes time to styling your locks, use an iron on its lowest temperature setting. Any higher could cause damage to the fine hair strands resulting in breakage!
Divide your tresses into several small sections before using the straightener; this will allow you more consistent results when smoothing those pesky flyaways.
If you want an even sleeker look without damaging heat styling tools, opt for a blow dryer, but instead by pointing the nozzle downwards as you brush through each section with minimal tension on your locks.
Finish off by applying a serum infused with keratin or an anti-frizz cream to further protect against humidity and keep your mane looking sleek all day long!
How do I keep my hair straight after straightening it?
Keeping your hair straight after you've already straightened it can be a tricky business. The key is to ensure that your hair stays well-moisturized and protected from the elements. Here are some ideas for how to do this:
1. Use a heat protectant spray or cream before you use hot tools on your hair. This will help minimize any damage caused by heat, and will also help lock in moisture and keep your hair looking sleek and smooth over time. Especially if you have color treated hair.
2. Avoid using too much styling product, such as gels or mousses, as these can make hair greasy. When styling products are necessary, opt for lightweight alternatives so that they don't add unnecessary weight to the strands of your hair.
3. Invest in quality hairstyling tools – ceramic or titanium flat irons often produce better results than other materials, while tourmaline dryers may provide extra shine when used correctly (and not at too high of temperatures).
The Best Hair Conditioner for You
So what is the best hair conditioner for straightening? According to customer reviews, the best products include the brands featured in this article.
We've included shopping links to each hair straightening product so you can check out prices and reviews of these products for yourself.
In addition to conditioner, you may need a hair straightening spray. We researched and found the best ones for your hair. Tap the button below for the best hair straightening sprays you can buy.