Get a Lasting Tan: Best Exfoliator Before Spray Tan Time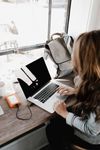 Get intensely polished and ready for a spray tan that lasts! Browse through the 8 most effective exfoliators to use before your next spray tan.
Love a glowing, sun-kissed look all year long without the risk of sun damage? You're not alone!
A spray tan is a great way to get an even, natural-looking tan instantly—but getting that gorgeous glow means doing your due diligence before you head into your spray tan appointment.
Exfoliating is one of the most important steps in any good pre-spray prep routine—and it can mean the difference between a short lived tan and one that makes it through more than just the weekend!
Today we'll walk you through why exfoliating your skin before spraying up is so important, plus what products are best when it comes to achieving lasting results with your next faux post-vacation (or post pandemic!) glow.
How We Choose the Best Exfoliators for You
What is the best exfoliator to use before a spray tan? We want to know!
That's why our team reads through thousands of Amazon reviews, TikTok and YouTube videos and social media posts so you don't have to!
We've compiled a list of the absolute best exfoliators for radiant skin. We know after reading this article you will find the best exfoliator before spray tan for you.
Why We Picked It
Seeking a powerful body scrub that can be used as a facial, hand or foot exfoliant?
Then try M3 Naturals Activated Charcoal Body Polish Scrub!
Crafted with natural charcoal granules and coconut oil, this quality scrub revitalizes your skin's natural radiance while washing away toxins and dead cells.
Plus, it is enriched with Collagen and Stem Cell to take your skincare routine up another notch by encouraging collagen production as well as enhancing the life of skin cells.
Experience the revolutionary combination of anti-aging skincare that generates unmatched results.
Not only is it cruelty-free, but made right here in the United States. Unlock a new level of youthfulness with this potent and powerful formula.
Why We Picked It
Don't settle for mediocrity in your exfoliation routine - upgrade to this exfoliation extraordinaire!
Enjoy an awakening experience with this coffee full body scrub. This hand, foot, and face scrub is incredibly invigorating and nourishing, leaving you feeling soft and smooth all over!
With this special blend of precious oils and coffee grinds, buff away dry and dead skin cells to reveal newer-looking skin underneath.
For added benefits, it also works wonderfully as an anti cellulite coffee body scrub - be sure to keep it in your arsenal for combating cellulite naturally.
Why We Picked It
The Himalayan Salt Detox Scrub is here to help you fight against the signs of aging and keep your skin healthy.
Packed with beneficial minerals like calcium, magnesium, potassium, copper and iron as well as collagen and stem cell extract for increased natural collagen production and longer-lasting skin cells - this scrub is sure to become your new best friend!
Formulated to revitalize and nourish, this body scrub crafted in America using premium ingredients is infused with sweet almond extract and lychee for an extra dose of pampering.
It will leave you feeling soft, smooth, healthy - all while being vegan-friendly and cruelty-free!
Give yourself a spa experience right at home today by treating your skin to the nourishment it deserves.
Why We Picked It
Introducing pureSCRUBS Premium Organic Body Scrub, the perfect solution to your search for a body scrub with dead sea salts.
This unique 4-in-1 formula exfoliates and cleanses while providing tonifying nutrients and luxurious moisture.
Fine grain dead sea salt effectively reduce cellulite, stretch marks, dark spots and acne scars-- leaving you with soft skin that looks healthy & radiant!
Pamper yourself with this exfoliating set that includes the essentials for soft, healthy skin.
This package comes with a wooden spoon to stir and scoop products, an organic bar soap made from oatmeal for gentle cleaning, and a natural loofah pad to help remove dead skin cells. It's the perfect all-in-one bundle!
Why We Picked It
This revolutionary scrub gives you an exfoliator and moisturizer in one!
This gentle sugar scrub is an absolute life-saver when it comes to achieving fresher, softer, and clearer skin; perfect for both your face and body.
Say goodbye to those dry patches you've been dealing with! With natural ingredients providing a strength strong enough remove dead skin cells yet still gentle enough not to aggravate even the most sensitive skin.
Suitable for all skin types, this bath time essential will buff away rough patches and restore your natural glow. Strike a balance between smooth and supple using only the excellent ingredients in this Brown Sugar Scrub.
Bonus: this one can also be used as a delicious lip scrub!
Why We Picked It
Welcome to Paula's Choice Skin Perfecting Exfoliant, your simplified one-stop exfoliating shop.
This magical product has everything you need to exfoliate, treat and improve skin tone in one easy step. No matter what kind of skin you have, this unique leave-on formula is gentle enough for daily use.
It all starts with 2% BHA—that's Beta Hydroxy Acid if you don't speak tech-talk—to get deep into those pores and unclog them while getting rid of any dead skin cell buildup.
Now your skin is ready for the good stuff: shrinking pores and diminishing wrinkles and redness, evening out your skin tone and fighting against aging, blackheads, fine lines and wrinkles.
In other words, it really does make aging come easy—all without breaking a sweat!
So wave goodbye to dull looking complexions and long beauty routines — Paula's Choice Skin Perfecting Exfoliant is here to help you achieve that glowing look with firm wrinkle-free skin...and maybe a few double takes from passersby along the way!
Why We Picked It
The La Roche-Posay Ultra-Fine Scrub for Sensitive Skin is the perfect way to give yourself some pampering and luxury.
This clever scrub is formulated with ultra-fine pumice particles which delicately exfoliate dead skin cells, leaving your skin smooth and feeling purified and refreshed.
Plus, it's so gentle it won't irritate even the most sensitive of skin.
This exfoliator is also enriched with antioxidant thermal spring water that helps to soothe stressed skin after cleansing.
Why We Picked It
Is there anything better than a soothing, beach-inspired spa day before your spray tan appointment?
Seaweed Bath Co. brings the calming ocean vibes to you with Exfoliating Detox Scrub, jam-packed with natural goodness!
They have consciously created this scrub to bring your skin vibrant energy from the boundless power of the sea.
The mineral-rich French sea clay, invigorating coffee bean extract and finely ground walnut shells combine their effortless strength to lift away impurities – revealing your very own revitalized complexion.
Not to mention their sustainably harvested seaweed – creating a bounty of transformative textures that are sure to leave you feeling positively refreshed.
Exfoliator FAQ's
Spray tan enthusiasts often have questions about exfoliating before a spray tan.
Exfoliating is an important step in getting smooth skin for the perfect spray tan, but it can be confusing to know how and when to do it.
We've compiled the most frequently asked questions about exfoliating before a spray tan below. By reading this guide, you'll know everything you need to get a flawless spray tan.
What is the best thing to use to exfoliate before a spray tan?
The best thing to use to exfoliate before a spray tan is an exfoliating scrub.
Exfoliation helps remove dry skin, dead skin cells, oils, and other debris that can prevent the spray tan solution from bonding properly with the skin.
When choosing an exfoliant, avoid harsh scrubs that contain apricot shells or nut shells as they may cause irritation after application.
Instead, opt for gentle sugar or salt based scrubs which are more suitable for sensitive skin types. You can also use a body brush with your natural scrub for even better results. Plus, brushing has amazing health benefits.
It is important to note that manually scrubbing your body should be done lightly to avoid any potential reactions and harshly scrubbed areas may not react well with the spray tan solution.
After your exfoliation session, it is recommended that you rinse off thoroughly so no residue remains on the body as this can create streaks in the color when it develops!
How many days should you exfoliate before a spray tan?
It's best to exfoliate two days before receiving a spray tan. This will help ensure your fresh skin is prepped and ready for the perfect tanning result.
Exfoliating rids your skin of flaky skin and oils that can hinder the application process, as well as cause blotchiness in the finished product.
If you're looking for an even glow, you should make sure to spend some time scrubbing off all those dead cells with a body scrub or loofah.
Doing so will also help avoid any splotches caused by uneven application of the solution due to different skin textures in various areas of your body (think ankles, knuckles and elbows!)
Additionally, a pre tan exfoliator eliminates dirt build up on the surface which might lead to stains or discoloration if not addressed beforehand!
Can you exfoliate the same day as a spray tan?
No, you should not exfoliate the same day as a spray tan. If you exfoliate before getting your spray tan, it can cause blotchy patches and make the color uneven.
To ensure your spray tan lasts longer and keeps its even tone over time, stick to gentle cleansers and moisturizers that will keep skin hydrated without causing irritation or damage.
What happens if I don't exfoliate before a spray tan?
Failing to exfoliate before a spray tan can cause a variety of issues including uneven color, patchy coverage and an orange hue.
Exfoliation helps remove dead skin cells from the surface of your skin, which can prevent these issues from occurring.
Additionally, it will also help ensure that your spray tan will last longer as there are no layers of dead skin blocking the formula from fully absorbing into your pores.
Before having a spray tan session have a shower and use an exfoliating scrub or loofah to buff off any dry patches; this ensures that the formula absorbs evenly, giving you perfect results every time.
Can I shave 2 hours before spray tan?
It is actually recommended to shave 24 hours before spray tanning. This allows your skin enough time to close its pores and heal.
Shaving creates tiny open wounds on the surface of your skin, which, if not given sufficient time to heal will prevent the tan from being properly absorbed into skin pores.
Additionally, by shaving beforehand you can certainly reduce any possible irritation when it comes in contact with DHA (dihydroxyacetone), a major ingredient found in most self-tanning products as it can act as an irritant for freshly shaven areas.
What should I do the night before a spray tan?
Preparing your skin for a spray tan is essential to achieving an even, natural-looking result and a longer lasting color. To get the most out of your spray tan, there are some simple steps you can take to make sure that your skin is prepared for the process.
1. Exfoliate: Gently exfoliating your skin before getting a spray tan helps provide an even surface for the solution to adhere evenly.
Pay special attention to areas like elbows, knees, ankles and feet as these tend to be drier and more prone to developing uneven patches after spraying.
2. Shave/Wax: Make sure that you shave or wax at least 24 hours prior to getting a spray tan as this gives enough time for any irritation or redness caused by hair removal process to go away before applying the solution on top.
Also, avoid using lotion if possible after shaving as lotion may react with the bronzer in the solution leading it look streaky or blotchy after application!
3. Clean: Make sure your entire body is clean right before heading in for a session so that dirt and oils do not interfere with the adherence of bronzer onto your skin's surface which could eventually become patchy once dry!
4. Avoid Oily Skin: Refrain from using lotions rich in oil such as olive oil, shea butter, or coconut oil because they cause barrier on outermost layer preventing bronzer particles from attaching deep down into pores.
This could result in a dirty looking finish instead of glowing one desired by most people when it comes down crunch time!
The Best Exfoliator Before Your Spray Tan
So what is the best exfoliator to get yourself ready for a flawless sun kissed glow? According to customer reviews, the best exfoliators for glowing skin before a self tanner include the brands featured in this article.
If you're shopping for a body wash, some body washes have exfoliators right in them.
We went looking for body wash/exfoliator combos and compiled a short list of the best ones. Tap the button below for our list of the best exfoliating body washes.