The 5 Best Heated Eye Mask Picks & Why You Need One Now!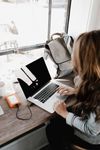 There's nothing better than winding down with a warm, soothing eye mask! Here are the 5 best eye masks and why you need one in your life!
Are you ready to give your tired eyes the comfort and relaxation they deserve? If so, a heated eye mask could be the perfect solution for you.
Heated eye masks have become increasingly popular in recent years due to their ability to provide soothing relief from pain caused by sinuses, allergies, headaches and especially help people with dry eyes.
Heated eye masks can also help ease away stress and tension after a long day of work or play.
In this post we will be covering some of the best heated eye masks as well as going over some of their wonderful benefits!
So don't worry about your tired eyes any longer - let's get started!
How We Choose the Best Products for You
What are the best eye masks? We want to know! That's why our team reads through thousands of Amazon reviews, TikTok and YouTube videos and social media posts so you don't have to!
We've compiled a list of the absolute best heated masks. We know after reading this article you will find the best heated mask for you.
Why We Picked It
Forget about conventional hot compresses – the Aroma Season Heated Eye Mask is here to revolutionize your self-care routine.
This innovative combination of consistent heat and comfort make this eye mask one of the best on the market.
It's designed with a breathable cotton exterior plus intra-filler of natural flax seeds for a soft, non-toxic, hygienic solution for your eyes.
Thanks to the graphene heating element, which warms up fast, you can rely on this heated eye mask for consistent relief and relaxation.
Not to mention, it has three adjustable heat temperature and timing settings so that you can tailor it to meet your exact needs time after time.
So if you're ready to bid goodbye to boring old microwave hot compresses and embrace an improved sleep experience with some real heat – then get your hands on the Aroma Season Heated Eye Mask today.
Why We Picked It
If you're looking for an effective, natural solution to revive tired eyes and improve your overall eye health, the Kimkoo Eye Compress is the answer.
This reusable mask is a quick way to provide relief from dry eyes and blepharitis, two common eye afflictions.
Recommended by ophthalmologists, this compress contains natural flaxseed that stores and transfers heat at an optimal level.
You'll just need to pop it in the microwave for 30-50 seconds, adjust the elastic strap to suit your head size, and relax with it on your eyes for 8-10 minutes– that's it!
The great news is that you can also remove the outer bag and hand wash it with warm water. Finally, an easy way to naturally preserve your peepers!
Why We Picked It
This ambidextrous eye massager is perfect for regaining clarity and reducing puffiness, dry eyes, and dark circles.
The ultra-comfortable 104-107°F heating pads will soothe away your worries in no time.
While you relax, you can sync the device with Bluetooth enabled music for a truly transformative experience.
No matter if your eye issues are caused by long days at the office or exhaustion from long nights of studying, the Renpho Eye Massager is here to be your very own personal physician.
Having undergone rigorous scientific testing that confirmed its superior efficacy, this clever massager will undoubtedly reduce strain on your weary eyes while helping you get better rest.
So don't wait any longer; even if you don't have irritated eyes, maybe it's time to treat yourself to some much needed relaxation with this heating mask.
Why We Picked It
Are your eyes tired from staring at screens all day? Do you have eye strain? Get the perfect relaxation solution with Kao MegRhythm Gentle Steam Eye Mask.
Hot steam and warmth that is up to 40℃ (104F) wrap around your eyes for a spa experience like no other. This hydro heat technology is like nothing you've experienced before.
Plus, it's specially scented with calming lavender aroma to make the experience even more enjoyable.
Soothe those pesky eye bags away and enjoy some much-needed rest. With Kao MegRhythm you can satisfy your inner tranquility without spending a fortune at a spa!
Just slip on your luxurious Kao MegRhythm eye mask, sit back, relax and let the hot steam do its thing. Achieve total visual serenity instantly!
Why We Picked It
Put the spas of Paris to shame with your very own Fomi Moist Heat Weighted Eye Mask.
With natural clay beads and non-toxic, eco-friendly materials, you can enjoy a long period of moist therapeutic temperature for your head and eyes.
The design of this reusable eye mask is luxurious and cozy, so you can recline in pure comfort as your skin soaks up the relaxation that comes along with this high-tech mask.
What's more? It has adjustable, firm fastener closures so you can find just the fit that's right for you.
So take a break from everyday life and treat yourself to some spa days of your own with Fomi Moist Heat Weighted Eye Mask.
Heated Eye Mask FAQ's
It's hard to get a good night's sleep when you have a headache, eyestrain, or just can't seem to relax.
We've all been there. You're trying to get some shut-eye but the pain in your head or the light shining in your eyes is keeping you up.
A heated eye mask could be the answer to your prayers. Heated eye masks help relieve tension headaches, eyestrain, and fatigue.
Here are the most frequently asked questions about heated eye masks.
What do heated eye masks do?
Heated eye masks work by applying gentle heat therapy to the temples and eyes which helps improve blood circulation, stimulate oil glands and reduce inflammation.
While eye drops can help dry eyes, a heated eye mask can take it to the next level.
Is a heated eye mask good for eyes?
Heated eye masks are known to be very beneficial for eyes. They provide warmth and moisture which can reduce puffiness, soothe tired eyes, and promote relaxation.
The warmth of the mask also helps to improve blood circulation around the eyes, which can help with dark circles and dryness.
Additionally, heated eye masks can provide relief from sinus headaches and pressure-related pain.
How often should you use a heated eye mask?
It is recommended to use a heated eye mask one to two times a week. The amount of time the mask should be kept on will depend on the individual's needs and the product specifications.
Some products may need to be used for 15 minutes or more, while others can be removed after just 10 minutes.
It is important to ensure that you follow the instructions provided with your mask in order to get optimal results.
What is the best heated eye mask for meibomian gland dysfunction?
If your eye doctor says you're suffering from meibomian gland dysfunction (MGD), you know that it can cause quite a bit of discomfort and irritation.
Fortunately, the right heated eye mask can provide maximum relief - and even help to reduce inflammation.
When choosing a heated eye mask for MGD, there are several important factors to consider.
Firstly, look for products made with natural materials like flaxseed, cotton or bamboo; these fabrics will remain comfortable while allowing your skin to breathe throughout the treatment.
Secondly, choose masks with adjustable temperature settings so that you can tailor your treatment specifically to your needs and comfort level.
Finally, make sure the eye mask you select has an ergonomic design that contours comfortably around your eyes without pressing too hard against them.
It's also a plus if your mask's outer cloth is machine washable. This will keep your mask clean so you don't get an eye infection.
Which is better, a hot or cold eye mask?
It depends on the user's individual needs. A hot eye mask can help soothe tired eyes, while a cold eye mask can reduce swelling and inflammation.
Hot masks also work to temporarily relieve sinus congestion, while cold masks are better for reducing any redness in the eyes. Ultimately, it is important to find a product that fits your specific needs.
Do heated eye masks help with wrinkles?
Heated eye masks can be an effective tool in reducing wrinkles and making you look younger.
While the mechanism of action isn't fully understood, the heat provided by these masks helps to relax the muscles around your eyes, which can help to reduce wrinkles and signs of aging.
Additionally, heated eye masks increase blood flow and circulation to the area so that skin stays nourished and hydrated, while also encouraging collagen production – a fundamental part of keeping skin looking youthful.
There have been various studies conducted on this topic with positive results. For instance, one study tested a heated hydra-gel mask 5 times per week for 8 weeks on volunteers aged between 30–60 years old; their results suggested a "significant improvement" in wrinkle reduction.
The key takeaway is that although there may not be obvious visible changes immediately upon use of heated eye masks, consistent use of a warm compress over time can help improve wrinkles significantly – it just takes some patience!
Furthermore there are other benefits associated with using such products as well - reduced puffiness around the eyes, improved dark circles through increased circulation in the area.
So even if you don't see age reversing effects right away at least you should still benefit from numerous other advantages!
The Best Eye Mask for You
So what is the best hot compress for your eyes? According to customer reviews, the best masks include the brands we featured in this article.
We've included links to shop online so you can check out prices and reviews of these products yourself.
If you have puffy eyes, you may want to consider an eye cream with caffeine. We went looking for the best ones and we found them! Tap the button below for our list of the best caffeine eye creams.