The Best Detangling Brush for Pain-Free Hair Brushing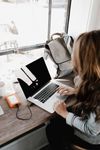 Do you have tangled, mangled hair? Detangling brushes work, but only if you use them correctly. Here are the best brushes and how to use them.
Do you have long hair that tangles easily? If you're looking for a way to get tangle-free hair, a detangling brush is a great option.
With a good detangling brush, you can quickly and easily remove tangles from your hair without causing damage. This will save you time and help you avoid frustrating knots.
In this post, we will reveal the five best detangling brushes on the market today for every hair type. We'll also give you some tips on how to use them effectively. So if you're looking for a way to get tangle-free hair, keep reading!
How We Choose the Best Detangling Brushes for You
What is the best detangling brush? We wanted to know! That's why our team reads through thousands of Amazon reviews, TikTok and YouTube videos and social media posts to compile a short list of the absolute best brushes.
We know after reading this article you will find the best hair brush for you.
Why We Picked It
If you're looking for a hairbrush that can handle wet and vulnerable strands with ease, look no further than the Tangle Teezer.
This innovative brush features 325 unique and flexible teeth that are designed to effortlessly detangle your hair, leaving it frizz-free and shiny.
The long, flexible teeth work to remove knots and reduce breakage, while the short teeth smooth the hair for a sleek, glossy finish. perfect for all hair types, the Tangle Teezer is especially fab for wet or fragile hair.
It's also great for evenly distributing conditioning treatments and masques through hair strands, leaving your locks silky smooth.
Why We Picked It
This incredible hairbrush helps hair stay strong and healthy, gently loosening knots on wet and dry hair without pulling or snagging.
The exclusive, ultra-soft IntelliFlex bristles make detangling a breeze, and the flexible bristles minimize pain and protect against split ends and breakage.
The Wet Brush is perfect for gently detangling hair types of all kinds - fine hair, straight, curly, textured, thick, or wavy. And it features a comfortable handle design for easy brushing.
Why We Picked It
Is your child's hair a tangled mess? Are you tired of ripping out your own hair with traditional brushes? Then try the Crave Naturals Glide Thru Detangling Hair Brush.
This unique brush has cone-shaped plastic bristles that gently separate hair sideways instead of down, making it easy to remove even the toughest knots and tangles.
The best part is that it doesn't dig into the scalp or rip out hair, so your child can finally enjoy getting their hair brushed.
One satisfied customer review states, "My daughter used to cry every time Mommy brushed her hair. But now she loves it because the Glide Thru brush doesn't hurt at all!"
Why We Picked It
Looking for a brush that won't yank or hurt your natural hair? Look no further than our EZ Detangler Brush Set.
This game-changing brush is perfect for all hair types, from kinky tight curls to loose waves. It's also great for use in the shower, saving you time and effort in detangling your hair.
Plus, the 8-in-1 set comes with a detangling brush, wide tooth comb, rat tail comb, and 5 alligator hair clips - everything you need to keep your hair looking its best.
Why We Picked It
You can always depend on classic brands like Goody. If you're looking for a detangling brush Goody Detangle brush will detangle your hair without pulling or snags.
This brush is designed with absorbent microfiber which quickly absorbs water and detangles in just one step – leaving your hair looking smooth and tangle-free.
Perfect for medium to thick hair, the Goody Quickstyle Paddle Brush is a must-have for anyone who wants to style their hair with ease.
Detangling FAQ's
Detangling your hair can be a real pain, especially if you have long hair. The wrong brush or technique can lead to breakage and split ends.
We're here to help. We've compiled the most frequently asked questions about detangling brushes so that you can find the right brush for your needs and learn how to use it properly.
Do detangling brushes really work?
There are a lot of different hair detangling brushes on the market, and they all claim to work well. But does that mean that they actually do work?
The answer is yes - hair detangling brushes do work, but only if you use them correctly.
Most people make the mistake of using a hair detangling brush too aggressively, which can damage their hair or hair extensions.
Instead, you should use a light touch and gentle strokes to tease out the knots and tangles.
If you're not sure how to use a hair detangling brush, there are plenty of tutorials on YouTube that can show you how it's done. And once you get the hang of it, your hair will be noticeably less tangled and easier to manage.
Do detangling brushes damage hair?
No, these brushes don't damage hair. In fact, they can be a great way to help get rid of knots and tangles without having to use a lot of force or harsh chemicals.
Detangling brushes work by using flexible bristles that glide through the hair, separating the strands and removing any knots or tangles.
They are a great option for people with thick curly hair, who often have a harder time getting knots and tangles out without causing damage.
Detangling brushes can be used on wet or dry hair, and they come in a variety of shapes and sizes to fit everyone's needs.
Is it better to detangle dry or wet?
It's better to detangle wet hair because when hair is wet, the cuticles are open and can more easily absorb the conditioner.
When hair is dry, the cuticles are raised and it's more difficult for the conditioner to penetrate.
Should you detangle everyday?
No, you don't need to detangle your hair every day. In fact, doing too much of the detangling process can actually lead to more tangles and breakage.
Try detangling just a couple times a week (or even less if your hair is very thick or curly).
Use a wide-tooth comb and start at the ends, working your way up to the roots. Be gentle, and take your time. If you find that your hair gets really tangled after a day or two, try using a light oil or conditioner before detangling to help loosen things up.
Is it better to detangle hair with comb or brush?
There's no right or wrong answer to this question - it depends on your hair type and what works best for you.
Some people find that combing through their hair is the best way to detangle it, while others find that using a brush works better. Experiment and see which method works better for you.
What is the best detangling conditioner?
The best detangling conditioner is one that has a high content of natural oils, such as jojoba oil, argan oil, or coconut oil.
These oils help to lubricate the hair shaft and reduce friction between the strands, making it easier to brush through wet hair.
Another important ingredient in a detangling conditioner is glycerin. Glycerin helps to attract and retain moisture, which makes the hair more pliable and less prone to tangling.
Look for a conditioner that contains both glycerin and natural oils if you want the best results.
Why do wet brushes not hurt?
Wet brushes don't hurt because the bristles are slightly flexible, so they contour to the shape of your scalp.
They're also covered in tiny rubbery protrusions that help distribute the conditioner/shampoo evenly and reduce friction in thicker hair. A wet brush can also be used as a hair massage brush!
Can you use a detangling brush on dry hair?
Yes, you can use a detangling brush on dry hair but it is not recommended.
A detangling brush is best used when the hair is wet because the bristles will be able to move through the hair more easily and won't snag.
When using a detangling brush on dry hair, be very gentle and go slowly. Start at the ends of the hair pulling hair strands and work your way up, using a light touch.
Don't forget to use a conditioner after brushing to help smooth the hair and add shine.
What is the best way to detangle hair?
According to hair stylists, the best way to detangle hair is by starting from the tips of the hair and working your way up.
When combing or brushing your hair, start at the ends and work your way up. This will help avoid breakage and preserve the natural oils along the length of your hair.
Use a wide-tooth comb for curly or wavy hair, and a brush with soft bristles for straight or fine hair.
The Best Detangling Brush for Your Hair
So what are the best detangling brushes and combs? According to our findings, it looks like the best products include the brands we listed above.
We've included links to Amazon so you can check out prices and reviews of these products for yourself. And don't forget – experiment with different brushes and hair sprays until you find the one that works best for you.
Sometimes a detangling spray is the answer to your troubles. Need a suggestion about which spray to use? We have some suggestions! Tap the button below for our short list of the best detangling sprays.