The 7 Safest Body Lotions to Use During Pregnancy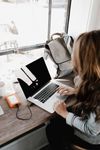 These pregnancy safe body lotions promote skin elasticity, prevent stretch marks and leave your skin feeling soft, smooth, and healthy.
Beautiful, pregnant women, are you looking for a way to keep your skin hydrated during these winter months while trying to reduce stretch marks?
We know how important it is to take care of yourself during pregnancy, and one of the best ways to do that is by keeping your skin hydrated.
But with all the changes your body is going through, it can be a challenge to find the right product. That's why we've put together a list of the best pregnancy safe body lotions to keep your skin hydrated during pregnancy.
These products have been carefully selected to provide you with the most effective hydration possible. They are all pregnancy safe body lotions that promote skin elasticity and leave your skin feeling soft, smooth, and healthy.
How We Choose the Best Body Lotions for Your Pregnancy
What is the best body lotion to use during pregnancy? We wanted to know!
That's why our team reads through thousands of Amazon reviews, TikTok and YouTube videos and social media posts to compile the absolute best body lotion for pregnancy. We know after reading this article you will find the best product for you.
Why We Picked It
If you're looking for a clean and organic way to care for your skin during pregnancy, look no further than Earth Mama Organics Belly Butter.
This butter goes on smoothly and smells amazing, leaving your skin silky-soft and helping to prevent stretch marks.
With no petroleum, synthetic preservatives or artificial fragrances, you can trust that the organic ingredients in this product is safe for use during pregnancy.
Plus, it's non-greasy and easily absorbed, making it the perfect solution for dry skin.
Why We Picked It
The Honest Company's Honest Mama Rock the Bump Body Butter is an ultra-nourishing butter that is perfect for itchy and dry skin on your growing belly. It also helps prevent stretch marks and keep your skin soft.
Made with shea butter, avocado oil and vitamin E, it deeply moisturizes for 24 hours.
Plus, it's hypoallergenic and dermatologist-tested, making it ideal for sensitive skin.
And since it's made without parabens, fragrances, PEGs, petrolatum, lanolin and silicones, you can feel good knowing that you're using a product that is gentle and safe for both you and your baby.
Why We Picked It
If you're looking for a natural way to prevent stretch marks during pregnancy, Green Goo's Belly Balm Salve is a great choice for a pregnancy safe body lotion.
It's perfect for sensitive skin and packed with ingredients like lavender, rosehip seed oil, shea butter, and vitamin E that are all-natural, plant-based, organic, and cruelty free.
This pregnancy stretch mark cream helps reduce the appearance of stretch marks while providing long-lasting moisturizing and healing effects for cracked and chapped skin.
Why We Picked It
Looking for a body lotion that will hydrate and nourish your skin without any synthetic fragrances for your sensitive senses? Look no further than Alba Botanica Very Emollient Body Lotion.
This lotion is made with a plant-based, hypo-allergenic blend of ingredients that are sure to provide your skin with the hydration it needs. Plus, it's 100% vegetarian and never tested on animals. Recognized by the Leaping Bunny Program.
Why We Picked It
This natural, safe, and effective cream immediately relieves itching and redness, and provides deep hydration for dry patches. It's free of icky chemicals like artificial fragrance, steroids, petrolatum and phenoxyethanol.
This body lotion is recognized by the National Eczema Association. So if you're looking for a product that will give you immediate relief from itchy skin or even eczema symptoms without any harmful side effects, look no further than Earth Mama Organics Eczema Cream.
Why We Picked It
Earthley Wellness makes some big promises with their Good Night Lotion. This magnesium-rich lotion is great for promoting restful sleep, dealing with occasional constipation, and easing leg and muscle cramps and headaches.
Plus, it's multi-purpose and can also be used for growing pains, restless legs, and headaches. And it's packed with essential oils such as lavender essential oil and apricot oil.
According to the Amazon rave reviews, it absorbs quickly and has a pleasant scent. Made with only the highest quality ingredients, this Good Night Lotion is sure to help you get a relaxing night's sleep.
Why We Picked It
Introducing Aveeno Skin Relief Moisturizing Lotion For Very Dry Skin! This fragrance-free lotion is clinically proven to provide 48-hour hydration, making it a perfect choice for those with sensitive, dry skin.
Formulated with soothing triple oat and shea butter, it instantly relieves itchiness and lock in moisture for long-lasting relief. It is also non-comedogenic and gentle enough for everyday use.
What we don't love about this product is that is contains small amounts of petrolatum, sodium chloride and isopropyl palmitate. But, judging by the reviews, women still trust this lotion to moisturize their skin during pregnancy.
Pregnancy Lotion FAQ's
Applying lotion while pregnant is a common question, but there are so many myths and old wives tales out there it's hard to know what's true.
You want to make sure you're taking care of your skin while you're pregnant, but it's hard to know which products are safe. You don't want to take any chances with your health or the health of your baby.
We've got you covered. Here are the most frequently asked questions about applying lotion while pregnant, along with the answers that will set your mind at ease.
What lotions can I use when pregnant?
There are a few different lotions you can use when pregnant. The best option is to consult with your doctor to see what they recommend.
However, some popular options include cocoa butter and shea butter. These two ingredients are often found in lotions designed for pregnant women because they help keep the skin hydrated and elastic.
What lotions are not safe during pregnancy?
While many people think that they need to avoid all lotions while pregnant, the truth is that some are perfectly safe.
But, it's best to avoid anything with lots of chemicals or fragrances, as these can be harmful to both mother and baby.
Some good options for lotions that are safe during pregnancy include coconut oil, olive oil, shea butter, and cocoa butter. All of these are natural and contain no harmful chemicals or fragrances. They also hydrate the skin well.
What shampoos to avoid while pregnant?
There are a few shampoos that you should avoid while pregnant. Pregnant women should avoid shampoos with sulfates, parabens, and phthalates.
-Sulfates are harsh detergents that can be irritating to the scalp and eyes.
-Parabens are hormone disruptors that have been linked to reproductive problems and organ toxicity.
-Phthalates are chemicals used to make plastics more flexible, and they can also be hormone disruptors.
Choose shampoos that are sulfate-free, paraben-free, and phthalate-free. Some good options include shampoo brands like Shea Moisture, Aveda, Burt's Bees, and DevaCurl.
Is Cetaphil safe for pregnancy?
There is limited information on the safety of Cetaphil products during pregnancy. However, since Cetaphil is a gentle skin cleanser, it is considered safe for use during pregnancy and recommended by estheticians.
Consult with your healthcare provider if you have any specific questions or concerns.
Is Nivea lotion safe while pregnant?
Most experts agree that it is generally safe to use. Nivea lotion contains a small amount of parabens, which have been linked to some health concerns.
But, the amount of parabens in Nivea lotion is considered safe and unlikely to cause any harm.
What is the best face wash during pregnancy?
There is no one "best" face wash during pregnancy. However, it's important to choose a face wash that is gentle and won't strip your skin of its natural oils. Some good options include: Cetaphil Gentle Face Wash or Aveeno Ultra-Calming Foaming Cleanser.
It's also important to avoid products that contain harsh chemicals or artificial fragrances, as these can be harmful to both you and your baby. Stick with simple, all-natural ingredients for the safest facial cleansing routine during pregnancy.
Is hyaluronic acid safe to use during pregnancy?
There haven't been any studies looking at the use of hyaluronic acid in lotions during pregnancy, so it's hard to say.
However, given that it is a naturally-occurring molecule in the body, it is likely safe to use.
Some women do choose to stay away from all serums and chemicals while pregnant, as there is a chance that they could contain harmful chemicals or ingredients. If you are concerned, it is always best to speak with your doctor.
Is mineral oil safe to use during pregnancy?
Although mineral oil is generally considered safe to use during pregnancy, it is still best to consult with your doctor before using it.
Some studies have shown that mineral oil can cause developmental problems in the baby, and can also increase the risk of premature birth and low birth weight. However, other studies have shown that mineral oil is not harmful to the baby.
So overall, the jury is still out on whether or not mineral oil is safe to use during pregnancy. It's always best to play it safe and consult with your doctor before using any type of medication or supplement during pregnancy.
What clears stretch marks fast?
There is no stretch mark cream that can completely remove them, but some may help fade them over time.
The best way to prevent stretch marks is to keep your skin moisturized. Use a cream or lotion that contains cocoa butter, vitamin E oil, aloe vera, or shea butter.
Apply it every day to the skin around your belly, breasts, and thighs. You can also use a gentle scrubbing motion when you apply the cream to help increase blood circulation and promote collagen production.
Do stretch marks ever truly go away?
While stretch marks may never disappear completely, they will fade over time.
The key is to keep the skin hydrated and elasticity-rich by using a good moisturizer and drinking plenty of water. Coconut oil is also great for preventing and fading stretch marks.
For stretch marks that don't go away naturally with time, you can seek professional treatments such as laser scar removal.
The Best body Lotion for Your Pregnancy
So what are the Best body lotions to keep your skin moisturized during pregnancy? According to our findings, it looks like the best stretch mark creams include the brands we listed above.
We've included links to shop so you can check out prices and reviews of these products for yourself.
If you're looking for a way to heal stretch marks, silicone scar sheets could be the answer for your skin. If you'd like to learn more about silicone scar patches, tap here for our list of the best silicone scar patches on the market today.