The Must Try Beauty Product if You Haven't: Rice Serum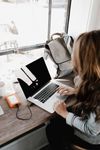 You deserve to have beautiful, healthy skin, and the magical ingredients in rice serum can help you get there. Here is a list of our favorites.
Want to know the next big beauty trend? Rice serum is making a big impact in the beauty world, and for good reason.
This little-known product is packed with antioxidants and vitamins that are essential for healthy skin. Keep reading to learn more about rice serum and why you should try it!
You deserve to have beautiful, healthy skin, and rice serum can help you get there. With regular use, you'll see a noticeable difference in your skin's appearance. It will be softer, smoother, and more radiant. Don't wait any longer to try this amazing product.
How We Choose the Best Rice Serums for You
What is the best rice serum for your skin? We wanted to know! That's why our team reads through thousands of Amazon reviews, TikTok and YouTube videos and social media posts so you don't have to!
We've compiled a list of the absolute best rice serum. We know after reading this article you will find the best product for you.
Why We Picked It
Say hello to gorgeous, healthy skin with [I'm From] Rice Serum. Formulated with powerful ingredients like rice bud extract and hydrolyzed hyaluronic acid, this serum deeply penetrates the skin to deliver intense hydration and nutrition to dehydrated skin.
It's also rich in antioxidants and vitamins that work to boost collagen, resulting in a smoother, more youthful complexion.
Best of all, the light, refreshing texture of this serum melts immediately into your skin, leaving behind a moist, dewy finish.
Add [I'm From] Rice Serum to your beauty routine and enjoy beautiful, healthy skin that feels refreshed and replenished and also add their delicious Rice Cream to your beauty routine.
Why We Picked It
Introducing the Beauty of Joseon Serum, a unique formula made for skin with pigmentation.
This powerful serum helps equalize the skin tone by blending rice bran water and arbutin. Rice germ ferment extract is rich in amino acids and minerals, and helps keep dry skin moist.
Arbutin helps prevent excessive production of melanin, and helps keep the skin looking bright and healthy.
This water-based serum is as light as a toner, making it comfortable to apply for all skin types, especially combination skin. With regular use, you'll see a noticeable difference in your skin's appearance. Suitable for even sensitive skin types.
Why We Picked It
Haruharu Wonder's fermented black rice serum is the perfect addition to your anti-aging skincare routine.
Black rice is rich in antioxidants and helps to protect your skin barrier against free radicals and encourage new cell growth.
Hyaluronic acid, also known as sodium hyaluronate, provides deep hydration, while beta glucan and red ginseng extract help to heal and rejuvenate your skin. Lavender oil soothes irritations.
This 95% naturally-derived vegan-friendly serum is cruelty-free and gentle on your skin.
Why We Picked It
This unique and potent serum is enriched with encapsulated probiotics to help strengthen the skin barrier, protect the skin from external stimuli, and replenish moisture.
Gamma oryzanol is a powerful antioxidant found in rice bran water that has been shown to be more effective than vitamin C in guarding against environmental damage. In addition, plant probiotics help to fortify the skin barrier, making COMEITTO an ideal choice for all skin types.
Why We Picked It
This advanced formula is designed to restore, strengthen and rejuvenate your skin. It's infused with 100% vegan EGF & FGF, which accelerates cell regeneration for smoother-looking skin.
Rice 2GF is a moisture-binding, skin-rejuvenating, and signaling protein, which helps support the skin's natural collagen production and is essential to improve skin elasticity
and to keep skin looking smooth, healthy, and youthful.
Adenosine minimizes the appearance of fine lines and wrinkles while hyaluronic acid hydrates the skin. The best part? It's cruelty-free and comes with patented absorption technology.
Rice Serum FAQ's
Are you curious about rice beauty products and what they can do for your skin?
Rice serum is a popular skincare product, but there are a lot of misconceptions about it, does it actually have any nutritional value to your skin?
We've answered the most frequently asked questions about rice serum so you can learn more about this amazing skincare product.
Is rice serum good for face?
Yes. Rice serum is rich in vitamin E and minerals, which are beneficial for the skin. It helps to nourish, moisturize, and soften the skin.
Additionally, rice serum is effective in reducing the appearance of dark circles and puffiness under the eyes.
Many rice serums are mixed with other beneficial ingredients and essential oils making them a wonderful addition to your skincare routine.
What does rice water serum do?
It's a popular belief that rice water can be used as a natural serum to achieve radiant and flawless skin.
The idea is that the vitamins and minerals in rice water help to brighten and soften skin, while the antioxidants help to protect against free radical damage.
There hasn't been much scientific research on this topic yet, but some people say that rice water can help to reduce inflammation, acne breakouts and dark spots.
Others say that it can also help to reduce the appearance of wrinkles and age spots.
So far there is no scientific evidence that rice water can actually reverse or stop the signs of aging, but it's possible that it could have some benefits for skin health if used regularly.
Is rice serum a moisturizer?
Yes and it's an excellent source of B vitamins, which are water soluble and play a key role in the regulation of metabolism and energy production. Vitamin B is also necessary for the maintenance of healthy skin.
Rice serum also contains essential fatty acids and antioxidants, which help to protect skin from free radical damage and keep it looking young and healthy.
Does rice remove dark spots?
There are a few things to consider before answering this question. The first is that there are many different types of dark spots, and each type may require a different approach for treatment.
The second is that rice is not generally considered to be a bleaching agent.
That said, there are some people who claim that rice can help to lighten dark spots.
They usually recommend mixing a small amount of rice with water to create a thick paste, then applying it to the affected area and leaving it on for about 20 minutes before rinsing it off.
Some people also recommend using rice water as a facial toner.
Can rice reduce wrinkles?
Yes, rice serum can help reduce wrinkles. Rice is a source of vitamin E, which is a powerful antioxidant that helps protect the skin from damage caused by free radicals.
Rice also contains high levels of linoleic acid, an essential fatty acid that helps keep the skin moisturized and prevents it from drying out.
Additionally, rice serum is rich in peptides, which are molecules that help boost collagen production, helping regenerates skin and keeping it looking youthful and smooth, no matter the skin type.
The Best Rice Serum for Your Skin
So what is the best rice serum? According to our findings, it looks like the best products according to customer review are the brands we listed above.
We've included links to Amazon so you can check out prices and reviews of these products for yourself. And don't forget – experiment with different products until you find the one that works best for you.
By the way, have you tried niacinamide serum, yet? If not, you need to get on it! Tap the button below for our list of the best niacinamide serums you can get.